This is your guide to a quick, five-minute Bailey's Irish Cream preparation that is non-alcoholic – simply combine, then serve.
The non-alcoholic Irish Cream recipe we've got for you is a fantastic option if you're giving up alcohol.
The drink is ideal for Christmas, Thanksgiving, or just because. 
Enjoy an Irish Crean liqueur without alcohol.
The recipe is very easy to follow, done in a flash, and will cost much less to prepare at home.
The classic cocktail's creamy flavors are all present in this non-alcoholic version, along with espresso and spices.
Why You Should Make This Drink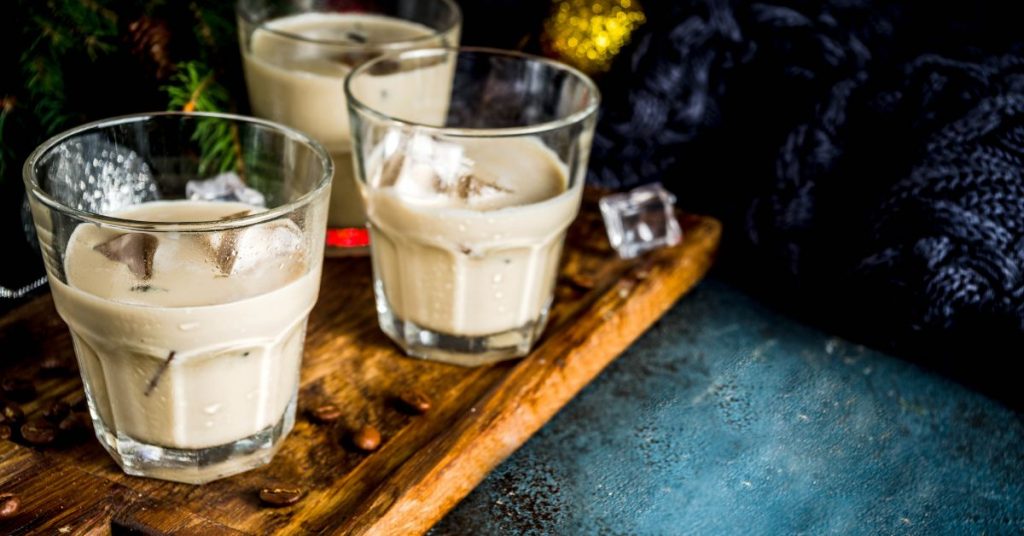 Easy to prepare and clean up, this luscious non-alcoholic Baileys recipe makes a tasty mocktail. This tastes remarkably like Irish cream liqueur but without the regret the following day. 
Sweet and milky – with the option to add a spoonful of light cream for a fuller flavor, the other components add a beautiful degree of creaminess to the drink. This recipe for non-alcoholic Irish cream will appeal to you because it's:
Easy to make:

Simply combine the items in a blender. After adding the non-alcoholic Irish cream to an ice-filled glass, you're ready to drink.

Easy to prepare:

Making a batch of this non-alcoholic Baileys just takes 5 minutes. The best part is that you can easily raise the quantity for a large group. When entertaining over Thanksgiving, Christmas, and the New Year, this beverage is really simple to prepare.

Healthy:

In comparison to recipes that use heavy cream as their base, you can use alternative creams with a lower calorie and fat option. For a lower-sugar option, use sweetener or maple syrup.

Creamy (depending on your preferences):

This non-alcoholic Irish cream recipe only needs one spoonful of cream to be excellent. Depending on your preference, select light or heavy cream. You can omit this item for a healthier or dairy-free version.
Non-Alcoholic Irish Cream Recipe
Baileys Irish Cream, is the sweetest combination of premium Irish dairy cream, rich chocolate, and vanilla flavors. The outcome? Everything is tasty. 
But what if you're taking a break from drinking alcohol?
Here are some of the best non-alcoholic Irish cream recipes you can easily make at home.
Here, we have detailed different variants of non-alcoholic recipes, so you can choose one depending on your preferences or dietary restrictions.
Classic Non-Alcoholic Irish Cream Liqueur
You can reward yourself whenever you're in the mood for a decadent cup of Irish coffee. It's not difficult to make this classic non-alcoholic Irish cream recipe.
You can prepare a sizable quantity and keep it in the refrigerator to enjoy it on your own or to serve at a gathering with friends.
Ingredients
150ml (5 ounces) of cream

1.5 evaporated milk

2 tbsp maple syrup

1 ounce (or more to taste) freshly brewed espresso

pinch of ground cinnamon

1 tsp vanilla extract

pinch of finely grated orange zest (if you have an orange lying around)

ice
Instructions
Add a good amount of ice and all the ingredients to a sizable cocktail shaker or jug.

If a shaker is being used, shake vigorously until the exterior feels chilly before double straining into tumblers. Use a jug and mix thoroughly to combine. 

Pour over ice to serve.
You can follow this YouTube video from Eat Fit by Pinkishdrizzle that uses the exact same ingredients as stated above.
Homemade Pumpkin Non-Alcoholic Irish Cream
For your ideal coffee this fall, a homemade pumpkin non-alcoholic Irish cream is a perfect way. Warming spices and hearty pumpkin enhance the flavor of Irish cream, which is thick and creamy. Drink it plain over ice, add it to cocktails, or both!
Ingredients
1 can (12 oz) evaporated milk

1 cup heavy whipping cream

½ cup 2% milk

¼ cup sugar

2 Tbsp chocolate syrup

1 Tbsp instant coffee granules

2 tsp vanilla extract

¼ tsp almond extract

½ tsp pumpkin pie spice

¼ cup canned pumpkin puree
Instructions
The mixture should be put in an airtight container and kept in the fridge.

Mix ½ cup of freshly made coffee with ⅓ cup of Irish cream. If preferred, reheat in the microwave.
Vegan Non-Alcoholic Irish Cream Liqueur
This recipe involves using Kings of Tartan, a non-alcoholic beverage featuring flavors of smoky oak and malt and a warm, lingering finish, inspired by Scottish whiskey.
You can also use other non-alcoholic whiskey alternatives as you'd like.
Ingredients
⅓ cup Kings of Tartan

¼ cup milk of your choice

¼ cup vegan cream such as Oatly

½ cup vegan condensed milk

½ tbsp vegan cocoa powder

1 tsp vanilla extract
Instructions
This recipe is quite adaptable. You may drizzle it over ice cream, add it to coffee or hot chocolate, or use it in mocktails like the delicious Espresso Martini.
Non-Alcoholic Baileys Using Coconut Milk
Coconut milk, which is high in calcium, vitamin D, and B vitamins, makes the ideal base for this non-alcoholic Irish cream recipe. Although it has fewer calories and fat than heavy cream, the Baileys recipe's expected smoothness is still there. Feel free to use cow's milk, almond milk, or another milk of your choosing in place of coconut milk if you don't like it.
Ingredients
¾ cup coconut milk, or milk of your choice

1 oz chilled espresso or instant coffee shot

2 teaspoons maple syrup

1-2 drops vanilla essence or extract (to taste)

½ teaspoon cacao or cocoa powder

1 tablespoon light cream (optional)
Instructions
Blend on low speed with all the ingredients mixed. Alternately, combine all the ingredients with a few ice cubes in a shaker and shake vigorously for about 20 seconds.

After tasting, adjust the flavor by adding extra cream or maple syrup as necessary.

Serve chilled.
Non-Alcoholic Irish Cream Recipe FAQs