In search of the best mojito mocktail recipes? The mojito is such a traditional cocktail. It is an ideal drink that combines tangy lime juice, fresh mint, and a hint of sweetness.
There is controversy over the mojito's precise origin. Some claim that it began as a treatment for ailments. Others claim that pirates who conquered Cuba brought the beverage.
Regardless of the mojito's history, we are just happy that the best mojito mocktail recipes exist and are delicious. The entire family will enjoy making these recipes at home because they are so simple and easy to recreate.
Traditional Mojito Mocktail
Try this traditional mojito mocktail recipe that omits the traditional rum to produce a booze-free blend for parties. However, there are non-alcoholic rum alternatives available in the market if you'd like an imitation of the real deal.
Ingredients
1 tbsp sugar

small bunch mint

3 limes, juiced

soda water
Instructions
Using a pestle and mortar, muddle the sugar with the mint leaves. (or use a small bowl and the end of a rolling pin).

Fill two large glasses halfway with crushed ice. Divide the lime juice and mint mixture among the glasses. 

Fill with soda water and place a straw.
This ginger ale mojito mocktail incorporates fresh ginger, which is beneficial to both the body and the mind. This ginger mocktail recipe will appeal to you because it is nutritious, aesthetically pleasing to the eye with a gorgeous shade of green, and low in calories.
Ingredients
1 inch grated ginger

1 inch grated cucumber

Juice of half a lime

6 mint leaves

.5 cup sparkling water

.5 cup diet ginger ale
Instructions
In a mixing bowl, muddle the ginger, cucumber, and lime.

Using a tiny strainer, pour the contents into your glass. Press the combination with your fingers or the back of a spoon to extract all of the juice from the ginger, cucumber, and lime.

Clap the mint leaves 3-4 times in your palms to release the oils and fragrance, then place them in your glass.

Fill the glass halfway with ice and pour half ginger beer and half sparkling water. Gently stir.

Garnish with lime wheels, ginger, cucumber, or mint, and serve.
The star of this mocktail is cherries. These small crimson powerhouses are antioxidant-rich and bursting with deliciousness. They are also high in fiber, vitamins, and minerals. This cherry mocktail is perfect for the holiday season – or any season!
Ingredients
5 cherries roughly chopped

1 lime quartered

6-8 mint leaves

1 cup sparkling water

Sweetener of your choice to taste (optional)
Instructions
In a glass, combine the chopped cherries and lime. Add a little sweetener if you plan to use some. For around 1 minute, muddle everything together. Use the back end of a wooden spoon if you don't have a muddle. The goal is to make it small enough to pass through a straw.

Clap your hands together to unleash the smell of the mint and add to the glass. Using a muddler, softly press a few times.

Fill with ice and top with your favorite sparkling beverage.

Garnish with lime wedges, mint, and/or more cherries if desired.
Something about the combo of mango, mint, and lime just shouts summer! When it comes to the perfect non-alcoholic cocktail, this mango mojito mocktail recipe checks all the boxes.
Ingredients
.5 cup mango fresh or frozen

2 tablespoon Water 

1 lime quartered

6 mint leaves

1 cup soda water or alternative

Extra mint and lime for garnish
Instructions
To release the juices from the limes, muddle them in your glass or pitcher. Use the handle end of a wooden spoon or something similar if you don't have a muddler.

Clap your hands together until the aroma of the mint is released. Combine with the lime. Use the muddler to press it gently.

In a small blender, combine mango and water to make mango puree.

Gently whisk in the mango puree to the lime and mint combination.

Fill the glass halfway with ice. Top with sparkling water (or a substitute) and gently swirl.

Garnish with mint and a slice of lime.
Notes
You can substitute frozen mango for fresh if it's more cost-effective or if that's all you can find.

Mint syrup can be substituted for fresh mint.

You may use simple kombucha or something with mango or citrus.

If fresh limes are unavailable or too expensive, substitute bottled lime juice.
Other Variations for Mojito Mocktails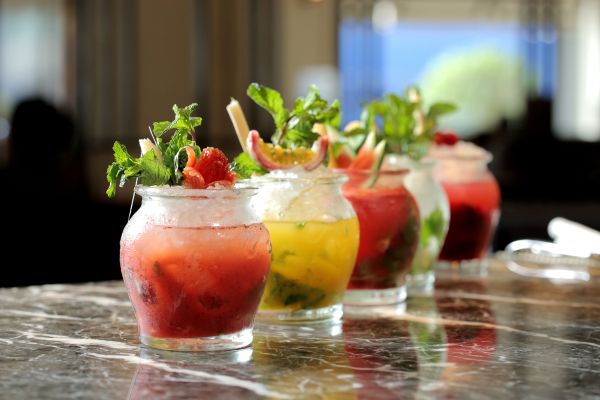 Aside from the best mojito mocktail recipes from Mindful Mocktail that we listed above, you can switch different mojito mocktail variations by adding delectable fruits and/or vegetables. These include:
Fresh or frozen blackberries or blackberry simple syrup

Fresh, frozen peach slices, peach syrup, or even canned peaches

Fresh or frozen raspberries

Splash of grapefruit juice

Fresh or frozen strawberries

Honey Ginger Syrup instead of plain honey simple syrup

Thinly sliced jalapeños or Jalapeño Simple Syrup
You might be curious as to how jalapeños can match the refreshing taste of a mojito mocktail. Here's an easy way to create a Jalapeño Simple Syrup, according to Sustainable Cooks:
Ingredients
1 cup water

1 cup jalapeño (sliced, 2 medium jalapeños)

1 cup sugar
Instructions
Remove the jalapeño tops and cut them into pieces. It is not necessary to remove the seeds.

In a saucepan, combine water, sugar, and sliced jalapeños.

Bring to a boil and hold it there for 1 minute, stirring often.

Reduce the heat to low and cook for 20 minutes, stirring occasionally.

Place a fine-mesh strainer over a bowl and strain the mixture through it.

Allow it to cool before tasting, and add extra sugar if you desire a sweeter flavor.
More Tips When Recreating the Best Mojito Mocktail Recipes
A mojito mocktail is made with only a few simple ingredients and is wonderfully refreshing. This drink is ideal for adults and children and will surely become your new favorite. Here are some more tips and tricks when making big batches of mojito mocktails:
If you have extra mint, try freezing it so you always have the components on hand.

If you're making this for a crowd, pulse the fresh mint with a splash of water in a food processor or roughly chop it with a knife. It would be a huge hassle to muddle the mint in each individual glass.

Aside from fresh lime juice and honey simple syrup, you can also use 1/4 cup limeade as an alternative.

Pre-mix and freeze the lime/syrup mixture in small souper cubes so it's ready to go when the cravings hit.
Here are six other mojito mocktail recipes from Crave to Cook on YouTube:
When the weather is warmer, the best mojito mocktail recipes are often produced and served with ice in a highball glass. Rum, sugar or simple syrup, fresh lime juice, soda water, and fresh mint are the main ingredients of a traditional mojito. However, the recipes above exclusively only featured non-alcoholic spirits. 
A mojito is easy to create and affordable because it needs simple ingredients and no bartending expertise. Also, a sugar-free sweetener and club soda can make low-calorie mocktails at home.
You can also try similar easy-to-make mocktails like mimosa and non-alcoholic gin & tonic.
Best Mojito Mocktail Recipes FAQs