Time to read: 3 minutes
Your Sonic Drive-In experience couldn't get any better than this! Sonic mocktails were the players in the field that made everything fun and exciting. Announced in 2019, these mocktail slushes had three flavors: Strawberry Daiquiri, Piña Colada, and Reaper Spicy Margarita. These Mocktail Slushes were only available for a brief period of time, and the public surely didn't miss out!
While the Piña Colada combines sweet coconut with pineapple flavor, the Strawberry Daiquiri elevates the taste of strawberries and sweet coconut mix. The Reaper Spicy Margarita, which takes a traditional margarita flavor and adds the flavor of one of the spiciest chili peppers in the world, the Carolina Reaper, has the fiercest flavor profile. 
Remember when Sonic urged customers to use the hashtag #ReaperChallenge to post their opinions of the hot, booze-inspired slush on social media? That was fun! Just like this one reaction video:
One thing you should know about the Mocktail Slushes is they're alcohol-free. What is alcohol-free, you say? Alcohol-free drinks have no more than 0.05% ABV. This is due to the fact that during the brewing process, some alcohol naturally develops. 
There are two techniques for manufacturers to lower the alcohol content of their drinks. They can prevent alcohol from forming during the crafting process or eliminate it from the final product. You can always try creating your own mocktails at home. Click here to learn how to make a virgin tequila sunrise cocktail.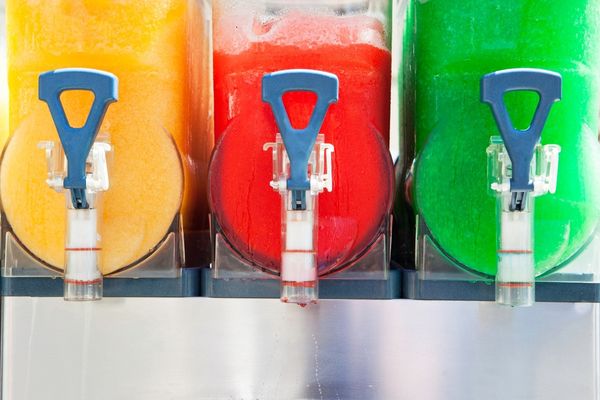 With more than 3,600 locations, Sonic, a member of the Inspire Brands restaurant group, is one of the biggest drive-through restaurant brands in the US. It was founded in 1953.
The QSR featured Scott Uehlein, VP of Product Innovation and Development for Sonic, who explains that with Mocktail Slushes, "we caught the summertime mocktail frame of mind, blending tropical tastes with our icy, cold Slush so you can enjoy vacation feelings from the comfort of your car."
Customers who bought in advance through the Sonic mobile app took advantage of Happy Hour Anytime and received discounted drinks and slushes. Customers who have placed an order in advance are always the first in line. The Apple App Store and Google Play Store both offered the ability to download the mobile app.
Here is a nutritional information chart for those three refreshing Mocktail Slushes in small sizes:
| | | | |
| --- | --- | --- | --- |
| Nutritional Information | Strawberry Daquiri | Piña Colada | Reaper Spicy Margarita |
| Calories | 220 | 200 | 190 |
| Fat | 0 grams | 0 grams | 0 grams |
| Sodium | 44 milligrams | 35 milligrams | 230 milligrams |
| Carbohydrates | 58 grams | 54 grams | 51 grams |
| Sugar | 50 grams | 54 grams | 50 grams |
| Protein | 0 grams | 0 grams | 0 grams |
Yep. That's quite a lot of sugar! But, of course, what can we expect from a slushie, right? All of Sonic's Slushes contain sugar, that's for sure. These Mocktail Slushes are no exception to sugar content. Hopefully, those who have tried them have watched out for their calorie and sugar intake. If you're really cutting out on calories, try these 10 best brands of non-alcoholic beer in the market.
Don't you love it when companies embrace the fact that their iconic offers are being recognized and utilized for unanticipated reasons? By the time they decided to release non-alcoholic beverages, Sonic appeared to have finally understood that certain of its Slushes are destined to be presented like that!
The beverage sector has seen a boom in mocktails, mostly due to Gen Z and millennial consumers. Customers are increasingly looking for non-alcoholic drinks that are just as tasty as popular alcoholic drinks. Sonic stated that it hopes to increase the accessibility and affordability of the mocktail with its new selection.
However, the limited edition drinks are unavailable now. But Sonic still offers great deals you can try!