It used to be quite difficult to find a good non-alcoholic tequila alternative. Tequila is a distilled spirit with a slightly sweet, earthy flavor and a powerful aftertaste. Its distinct flavor is derived from the agave plant. 
Tequila has so many unique properties that it has historically been difficult to mimic its nuances in a virgin cocktail. Because of Tequila's robust flavor, Margaritas and Palomas are among the most popular beverages. Now, you can make these virgin cocktails using various non-alcoholic tequila options available in the market.
Ritual Zero Proof Tequila Alternative
A review of Ritual Zero Proof Tequila Alternative by The Sober Barkeep
Your drinking ritual should not be jeopardized just because you opt to sip a non-alcoholic drink. Ritual Zero Proof believes in choice; if you choose not to drink for any reason, you can still have the same experience as a well-crafted cocktail.
Ritual Zero Proof is arguably the most widely distributed tequila alternative, available in many bottle shops that are just getting started with non-alcoholic spirits. This non-alcoholic tequila is meant for mixing, with an incredibly intense burn that isn't excellent for drinking straight but is ideal for making its presence known when paired with other, louder ingredients.
Ritual features tequila's grassy flavor, smokey scent, and blazing fire, but without the alcohol or calories. A green pepper nose and a grassy body are balanced by a trace of rock salt and a clean burn. With 98 points, it's the highest-rated spirit replacement in the world for margaritas.
You can recreate non-alcoholic classics like margaritas and palomas, innovative mixology, basic soda or juice serves, and everything in between.
Mockingbird is a celebration of everything excellent about agave: delightfully sweet with a hint of toasty cinnamon and a mild habanero sting at the end. The taste of Tequila was modestly recreated by using authentic Mexican Blue Weber Agave, allowing individuals to have all the margaritas without the migraines.
Mockingbird is a functional and adaptogenic non-alcoholic alternative prepared with 100% vegan ingredients to boost health and happiness. It contains pure Ashwagandha, an adaptogen that benefits mental and physical well-being by responding to stress and calming the mind.
Aside from the common tequila sunrise mocktail, here's how you can enjoy Mockingbird Spirit Agave in an extraordinary way using organic activated charcoal. This mocktail recipe is from Sipple.
Ingredients
60ml Mockingbird

30ml fresh lime juice

15ml Organic agave syrup

½ tsp Organic Activated Charcoal

Spray of Mezcal (optional)
Instructions
Combine all of the ingredients in a shaker except the Mezcal. 

Prepare your glass before shaking. To make the salt rim, apply agave syrup with a brush (or your fingers) and then sprinkle with black and white salt. 

Now, fill your shaker halfway with ice, shake vigorously, and pour over the ice in your drink. 

You can optionally add a spritz of Mezcal. Your mocktail will still be under 0.5% ABV (non-alcoholic).
ArKay Alcohol-Free Tequila
It is becoming more normal for your guests to request a non-alcoholic alternative at a gathering or occasion, and not everyone likes drinking sodas and juices. ArKay provides the best one-to-one alcohol alternative with the flavor, texture, heat, and aroma of each of its alcoholic counterparts that are changed for any non-alcoholic drinks.
Since 2011, ArKay has led the charge in transforming the landscape of adult beverages. Although ArKay is alcohol-free, the flavor and feel are for discerning adult palates seeking complexity without alcohol. Every ArKay beverage is Halal and suitable for individuals on medication or with weakened immune systems.
The Scottish Spirits Association has awarded Arkay Alcohol-Free Tequila. ArKay non-alcoholic alternatives are crafted rather than distilled; therefore, it is really alcohol-free. They have natural flavors and ingredients without sugar, fat, carbohydrates, sweeteners, or alcohol.
Free Spirits The Spirit of Tequila
The oaky and smoky tequila from Free Spirits is quiet enough to be easily buried in cocktails but loud enough to be noticed through club soda or, for that Paloma, grapefruit soda. 
The Spirit of Tequila is inspired by the wonderful oaky, vanilla-kissed Reposados. It is a fiery, earthy non-alcoholic (less than 0.5% ABV) alternative to Tequila prepared with all-natural tastes and beneficial components to awaken your taste buds, improve your mood, and rejuvenate your body. This vegan non-alcoholic tequila alternative will spark the moment and keep the conversation going on the sunny side of the street with an earthy, spicy scent and a smokey, agave-forward flavor.
Each of the Free Spirits is created through a method known as Distillate Reconstruction, which involves finding each spirit's distinctive fingerprint (all of the raw components, tastes, and interactions that give a traditional spirit its distinct flavor profile). The components (Blue Agave, White Oak, and Juniper Berries) are then sourced and distilled into natural tastes, extracts, and botanicals. The spirit is then rebuilt to create something much greater than the combination of its ingredients. 
In addition, rather than a fermentation process that produces alcohol, the source liquid is infused with nutrients such as B Vitamins and vitality to improve your mood, social experience, and spirit.
Use Free Spirits in the same manner you would like a traditional spirit. A superb cocktail should have the warming burn and bite usually associated with alcohol. As a result, each of the Free Spirits is mixed to balance flavor and bite. 
Jalisco 55 is a non-alcoholic distilled liquor that tastes like Mexican Reposado Tequila. It's a great base for inventive cocktails, and, most importantly, it makes an authentic Margarita. Jalisco 55 is the non-alcoholic tequila alternative that many people have been craving.
Spiritless employs a conventional distillation procedure to capture the typical tequila notes. Jalisco 55 contains agave notes that are complemented by citrus and vegetable notes. It also contains tequila's characteristic green ingredients, such as mint and aloe.
Because of its thinner texture, non-alcoholic tequila should not be consumed straight from the bottle. While you probably won't be drinking Jalisco 55, it is an authentic alternative in cocktail recipes. It works best in tropical cocktail recipes like mango and pineapple and savory drink recipes like celery and jalapeño.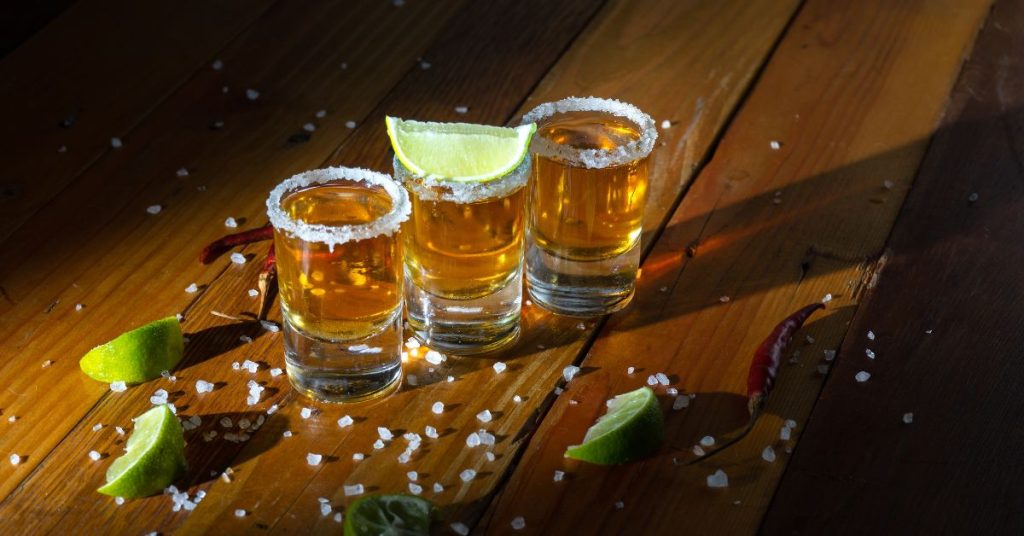 Alcohol has been demonstrated in studies to have a harmful impact on your health over time. Now, many consumers want healthier drink options. You can have your cake and eat it too with a non-alcoholic tequila alternative. 
You shouldn't have to give up your favorite drinks just because you're not drinking alcohol. You often seek a cocktail for its flavor rather than the consequences of alcohol. You may have the aroma and flavor you want while avoiding the bad consequences of alcohol by utilizing non-alcoholic tequila alternatives.
Using non-alcoholic tequila in recipes significantly reduces the number of calories in your drink. Tequila substitutes allow you to enjoy a margarita guilt-free. Having them is about having more options, not just taking out booze.
Non-Alcoholic Tequila FAQs