Time to read: 6-8 minutes
Rum is both popular and adaptable. It's good to know that there are many options for non-alcoholic rum from which to create your favorite rum-inspired beverage or rum mocktails.
Nowadays, it's fairly popular to refrain from drinking. And the selection is expanding as more and more non-alcoholic beverages hit the market. There are a lot of sophisticated and aesthetically pleasing options. 
Even though some alternatives don't taste the same as their alcoholic counterparts, they are typically not too far off. The flavor, color, and fragrance of other alcohol-free varieties are rarely recognizable from those of alcoholic beverages. But first, let's discuss how rum came about and the process of making it.
Rum is the oldest spirit in the world—did you know that? The first rum distillation occurred in the Caribbean in the 1620s, making it the first alcoholic beverage produced for pleasure rather than solely for medicinal purposes. This is compared to tonic water which was really created to combat malaria.
Rum's tropical flavor will forever conjure images of palm palms, beaches, and the sound of the waves lapping against the shore. So it is no surprise that the sea has a significant role in the history of rum.
Rum gained popularity in the 17th and 18th centuries among pirates who traded it as a good. In the 17th century, the British Navy made rum their preferred beverage; they still do so on rare occasions.
Rum is widely used in regions where sugar is grown, particularly in the Caribbean, and is produced by fermenting and distilling sugarcane juice or molasses. In actuality, the Caribbean and Latin America continue to produce the majority of rum. For reference, you may view this article from the Matador Network, highlighting the eight major producers of the world's best rum.
The Process Of Making Non-Alcoholic Rum
The alcohol we consume, ethanol, is created naturally when yeast ferments carbohydrates. However, because the yeast cannot survive at higher quantities of alcohol, fermented beverages can only contain 15 to 20 percent alcohol. Utilizing variations in the respective boiling temperatures of the mixture's constituent liquids, distillation separates the components to produce alcohol at a higher concentration. 
Ethanol is first transformed into vapor and then condensed into liquid in a conventional spirit distillation process. To reach the ideal alcohol-to-water ratio, distillers must undergo the procedure multiple times. To produce spirits with a higher alcohol content than is feasible with fermentation alone, such as vodka, rum, or whiskey, distillation is used. Distillation can also be used to lower alcohol content, though.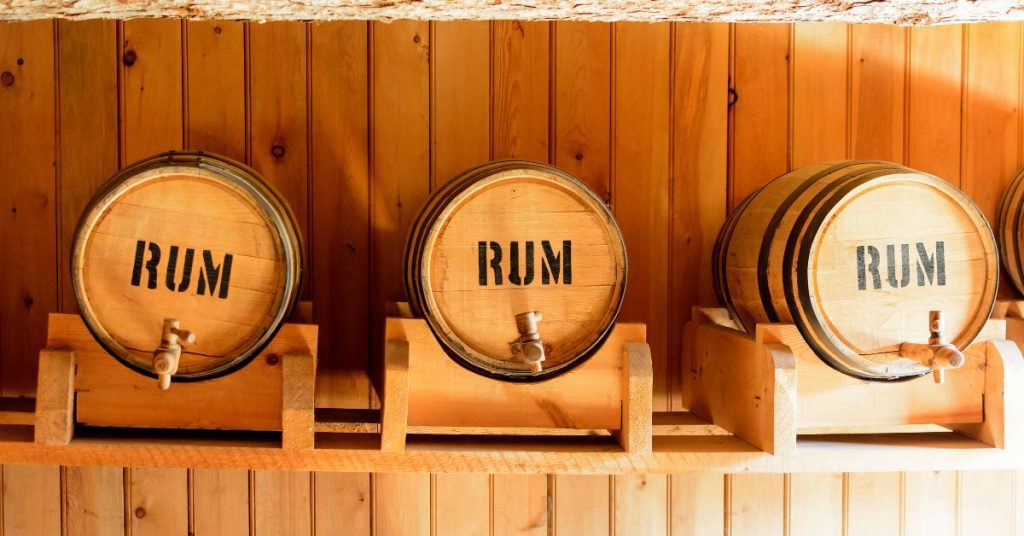 The producers of non-alcoholic spirits are attempting to use botanicals, herbs, nuts, barks, and seeds to create diverse, subtle flavors. While some businesses utilize them to create their own flavors, others use them to try to imitate classic alcoholic beverages, such as gin, which is known for its distinctive flavor of juniper berries. 
Distillers can also create their own blends by macerating the flavor source, which entails soaking it in a cold liquid. This is similar to how herbal medicines have been prepared traditionally for hundreds of years. This method's foundation is a neutral grain spirit, which functions because of alcohol's molecular structure.
Knowing the properties of alcohol naturally makes it simpler to comprehend how to distill non-alcoholic spirits. Not every liquid is miscible or capable of mixing in all ratios. 
Consider the contrast between oil and water. A polar (hydrophilic) molecule, water is. Because oil is a nonpolar (hydrophobic) molecule, water does not easily dissolve it. Polar and nonpolar components of alcohol combine with both hydrophilic and hydrophobic molecules. Alcohol can now carry tastes because of this. Alcohol is easily removed during distillation while keeping the taste concentration because it evaporates quickly.
4 Non-Alcoholic Rum Alternatives You Should Try
Rum is an adaptable beverage that pairs well with mixers like ginger beer and cola and drinks like the Mojito. The good news is that several rum substitutes are not alcoholic but taste just as excellent as the original.
Here are some of our favorite non-alcoholic rum substitutes that can accompany you in a pleasant break from drinking.
Creating a wide variety of non-alcoholic substitutes for the alcoholic spirits you consume at home is the specialty of the drinks company CleanCo. When they finally launched in 2019, they put a lot of effort into trying to produce a variety of alcohol-free alternatives to the frequently consumed rum, gin, and tequila.
Their Clean R, a non-alcoholic rum substitute, won the IWSC Bronze Award for 2021. With flavors of warming spice, golden caramel, and cayenne pepper, it is a spin on a spiced Caribbean rum. Additionally, it only has 12 calories per 50ml, making it ideal for people watching their weight.
According to FLUÈRE's website, their drinks let you enjoy alcohol without really drinking it. The four non-alcoholic spirits lines from FLUÈRE include its original, Spiced Cane, Raspberry, and Smoked Agave.
Their Spiced Cane bottle, a great whisky substitute, would be their closest thing to a non-alcoholic rum. The Cuban or a Smoke Robin can be made with it and a non-alcoholic old-fashioned. Alternately, mix cola and ice for a soothing evening beverage.
Lyre's has created a line that pays homage to the traditional spirits you are used to drinking with a fantastic selection of non-alcoholic ones, including non-alcoholic rum. Their bottles aren't just an alternative; they're a bottle you may use whenever you want a flavored beverage.
When searching for a spiced, non-alcoholic rum, Lyre's Spiced Cane is a fantastic substitute. It has a rich flavor, including toasted nuts, caramel, and molasses overtones. Both an espresso martini and coke or ginger beer goes well with it.
Lyre's Dark Cane Spirit also exists! This spirit has undergone meticulous brewing in an effort to capture the essence of a sophisticated dark rum with flavors that are distinctive and modern. As a quality non-alcoholic drink, this spirit stands out on its own. A lengthy finish with notes of maple and vanilla complements the full-flavored drink's overtones of caramel, fudge, fig, and toasted almonds.
Watch this video showing how to mix this non-alcoholic rum with coke for a balanced, refreshing drink.
Created utilizing the three gingers from the Ivory Coast, Nigeria, and Cochin, India, that make up a proprietary combination of essential oils. The taste and scent of this traditional ginger ale are true to form and energize. 
The greatest whiskies, bourbons, and rums can all have their flavor notes enhanced by this perfectly balanced beverage, which is also delectable as a soft drink. Fever Tree Ginger Ale is certified as non-GMO, with naturally sourced ingredients, and no colors or sweeteners were made artificially.
Mocktail Rum Recipes You Should Try
Discover traditional and classic rum mocktails right here, along with simple instructions using top non-alcoholic rums. We'll assist you in transforming your ordinary rum with no alcohol into a drink for all occasions.
Jamaican Rum Punch Mocktail
This trendy mocktail, a Jamaican Rum Punch, is the ideal non-alcoholic variation of a real party favorite. This mocktail, which has strong overtones of citrus, tropical fruit, and spices, is a need during warm weather. All organic ingredients, really simple to prepare, and suitable for dressing up with real rum for any special event.
Ingredients
For the simple strawberry syrup:
1 cup sliced strawberries, stems removed

1 cup filtered water

¼ cup organic cane sugar

1 teaspoon freshly-squeezed lemon juice
For the mocktail:
2 cups organic pineapple juice

1 ½ cups freshly-squeezed orange juice (about 5-6 navel oranges)

1 cup organic mango juice

Simple strawberry syrup

2 tbsps freshly-squeezed lemon juice

2 tbsps freshly-squeezed lime juice

1-2 tsp minced ginger

Ginger beer for topping

Sliced strawberries (for garnish)

Fresh mint leaves (for garnish)

Pineapple chunks (for garnish)

Cherries (for garnish)
Instructions
For the simple strawberry syrup:
All ingredients should be combined, heated over medium-high heat, and brought to a boil within one to two minutes. 

For an additional three to four minutes, turn the heat down to low. 

Turn off the heat and allow it to cool.
For the mocktail:
Combine the pineapple juice, mango juice, orange juice, strawberry syrup, lemon juice, lime juice, and ginger mince in a pitcher.

Crushed ice should be added to a glass, followed by the punch combination.

Cut and add strawberries, pineapple pieces, cherries, and, if preferred, fresh mint leaves. 

Add ginger beer on top. Enjoy!
Apple Cider Spiced Rum Mocktail
Looking for a seasonally appropriate yet cool way to relax? A non-alcoholic rum alternative should be used to make this Apple Cider Spiced Rum Mocktail.
This mocktail's flavors come together into the ideal sip thanks to a traditional apple cider base, smoky spices, bright citrus, and non-alcoholic rum.
Ingredients
2 cups apple cider

3 oz Ritual Zero Proof Rum Alternative

¼ teaspoon ground ginger

¼ teaspoon ground nutmeg

2 cinnamon sticks

1 large orange

1 teaspoon cinnamon or pumpkin pie spice for the rim (optional)

Sage leaf (for garnish)
Instructions
In a pitcher or extra-large cocktail mixer with ice, combine apple cider, your non-alcoholic rum alternative, ground nutmeg, ground ginger, and cinnamon sticks. Stir well.

Orange should be cut in half. Then the interior should be run along the rims of two Old Fashioned glasses. Sprinkle cinnamon or pumpkin pie spice on the moist rim (this is optional).

Serve your mocktail in a prepared glass with ice and add fresh orange juice. Enjoy it chilled, and maybe garnish it with sage.
Old Cuban
The mojito served as the model for the Old Cuban, which has been given a few crucial modifications that enable it to stand alone. Here, dark rum is required instead of the mojito's customary white rum. Champagne is substituted with soda water, and aromatic bitters are added.
It works better in non-alcoholic form for this cocktail. The resulting beverage has the same bright, minty, and refreshing qualities as a mojito while also containing dark rum intensity and sparkling wine added to the taste.
Ingredients
6 mint leaves

½ ounce simple syrup

¾ ounce lime juice, freshly squeezed

2 ounces non-alcoholic dark rum

4 full droppers All The Bitter Aromatic bitters

2 ounces non-alcoholic sparkling wine
Instructions
Combine the mint leaves, simple syrup, and lime juice in the bottom of a shaker tin and gently mix.

Shake until thoroughly chilled after adding ice, rum, and bitters.

Sparkling wine is added on top after straining into a coupe glass.

Add a fresh mint sprig as a garnish.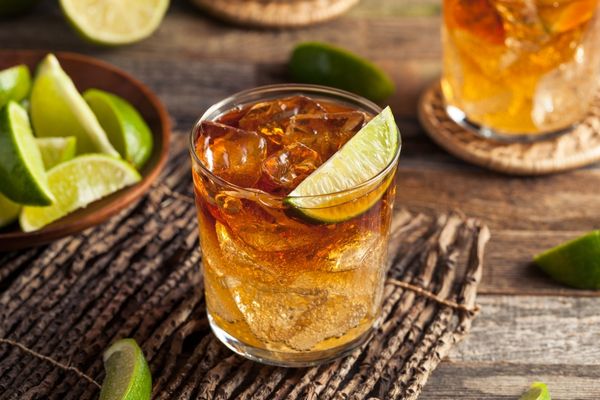 Finding a genuine substitute can feel like a lot of work, whether you're the designated driver, trying to limit your alcohol use, or just don't feel like drinking. One can only tolerate so many pints of Pepsi or glasses of soda water in a single evening. 
Why not check out non-alcoholic rum substitutes? Choose something meant to wow rather than settle for an extravagant, pricey mocktail that is essentially juice adorned with leaves. 
All the non-alcoholic rum options and substitutes we provided in this article were created to provide a flavorful beverage and one that you will enjoy. These can enable you to look forward to your drink as much as your typical rum and coke or rum-based cocktail, preventing being "tee-total" from feeling like a chore. Try it out for yourself!