People of all ages can enjoy a simple recipe for non-alcoholic mulled wine over the holidays. Using sweet grape juice, fruit, and spices to simmer, this recipe for alcohol-free mulled wine creates a hot beverage that will warm you from the inside out.
That's right; this non-alcoholic mulled wine can also be a perfect drink for kids and those not really accustomed to the taste of alcohol. Prepare to spice up the holidays with this amazing non-alcoholic mulled wine recipe!
Ever wondered what Mulled Wine is? Mulling spices with red wine is a new experience for some people, but it is a well-known festive custom for others. But what is mulled wine exactly? How does one create it? What flavor does mulled wine have?
Mulled wine, also known as spiced wine, is a warm wine, typically of the red variety, infused with various fruits and spices. If you've never tried spiced wine, it won't be difficult to visualize the flavor because many wines include comparable nuances.
Spiced wine can contain elements of fruit, tartness, sweetness, and smokiness; however, this cocktail's warm characteristics are stronger because of the additional ingredients. Due to the additional sugar and fruit used to flavor the cocktail, spiced wine nearly always has a sweeter and fruitier flavor than red wine.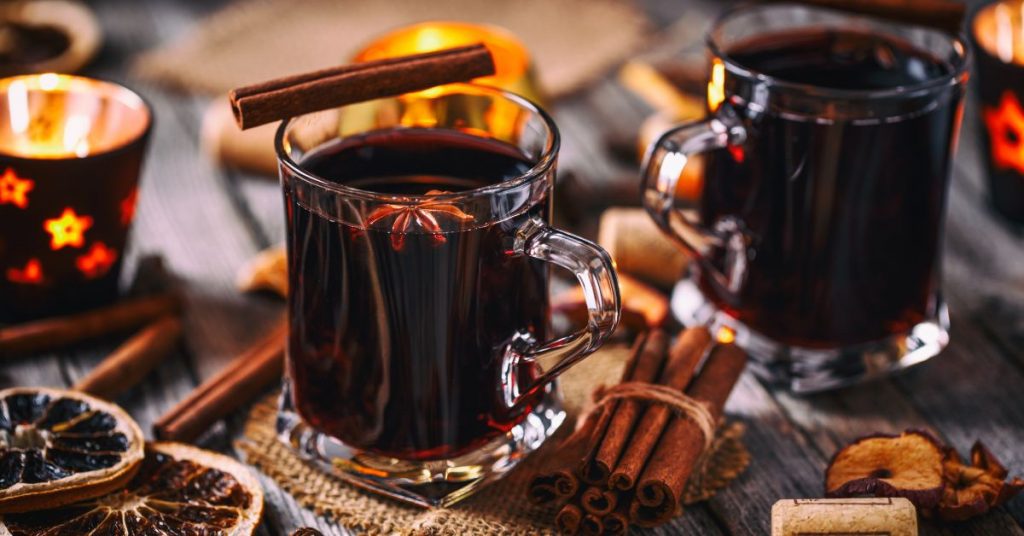 Since the second century, mulled wine has been a popular alcoholic beverage. The Romans created this delectable drink to keep their bodies warm throughout the winter. In essence, they simply heated wine, but it kept the Romans going as they ruled Europe and brought their love of mulled wine with them.
Adding spices to warm wine during the medieval ages helped people stay healthy. This beverage rose to prominence in Sweden, where various variations of the drink were made. The beverage was initially associated with Christmas in the 1890s, but it also goes well during Thanksgiving and New Year's.
Most well-stocked liquor stores and grocery chains sell readymade spiced wine during the holiday season. Wineries also offer a wide variety of excellent options for customers looking to buy spiced wine. However, making your own mulled wine at home is quite simple and frequently less expensive. The majority of the ingredients you require probably already exist if you have even a small spice collection.
Whole spices are frequently used in spiced wine. Because the majority of whole spices only have a shelf life of around a year, this is still another excellent reason to prepare your own. Therefore, using whole spices in this recipe is a terrific way to use them up before they go bad. Plus, you can mix and match the components to your preferences when making spiced wine at home!
How To Make A Non-Alcoholic Mulled Wine
Non-alcoholic mulled wine comes in a variety of flavors that you may mix and match to suit your personal preferences. There's a variety of best-spiced wine recipes, but there isn't one that works for everyone. Therefore, rather than instructing you what to put in it, we'll show you how to make this drink depending on your preferences and allow you to make it your own.
But first, we want to introduce you to the basic ingredients used in making a non-alcoholic mulled wine.
Non-alcoholic/Alcohol-free wine –

You'll need one bottle of your preferred non-alcoholic red wine. Your preference will determine the wine you select. Try a Merlot if you prefer a softer, mellower wine. A Cabernet Sauvignon is suitable if your choice is for something drier.
Sugar –

In order to balance the mulled wine's varied flavors from the fruits and spices, some frequently add more sugar. While some people may find the sweetness of the juice and fruits to be sufficient, sugar is required to fully realize the recipe's potential. Many other components, such as maple syrup and honey, which each have their own distinct tang, can be used in place of sugar.
Spices –

 Cloves, star anise, and cinnamon sticks are the three primary spices you'll need in this dish. The star anise has a licorice flavor with a tinge of sweetness, and the cloves offer a nice amount of heat and bitterness. Everything will come together, and get a citrusy, woody kick from your cinnamon sticks. As a result, your mulled wine will have an amazing flavor and a cozy blend of dried spices reminiscent of winter cuisine.
Fruits –

Fresh fruit is also crucial to creating non-alcoholic mulled wine. Fresh fruit typically tastes sweet, tangy, bitter, and lemony, though the specific flavor will vary based on what else is in your blend. Blackberries and oranges are the best fruits to use in this drink. To make the beverage less bitter, some have suggested eliminating the orange peel. Other fruits that you may choose to use include grapefruit, cranberries, blueberries, lemon, and blood orange. 
Below are the detailed recipes and instructions to make a non-alcoholic mulled wine.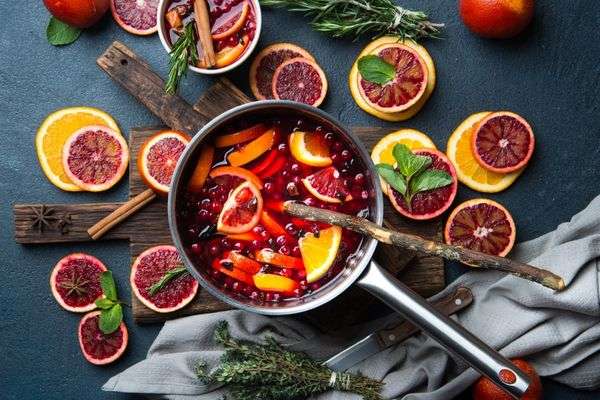 Ingredients
Juice or alcohol-free red wine

8 cloves

6 blackberries (optional)

1 cinnamon stick

3 star anise

1 orange slice

Brown sugar (to taste)
Instructions 
On medium-high heat, combine all the ingredients in a big saucepan and bring to a very low boil.

Steam for 20 to 30 minutes on low heat. You can leave it for up to an hour if you have more time.

Remove the spices and orange slices by straining.

Place in a mug and top with garnish.
Aside from fruit juices you can buy or make on your own, you can use non-alcoholic wines in the market to make a non-alcoholic mulled wine. Since non-alcoholic beverages are becoming popular nowadays, you'll have a wide selection. The most popular kinds of wines to use are Merlot and Cabernet Sauvignon. Below are different brands that produce non-alcoholic versions of them.
The alcohol-free Merlot from Fre has a rich, opulent flavor and a stunning crimson color and a lot of style and grace. It is wonderfully smooth, with a long, rich finish and enticing black plum scents and flavors. You can find Fre wines at Target.
Made in France, the Le Petit Chavin non-alcoholic Merlot is ruby red in color with an intense aroma and rich mouthfeel.
This is a classic French Merlot expertly crafted from grapes picked overnight (which is a popular method in climates with hot daytime temps) to take advantage of the cooler temperature leading to a more robust flavor.
It's an easy drinking wine with 0.0% alcohol, making it ideal for anyone wanting a wine with truly zero alcohol content.
Lussory Premium Merlot has an earthy flavor and a chalky texture that are pleasing to the palate and a rustic yet refined complexity. Blackberry and cigar box flavors predominate in this merlot. Strong tannins and subdued juniper notes can also be found in them.
Non-Alcoholic Cabernet Sauvignon
Chateau Diana Cabernet Sauvignon
Chateau Diana Zero keeps all the fun and festivity of fresh fruity wines, without the alcohol.
Tasting Notes: The aromas of fresh red fruit are enticing from the glass. There's a balance of fruity sweetness and bright acidity that makes it easy to sip alone or pair with dinner.
St. Regis Cabernet Sauvignon
Deep ruby red color and full-bodied this non-alcoholic wine is a perfect assemblage of some of the best grapes from their North of Spain vineyard.
Well-constructed, it is the fresh climate of the region that provides this wine with its bold color and an aromatic nose of spices, mint, ripe plums and blackcurrant.
On the palate, this wine showcases ripe tannins and a refreshing but balanced acidity. Its texture precedes a long finish featuring subtle notes of toasty oak and chocolate.
Black currants, juicy cherries, milk chocolate, blackberry peel, and sweet baking spice are among the sensations found in a large bottle of Ariel Cabernet Sauvignon. Soft acidity and silky tannins result in a dry, palate-coating aftertaste. This wine has traditional cab flavors but less than 0.5% alcohol by volume.
If you're using red wine without alcohol, you might need to add a little brown sugar. This can be done by following the entire method, then tasting the wine while it is still warm on the stove. Add a tiny quantity of brown sugar, whisk until it dissolves, and then taste to see if it needs a little sweetness. Repeat this procedure until the sweetness is to your liking.
For more reference, you can watch this quick video of making non-alcoholic mulled wine as a guide.
There you have it, then! That is our basic non-alcoholic mulled wine recipe. Almost anyone can make it in under an hour thanks to the simple cooking method and easily adaptable ingredients. Your house will smell warm and inviting after making this recipe.
Non-Alcoholic Mulled Wine FAQs