A michelada is a Mexican cocktail made primarily with beer. But today, we are going to talk about the infamous non-alcoholic michelagua! It is a non-alcoholic version of your favorite michelada that is basically an agua fresca with a few added ingredients. Sandia, pineapple, spinach, mango, cucumber, and lemon are among the common ingredients mixed to create one.
To create a non-alcoholic michelagua, you basically create the cocktail using non-alcoholic beer or without the beer at all. Depending on your preferences, you can add a little extra tomato juice and spices. But essentially, you can concoct a great tomato juice mocktail by using the right ingredients!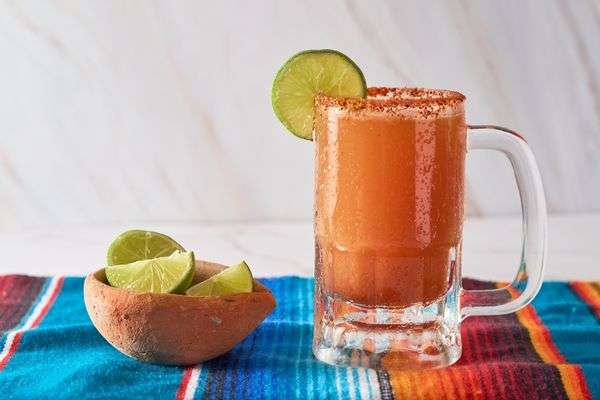 While most people are familiar with the Bloody Mary, have you heard of the Michelada? This Mexican refreshment has numerous comparative parts to Bloody Mary. In addition to having a tomato-based mixer and savory, spicy, and sour components, both drinks are distinct in a number of ways.
The base alcohol is the most obvious distinction. Micheladas are made with beer, which is typically a Mexican lager, whereas Bloody Mary is made with vodka. The most common rim for Bloody Marys is celery salt, while the most common rim for Micheladas is Tajin or chili powder. Also, a quick side note: Tajin seasoning is fantastic on a wide variety of foods.
A michelada is an ice-cold beer with a hint of fresh lime juice and a dash of salt with a splash of hot sauce and tomato juice. Its popularity has grown across Mexico and the United States throughout the years. Homebrewers and establishments have elevated this thirst-quenching drink over time by incorporating various sauces, chili peppers, tomato juice, fruits, and even seafood like shrimp.
The story of how michelada originated is still unclear up to this day. It's believed to have been developed during the Mexican Revolution in 1910 to aid wary soldiers and is also believed to have been developed at a bar to serve as an antidote against the hot climate. Either way, the michelada is ideal for people who like experimenting with their drink, as they can incorporate many twists and flavors into it.
Five Different Types of Michelada
This popular drink has five different types, which are certainly enjoyed for day drinking in Southern California and Los Angeles, particularly during summer.
This drink is made with salt and chili powder on the rim, more often than not, the condiment Tajín, and any combination of umami operators, such as Clamato, salsa inglesa (Worcestershire sauce), salsa Maggi, Tabasco or Valentina hot sauce.
Moreover, it is known as a michelada prepada or a michelada Cubana.
A chelada is best served in a frosted mug with a salt rim. The main ingredients are salt, lime, ice, and lager. 
A sweeter version of michelada with a tamarindo and chamoy sweet sauce edge, rather than salt and chili. Frequently served with sticks of acrid gummy bears and saladitos or spicy watermelon gummy candy. The sweet edge is coated in delicately toasted sesame seeds in some arrangements. You can wrap the drink up with salty candy.
This michelada is often made with lots of seafood on top. It's arranged with sticks of cooked shrimp and mango or cucumber or shrimp or cucumber pieces wedged onto the edge.
In more grandiose varieties, a whole plastic platter of a mariscos cocktail with pulpo, scallops, and shellfish is laid over the michelada glass, with cuts within the holder so that the mariscos' juices can dribble down into the brew.
This version of michelada can turn into meals as you'd like it.
A michelagua is a non-alcoholic version of michelada that is some sort of a Bloody Mary but with as much salty and spicy energy. The drink certainly encompasses a lot going on flavor-wise, but there's also something about is that draws you to it to it. You can concoct a good non-alcoholic michelagua with or without non-alcoholic beers. 
Meanwhile, here are some non-alcoholic beers you can use for your non-alcoholic michelagua:
How To Make A Non-Alcoholic Michelagua At Home
You probably want to create these micheladas right now, so simply chill a few glasses and gather the ingredients so you'll be able to whip up some. Before moving on to the recipes and tutorial below, watch this video on how Ricco's makes their non-alcoholic michelaguas in different flavors, like mango and watermelon, with the cup rimmed with chamoy and chili powder.
Now, onto making your own refreshing drink at home! There are two ways to make a non-alcoholic michelagua, depending on your preferences: with and without non-alcoholic beer. You can use these ingredients and follow the instructions carefully.
With Non-Alcoholic Beer
Ingredients:
2 lime wedges

Spicy salt (for rim)

2 ounces tomato juice

1 tsp Cholula hot sauce

½ tsp Maggi seasoning or Worcestershire sauce

1 (12-ounce) non-alcoholic lager
Instructions:
One lime wedge should be used to rub the rim of a tall or pint glass. Dip the glass just a little bit into the hot salt.

The remaining lime juice should be squeezed into the glass and the ice before being discarded.

Combine the tomato juice, hot sauce, Maggi (or Worchestershire), and non-alcoholic beer. Mix thoroughly and garnish with a fresh lime wedge.
Without Non-Alcoholic Beer
Ingredients:
4 cups Clamato

1 tsp hot sauce (more or less to taste)

2 tbsp Worcestershire sauce

1 tsp soy sauce

½ cup lime juice fresh

2 garlic cloves minced and ground into a paste (or just buy garlic paste)

1 tsp black pepper

¼  tsp Tajín seasoning garnish for the rim

1 fresh lime for rimming the glass

Green olives cocktail onions, cherry tomatoes, sweet mini peppers, celery, and limes (for garnish)
Instructions:
Sprinkle the Tajín on a small plate.

Rub a slice of lime around the glass rim and then press the rim on the Tajín.

Combine Clamato, lime juice, garlic paste, Worcestershire sauce, hot sauce, soy sauce, and black pepper in a large pitcher.

Fill the glasses with ice and add the mixture.

Garnish your drink with a skewer of green olives, cherry tomato, cocktail onions, and sweet mini peppers. 

Finish it off with a stalk of celery and lime. Enjoy!
The non-alcoholic michelagua without non-alcoholic beer is an option for those who are watching their weight or health in general and wondering whether non-alcoholic beer can make you fat. If you want to try other Mexican drinks for your party or just a casual day, learn more about how to make a non-alcoholic margarita here.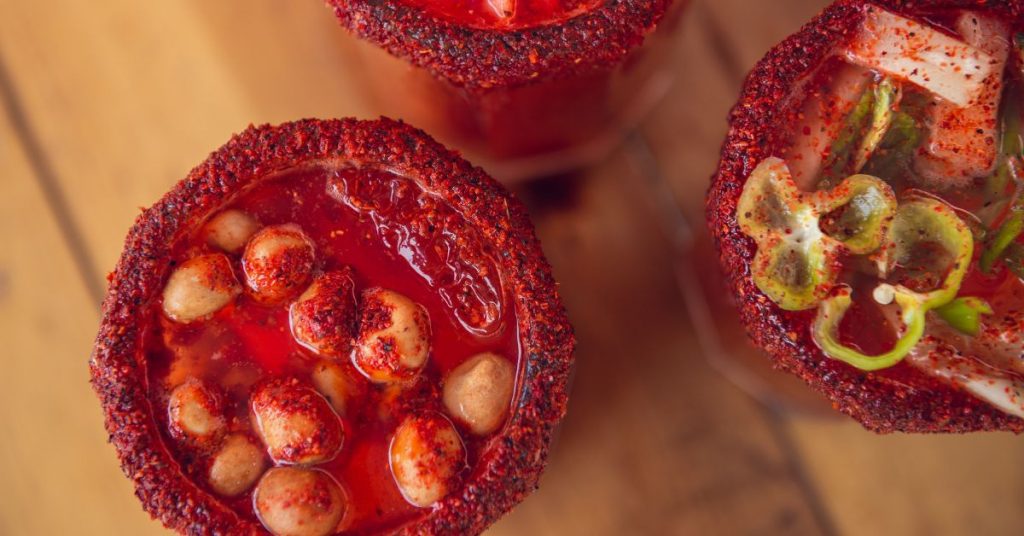 Non-Alcoholic Michelagua FAQs