Time to read: 2 minutes
pro tip: bookmark to make later
The hot toddy is excellent, but occasionally you just want that cozy, comforting mixture without the alcohol. A non-alcoholic hot toddy is simply a cup of warm tea that has been improved. It's a great beverage, though, and ideal for chilly nights.
It's similar to non-alcoholic kombucha and non-alcoholic drinks with tonic water that have their own health benefits.
To make this toddy, just pick your favorite hot tea and watch as the sugar, citrus, and spices of the classic toddy are added, turning it into a lovely winter mocktail. It's not simply a fantastic option for those who don't drink; you can also serve it to the youngsters. Similar to chicken soup, it also provides soothing relief for cold symptoms.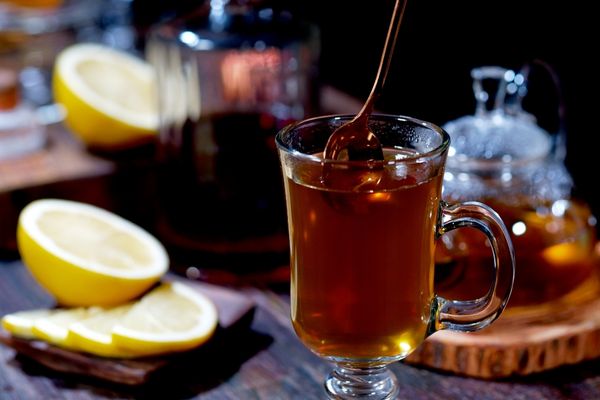 According to SIP Awards, since the beginning of the 16th century, hot toddy has existed. The word "taddy," which means "fermented tree sap" in Hindi, was originally used to describe the first toddy. Anyone suffering from a cold or other sickness was prescribed tree sap to treat their symptoms.
The hot toddies we know and enjoy today differ greatly from the original mixtures made from tree sap. By the middle of the 18th century, an Irish physician named Robert Bently Todd had taken the concept of taddy and modernized it. He would recommend a concoction of hot brandy, cinnamon, and sugar water to his patients. This concoction immediately became the preferred cold remedy
Today, a hot toddy can be any hot beverage that contains sprites, spices, and sugar. Naturally, we wanted to make a non-alcoholic hot toddy. Without a drop of alcohol, it would taste better than the original and still work to treat your cold.
A Guide On How To Craft Different Variations Of Non-Alcoholic Hot Toddy (With Recipes)
These versions of non-alcoholic hot toddy beverages are perfect if you're looking for a warm, comforting nightcap.
Recipe #1 – Green Tea Hot Toddy
You most likely have these ingredients in your pantry/fridge already!
Honey

Lemon Juice

Orange Juice

Ground Nutmeg

Ground Cloves

Cinnamon Sticks

Whole Star Anise (for garnish)

Lemon Slices/Wedges (for garnish)

Start by gathering all of your ingredients. Honey, orange juice, lemon juice, cloves, and nutmeg should all be placed in an Irish coffee cup or glass. Stir with some hot, freshly brewed Lipton® Green Tea before serving. If you're feeling fancy, include a cinnamon stick, lemon, and whole star anise as garnishes. Serve warm, and enjoy!
Recipe #2 – Seir Hill Non-Alcoholic Whiskey Alternative Hot Toddy
Whiskey Alternative can be substituted for the classic hot toddy recipe whiskey to achieve the same strong flavors and comforting effects.
1 oz Ritual Zero Proof Whiskey Alternative Non-Alcoholic Spirit

1 tbsp Honey

2 tsp Fresh Lemon Juice

2 oz Boiling Water

Lemon (for garnish)

Whiskey Alternative Non-Alcoholic Spirit and fresh lemon juice should be added to a glass mug.
Honey should be added before adding boiling water to the mixture.
The drink should be stirred until all honey has been dissolved.
Last but not least, garnish the top glass with a lemon wheel.
Recipe #3 – Four-Ingredient Hot Toddy to Calm your Cough
Do you feel sick? To relieve a cold, cough, or sore throat, try this four-ingredient, non-alcoholic hot toddy. Compared to cough drops, it is so much better!
1 tsp honey

1 cup boiling water

½ Lemon Juice

½ tsp cinnamon (or to taste)
Boil some water in a kettle. Cut a lemon in half. Save the other half for a later cup and juice one of those halves. The cup of boiling water should be mixed with lemon juice, honey, and cinnamon. Consume as needed.
Recipe #4 – Lemon Hot Toddy with Ginger Simple Syrup
8 oz Water

1 whole Lemon (peel and flesh chopped)

¼ tsp Chili flakes or ⅛ teaspoon chili powder

1-2 tbsp Ginger simple syrup (can be homemade)

Pour boiled water into the blender or anything else you're using. Boiling water should be flavored with a lemon slice. Note that the lemon chunks should be carefully dropped into boiling water to prevent splashing. Add the red pepper flakes. This mixture of water, lemon, and chili flakes should be mixed thoroughly for 30 to 60 seconds. 
Using a wooden spoon or spatula, soak the ingredients in a bowl for at least 60 seconds. Pour the liquid into a heatproof cup after straining the sediments. You can reheat the liquid slowly on the stove if it has cooled. The ginger simple syrup should be mixed with the lemon hot toddy by 1-2 tablespoons.
Recipe #5 – Lower-Sugar Hot Toddy
This low-sugar, non-alcoholic hot toddy can warm you on the chilliest winter days. This winter cocktail's subtleties include warming components and layer heat while adding a ton of delectable flavor.
1 cup water

2 tbsp orange marmalade

1 tbsp honey (or to taste)

1 tsp of tamarind paste (optional)

½ tsp turmeric (or 2-inch fresh turmeric, peeled and finely chopped)

½ tsp ground ginger (or 2-inch fresh ginger, peeled and finely chopped)

10 black peppercorns

½ tsp ground cinnamon

½ tsp ground cardamom

¼ tsp ground nutmeg

¼ hot jalapeño pepper, finely chopped (or to taste)

Orange wheel (for garnish)

Cinnamon stick (for garnish; optional)

Star anise (for garnish; optional)

Add the 3 cups of water to a small pot and heat to almost boiling for the chamomile tea. Turn down the heat to low, add the four tea bags, and let soak for about five minutes—or longer if you prefer a stronger flavor. 
In a separate small pot, add 1 cup of water and heat to almost boiling to make the soothing honey-marmalade syrup. Add the marmalade, honey, tamarind paste, turmeric, ginger, peppercorns, cinnamon, nutmeg, cardamom, and finely sliced jalapeno pepper after lowering the heat to a boil. Simmer for five minutes.
After removing the tea bags, add the honey-marmalade mixture to the small saucepan and stir to integrate the flavors for two to three minutes on low heat. 
If you have a French press, put the ingredients in the carafe and steep them for an additional five minutes. After that, press the mixture to filter it and pour it into a heat-resistant glass. If you don't have a French press, let the mixture simmer in the saucepan for five minutes before straining it through a fine mesh sieve into a heat-resistant glass. 
Add star anise, cinnamon stick, or fresh orange wheel as garnish. Then, curl up in your favorite blanket and enjoy!
Non-Alcoholic Hot Toddy FAQs