Cabernet Sauvignon wine is one of the world's most well-known red wine varietals. But do you know that there are non-alcoholic Cabernet Sauvignon alternatives? 
Cabernet Sauvignon red wine, which is produced in nations with a wide range of climates, is full-bodied, dry, and distinguished by flavors of dark fruits like plum, black cherry, and blackberry, as well as hints of toasty spice, earth, and herbs. Because of its thick skin and robust vines, Cabernet Sauvignon grapes can be planted everywhere.
Everything You Need To Know About Non-Alcoholic Cabernet Sauvignon
Cabernet Sauvignon, a grape originating in Bordeaux, France, is now planted in almost all of the world's major wine-producing nations. The simplicity with which Cabernet Sauvignon grapes can be grown is frequently cited as a reason for its appeal. 
The Cabernet Sauvignon grape is a dependable variety since it is noted for producing high-quality wine and has resilient plants. Cabernet Sauvignon wine is typically a full-bodied, rich wine perfect for people who like deep red wines.
Vacuum distillation and reverse osmosis are the two main methods to create non-alcoholic wine. Both of these procedures result in a wine that has little to no alcohol at the end, a wine that is truly, alcohol-free.
Reverse osmosis is a clever procedure that filters away phenolics and fragrance compounds before distillation removes the alcohol. The residual water is then reincorporated into the wine concentration that has been filtered. Wine can require up to 2-4 cycles of reverse osmosis procedure to be alcohol-free.
The downside of this method is that reverse osmosis takes away good tannins. The texture that tannins give wine is another element that is missing. Contrary to popular belief, tannins in wine actually offer a variety of beneficial textural components that give the beverage body. Unfortunately, non-alcoholic wine products continue to fall short.
Using a vacuum chamber, this process evaporates the wine in a manner similar to boiling but at much lower temperatures. However, the method causes most aromatic chemicals to evaporate along with the alcohol. Most people lament this technique's severe lack of flowery scents in wines produced. However, only a small number of popular non-alcoholic wine companies employ this method.
Most of a wine's aromas are released from the wine's surface due to alcohol evaporation. The fragrances lose their ability to travel when the alcohol is eliminated. Non-alcoholic wines do have scents, but for the time being, the majority of them are connected to their tart post-fermentation qualities.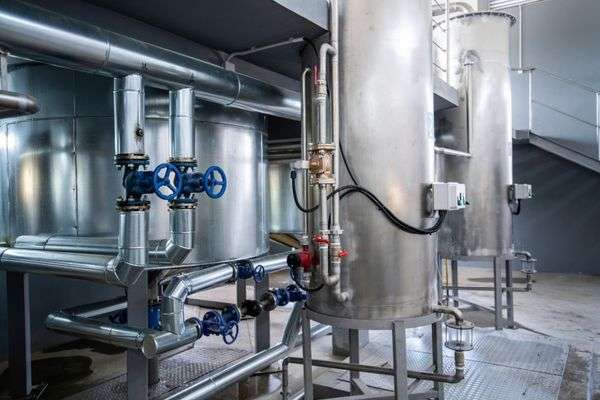 Now you know why creating a delicious non-alcoholic Cabernet Sauvignon is so challenging. Traditional wine relies significantly on alcohol for scent and taste, having a far higher ABV (alcohol-by-volume) level than beer and without a mixer to heighten or hide flavors like you would with spirits. It is very challenging to recreate the same feeling when it is taken out of the picture.
Dealcoholization methods are improving daily, and several companies are developing inventive ways to provide a good bottle of non-alcoholic red wine. There are quite a few decent non-alcoholic red wines on the market right now, though, like with any non-alcoholic drinks, you need to go into the experience with the appropriate expectations.
Non-Alcoholic Cabernet Sauvignon Alternatives
The non-alcoholic Cabernet Sauvignon alternatives in the list below are all manufactured the same way as conventional wine and then dealcoholized, guaranteeing premium quality. The next time you want the flavor of your favorite bottle without the alcohol, pick one of these up.
Ariel Non-Alcoholic Cabernet Sauvignon
Recognized as the original non-alcoholic red wine and one of the most commonly accessible for purchase at various grocery and liquor stores across the U.S., Ariel Non-Alcoholic Cabernet Sauvignon is an oak-aged rich red wine that mimics that sensation of savoring your favorite bottle of Cab. This big-boned bottle tastes like black currants, milk chocolate, meaty cherries, blackberry skin, and sweet baking spice. Soft acid and silky tannins result in a dry, palate-coating aftertaste.
While it won't deceive anyone into believing it's a typical wine, there's a lot to enjoy about this alcohol-free red. Even though this wine tastes like a classic Cab, it has less than 0.5% ABV. Sip with juicy steaks or hearty lentil stews.
St. Regis Non-Alcoholic Cabernet Sauvignon
Even though St. Regis is a Canadian company, their excellent collection of non-alcoholic wines is sourced from vineyards in some of the planet's oldest wine-producing countries. And the St. Regis Non-Alcoholic Cabernet Sauvignon is a prime example of this commitment to Old World winemaking methods. 
St. Regis Cab is one of the all-time favorite non-alcoholic red wine bottles and strikes all the right notes. This alcohol-free red wine is made from hand-selected grapes cultivated in Northern Spain and has dark cherry and blackcurrant notes that are softened by spice, mint, and chocolate. The wine's full-bodied texture and rich flavor combination more than makeup for the lack of alcohol's heat, which it does not entirely replace.
Be Well Non-Alcoholic Cabernet Sauvignon
Be Well Non-Alcoholic Cabernet Sauvignon is a delightful surprise. When you first open the bottle, you'll note a crisp aroma of rich plum and dark cherry—fruits that are also evident in the flavor profile of this red wine without alcohol. 
Be Well Non-Alcoholic Cabernet Sauvignon is an excellent choice for individuals who want to imitate the robust flavors of red wine, even if it, like most non-alcoholic wines, has a hint of sweetness and lacks the "hot" sensation from the alcohol.
Here's a review of Be Well Non-Alcoholic Cabernet Sauvignon from The Sober Barkeep on YouTube for more insights:
YOURS Non-Alcoholic California Cabernet Sauvignon
While making their own Cabernet Sauvignon that's not too thin or sweet, YOURS created 26 different cabernet sauvignons in collaboration with some of California's best winemakers and sommeliers before they finally found one that we truly loved.
YOURS Non-Alcoholic Cabernet Sauvignon is robust, full-flavored, dry, and devoid of the lingering sweetness that characterizes the majority of N/A wines available today. Each sip of this drink is a flavor explosion, with notes of black cherry, blackberries, anise, bell pepper, oak, and freshly ground peppercorn. Despite all of the flavor, each glass of YOURS contains just 20 calories and no added sugar.
Jøyus Non-Alcoholic Cabernet Sauvignon
Meet the Cabernet Sauvignon that earned Silver in one of the world's biggest and oldest wine contests and is featured in Forbes. The most prestigious honor a non-alcoholic red wine has won.
It is truly hard to find a wonderful non-alcoholic red wine. However, the wonderfully balanced Jøyus Non-Alcoholic Cabernet Sauvignon has all the depth, tannins, and warmth of a typical Cab while being softly distilled. It is matured on American oak, and each serving has only 25 calories.
Your palate will be delighted by the warmth and richness, and you'll keep returning for more sips thanks to the well-balanced tannins, flavors of juicy dark berries, seasoned wood, and vanilla overtones. Jøyus Cabernet Sauvignon pairs nicely with nights spent in front of the fireplace, stinky cheese, and good books.
How to Enjoy a Non-Alcoholic Cabernet Sauvignon
You can drink non-alcoholic Cabernet Sauvignon wine all year long. It goes well with leafy greens and vegetables like mushrooms. How is it served? Open your bottle of non-alcoholic Cabernet Sauvignon red wine for at least one hour before serving for the best possible sipping experience. Serve it at room temperature or slightly chilled to 16 degrees.
You can also make non-alcoholic mulled wine by using non-alcoholic Cabernet Sauvignon. Watch this video from La Maison Wellness on YouTube, which you can follow in making non-alcoholic mulled wine using Zera Organic Cabernet Sauvignon.
Non-Alcoholic Cabernet Sauvignon FAQs