Craving the classic Bloody Mary but trying to stay away from alcohol? Make this non-alcoholic Bloody Mary, also known as the Virgin Bloody Mary Mocktail, and you won't miss the vodka!
One of the most popular brunch beverages is the Bloody Mary. These mocktail recipes are full of flavor – spicy, flavorful, and salty. It's ideal if you don't want to drink alcohol. Of course, if you want to add some vodka, you can try non-alcoholic vodka alternatives available in the market.
With Non-Alcoholic Vodka Alternative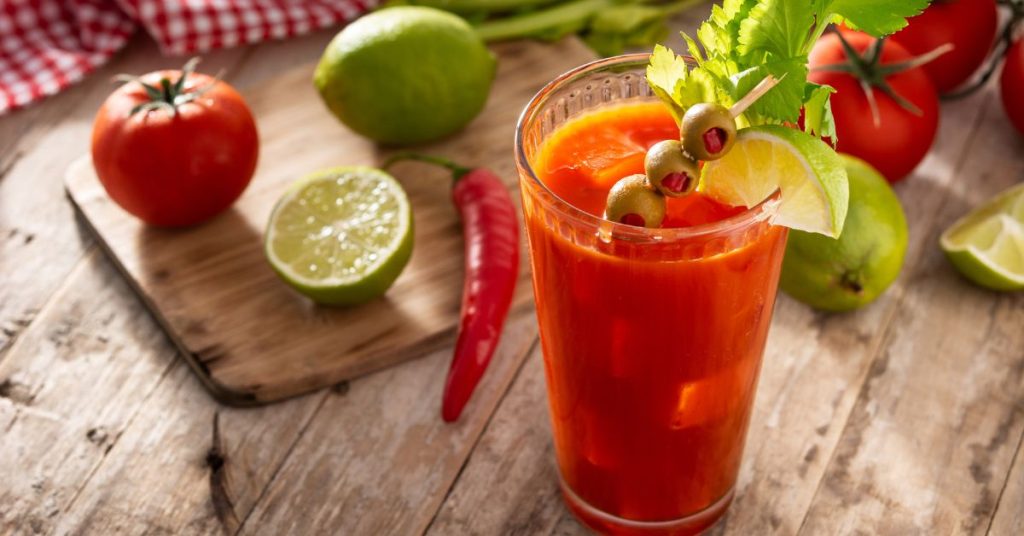 The mocktail trend is thriving these days, and there are a plethora of zero-proof spirits on the market. They are just water that has been flavored to taste like alcohol and may be used in various drinks as a 1:1 alcohol replacement.
If you want to branch out from the norm, make a Virgin Bloody Mary Mocktail using a tequila substitute.
Ingredients
Bloody Mary salt, for rim

2 ounces zero-proof spirit

4 ounces tomato juice

½ ounce lemon juice

½ teaspoon Worcestershire sauce

2 to 4 dashes hot sauce, to taste

½ teaspoon horseradish

½ teaspoon celery salt

½ teaspoon sea salt

¼ teaspoon black pepper

celery stick, olives, and bacon (for garnish)
Instructions
On a plate, sprinkle with Bloody Mary rim salt. A lime slice should be rubbed around the rim of a Collins or Highball glass. To coat the rims of the glasses, roll them in the salt. 

Fill the glass with ice cubes.

Add your vodka substitute to an ice-filled cocktail shaker. 

Stir in the lemon juice, Worcestershire sauce, spicy sauce, celery salt, sea salt, black pepper, and horseradish in the shaker.

Shake vigorously and strain into the prepared glass. 

Garnish with your preferred garnishes.
Non-Alcoholic Vodka Options
When you want to make a typical Bloody Mary, you go for your favorite bottle of vodka. But if you're feeling particularly curious, why not experiment with non-alcoholic spirits to complement your tomato juice?
The delectable non-alcoholic vodka alternatives listed below can be substituted for your non-alcoholic Bloody Mary.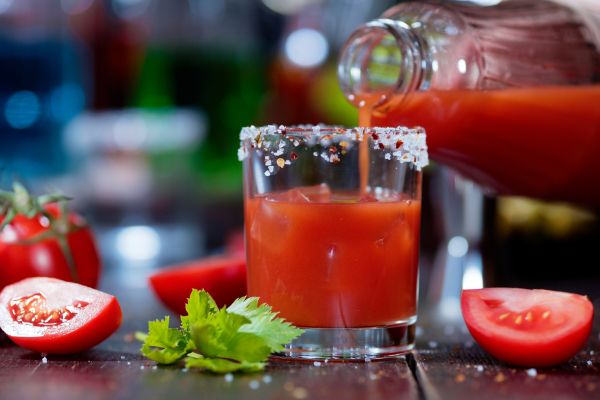 Strykk Vodka is a contemporary non-alcoholic vodka alternative created from cucumber, coriander, and warming pepper. It is completely natural, with no added sugar, artificial flavors, allergies, or alcohol.
This non-alcoholic vodka spirit is quite adaptable and simple to include with non-alcoholic spirit alternatives. You may use it in place of Vodka to make refreshing mocktails like the Cosmopolitan or the Bloody Mary.
Clean V is uplifting and crisp with a hint of cinnamon, smooth hints of green apple and cinnamon spice, and a traditional warm alcohol-like sensation to finish. For a non-alcoholic spirit, the depth is quite astounding.
Try Clean Co's Clean V Apple Vodka Alternative if you enjoy flavored vodkas. It's up to you personally if you'd like to add an apple-flavored non-alcoholic vodka alternative to your Virgin Bloody Mary Mocktail.
ArKay's Zero-Proof Vodka is a non-alcoholic spirit that retains high-quality vodka's rich and distinct flavor. This non-alcoholic vodka substitute has been specifically designed to replace regular vodka in the drinks you already know and enjoy. 
Without the alcohol or calories, you get the crisp, powerful bite of vodka. Non-alcoholic classics such as the Sea Breeze and the Cosmopolitan, innovative mixology, basic serves with soda, juice, or Energy drink, and everything in between.
ArKay Zero Proof spirits are designed for cocktails and can be taken neat or straight. The notes of ArKay unflavored vodka are complemented by its same alcoholic taste. With 100 Points, it is the highest-rated spirit alternative in the world.
Here's a more personal review of ArKay's zero-proof vodka by Chris Talbot:
Escape Non Alcoholic Sweet Potato Vodka
Sweet Potato Vodka is a non-alcoholic vodka that tastes like a warm, buttery baked sweet potato. This non-alcoholic beverage includes traces of spice, similar to a sweet potato pie with cinnamon and brown sugar sprinkled on top.  
This mocktail is ideal for folks who enjoy rustic, earthy drinks.  The flavor is more genuine, with pure sweet potato and vodka flavors coming through. It can also be mixed with your favorite vodka-based mocktails.
Spice 94, Grove 42, and Garden 108 are three distinct nonalcoholic spirits by Seedlip. You can use any of them to create a non-alcoholic Bloody Mary. Learn more about each of their tasting notes here.
With Natural Recipes From Your Kitchen
This mocktail is actually very healthy! Tomato juice is high in lycopene, a potent antioxidant with numerous health advantages. It also contains a range of vitamins, minerals, and antioxidants.
When selecting tomato juice, always check the labeling. Some tomato juices are high in salt and may have additional sweeteners. Look for tomato juice that is minimal in salt and contains no added fruit or sugar.
Ingredients
2 cups prepared tomato juice, preferably low sodium

¼ cup dill pickle juice or olive brine

2 tablespoons fresh lemon juice

1 tablespoon prepared horseradish

1 teaspoon hot sauce, such as Franks

1 teaspoon Worcestershire sauce

¼ teaspoon celery seeds

⅛ teaspoon cayenne pepper

4 small celery heart stalks with leaves for serving

4 lemon wedges for garnish

12 large olives, optional for serving
Instructions
In a large pitcher, combine tomato juice, pickle juice, lemon juice, horseradish, spicy sauce, Worcestershire sauce, celery seeds, and cayenne.

Pour roughly ⅔ cup into 4 ice-filled glasses to serve. 

Garnish with a celery stalk, olives, and a lemon wedge for each.
Note: Make 4 days ahead and keep cold.
Making a Virgin Bloody Mary Mocktail is as simple as omitting the vodka from your favorite Bloody Mary recipe—making this delectable drink has never been easier with the recipes outlined above. 
Use it as a breakfast drink for folks who cannot or do not want to consume alcohol; it is also ideal for baby showers or as a refreshing aperitif on hot summer days. 
Experiment with different amounts of spice in your drink. The seasonings are not measured because they should be applied to taste. Enjoy!
Non-Alcoholic Bloody Mary FAQs