It's unusual for a drink to feel both old and modern at the same time, but a non-alcoholic Aperol Spritz can be just that. The spritz is the drink that most quickly conjures the carefree, al fresco summer mood. 
Of course, like with many drinks made mostly of alcoholic ingredients, creating a non-alcoholic version of the Aperol Spritz has proven hard; but it is possible.
We're letting you in on the secrets to making a non-alcoholic Aperol Spritz easily.
The conventional ratio for making a spritz is two parts bitter aperitif, three parts non-alcoholic sparkling white wine, and one part sparkling water, in that order.
What is an Aperol Spritz?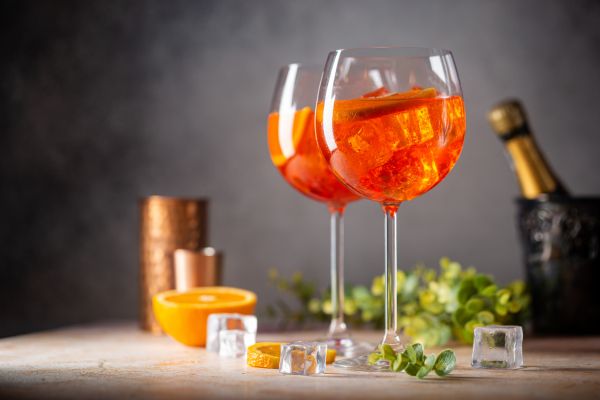 Aperol Spritz is a typical Italian drink that is traditionally bitter and bubbly, with just enough sweet and sour ingredients for balance, and is best served over ice in a balloon glass.
This wine-based drink, also known as the Spritz Veneziano, was created in Northern Italy for nearly two centuries after German soldiers urged bar owners to dilute the region's high-alcohol wines with a dash of water – AKA "spritzen" in German.
This custom lasted until the 1950s, when people began adding Aperol, an Italian bitter aperitif, to the water and wine mixture. And the Aperol Spritz was born!
While quite popular during the hot Italian summers, this drink never caught on outside Italy. But in 2003, the Campari Group purchased the Aperol brand, which immediately broadened the cocktail's reach to sell more goods.
By 2018, the Aperol Spritz had reached a tipping point, with consumers all over the world flocking to its refreshing taste and vivid colors.
The conventional ratio for making a spritz is two parts bitter aperitif, three parts sparkling white wine, and one part sparkling water, in that order.
To keep the bubbles intact, make sure the aperitif goes in first. A spritz is made in a glass over ice, so no sophisticated barware is required—you don't even need to stir it.
Once you've mastered the basics of spritz production, you can experiment with other combinations of non-alcoholic spirits, sparkling wine alternatives, and seltzer water.
Use flavored seltzers to enhance complexity or replace the sparkling wine requirement entirely. Substitute sparkling rosé or red wine alternatives, kombucha, or fruit-forward bubblies like Non for the non-alcoholic prosecco.
Non-Alcoholic Aperol Spritz Recipes
The non-alcoholic Aperol Spritz is a tasty and healthy spin on the iconic Italian orange mocktail that is served all throughout Italy during the summer! The fresh herbs and juice mix strike both the bitter and sweet tones that an Aperol Spritz is known for.
Try making the recipes below at home so you can prepare for any gathering, celebration, or just an afternoon sip, really!
With Non-Alcoholic Spirit and Sparkling Brut
Try using the refreshing blend of Lyre's Spirit Co. – Lyre's Italian Spritz. This alcohol-free spirit, which incorporates the same bitter flavors and bright orange hue as Aperol, has opened up a whole new world of non-alcoholic drinks, including the non-alcoholic Aperol Spritz recipe.
Are you ready for a non-alcoholic version of this traditional Italian cocktail?
Ingredients
1 oz Soda Water

Ice

Orange for Garnish
Instructions
Fill the glass halfway with ice.

Pour in the Non-Alcoholic Italian Spritz from Lyre.

Add Fre Non-Alcoholic Sparkling Brut Champagne.

Mix in a dash of Bablouie Orange Bitters Alcohol-Free Bitters.

Add soda water to taste.

Garnish with orange wedges.
With Different Kinds of Juices
This mocktail has a lot of components, but it's necessary to get the sweet and bitter flavors that an Aperol Spritz is known for. Did you know Aperol has a herbal flavor? This is why fresh herbs are also so important.
Ingredients
1 tablespoon lemon juice + a small 2″ long peel

3-5 fresh sage leaves

3-4 fresh thyme sprigs

¾ cup orange juice

¾ cup grapefruit juice

½ pomegranate juice

½ white grape juice

1 teaspoon Apple cider vinegar

2 cups Seltzer water
Instructions
Muddle the lemon juice, peel, and herbs together in a glass with a muddler. This is a vital step that will aid in releasing those delectable flavors.

Add the mixed components and the remaining ingredients, except for the tonic water, to a cocktail shaker with ice.

Shake for 10 seconds, then pour into four glasses filled with ice. Fill each glass about two-thirds of the way.

Garnish with herbs and an orange slice, and top with tonic or soda water.
With Non-Alcoholic Bitters and Tonic Water
The key ingredients for this alcohol-free Aperol spritz recipe are orange juice and a non-alcoholic bitter. They are mainly accessible in Italian specialty shops, but you can also order them online.
They are typically available in single-serving small bottles, ideal for fuss-free and error-free mocktails, but they can also be enjoyed on their own with ice!
Ingredients
3 parts orange juice

2 parts non-alcoholic bitter

1 part soda or tonic water

Ice cubes

A slice of orange or lemon to decorate
Instructions
Fill a long wine glass halfway with ice cubes, then add the orange juice, non-alcoholic bitter, and soda water.

Stir thoroughly, garnish with an orange slice and a straw, and serve immediately.
See how Drinkstuff from YouTube creates a non-alcoholic Aperol Spritz here for more recipe ideas.
Ready-To-Drink Non-Alcoholic Aperol Spritz
Whatever the case, Italy's most popular cocktail is here to stay. The good news is that the non-alcoholic Aperol Spritz is one of the most convincing substitutes you'll come across. If you want to convert your pals or enjoy an event while sober, start with an alcohol-free Aperol Spritz.
If you're new to alcohol-free Aperol Spritz alternatives, you should know that there are Aperol Spritz mocktails that are ready to drink.
Lyre's Amalfi Spritz is a ready-to-drink version of their non-alcoholic Italian Spritz spirit and Classico Grande prosecco alternative. The bittersweet orange and luscious peach notes of the Amalfi Spritz are as bright, powerful, and promising. The delicate bubble wonderfully fills the palate with fresh orange, rich rhubarb, and elderflower, finishing dry and deliciously refreshing. 
The color is a classic orange-red. Enjoy it from the can as part of the Lyre Ready To Drink collection. Pour the Amalfi Spritz into a wine or stemless glass, add loads of ice, and a slice of orange, possibly an olive, for a savory accent, and you have the perfect occasional spritz.
Monday Non-Alcoholic Aperitz Spritz
Monday Distillery, based in Victoria, creates a comprehensive assortment of pre-mixed, ready-to-drink mocktails that taste exactly like the classics. The Monday Non-Alcoholic Aperol Spritz is a hybrid of a traditional Italian aperitif spritz and a Negroni-style spritz. It has scents of orange peel, espresso, and rosemary and a great balance of bitter Italian orange, zesty grapefruit, and sour cherry overtones. 
This Italian Aperol Spritz is free of artificial ingredients and flavors. It is sugar-free and contains less than one calorie per 100ml, so you don't have to worry about those Aperol Spritz calories. Stevia is used to sweeten this drink organically.
Monday Non-Alcoholic Aperitz Spritz is the finest to drink over ice in an Old Fashioned glass. Garnish with an orange slice and a Maraschino cherry. You can drink it directly from the elegantly designed bottle with a straw.
Sans Bar Spritzing In Venice
Sans Bar Spritzing In Venice is a non-alcoholic Aperol Spritz that is ready to drink. It is produced with premium non-alcoholic dry sparkling wine and crisp soda water. It has flavors of burnt orange, bitter herbs, and rhubarb and is well balanced and pre-mixed with the best non-alcoholic sparkling for Aperol Spritz.
Sans Bar Spritzing In Venice Can is manufactured in Australia without the use of artificial colors or sweeteners. There are no Aperol Spritz calories because it is minimal in sugar, vegan-friendly, and has only 6 calories per 100ml.
Sans Bar Spritzing In Venice Can should be served chilled. Pour into a large wine glass filled with ice and garnish with a fresh orange slice and a green olive. This non-alcoholic Aperol Spritz can also be consumed directly from the can.
If you can't find Sans Bar, Free AF Apero Spritz is a great alternative!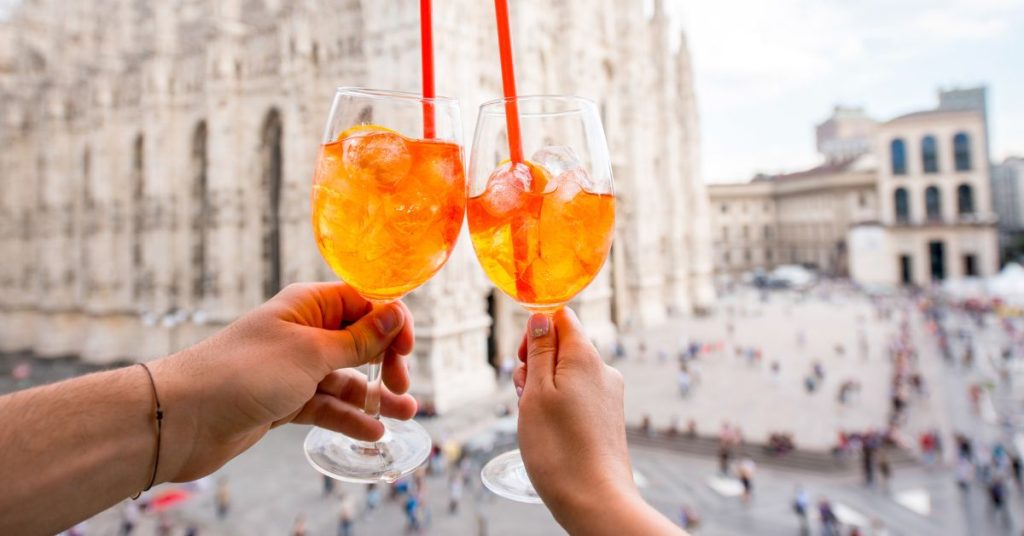 Those who do not drink alcohol are not excluded from the dolce vita since there are numerous possibilities for a non-alcoholic Aperol Spritz, ranging from the conventional Aperol or Campari flavor profile to more odd combinations of fruits, herbs, spices, and, of course, bitters. Make sure to stock up on non-alcoholic bitters as well to create a fully zero-proof drink.
Give the non-alcoholic Aperol Spritz a try and see if it can transport you to classic Italian summers!
Non-Alcoholic Aperol Spritz FAQs