As stated on Lagunitas Brewing Company's website, who knew moderation could taste so good? The Lagunitas non-alcoholic beer is an IPA with 0.5% ABV and 28.32% IBU. The Lagunitas brewing crew used their expertise in hops and preoccupation with flavor to create this new product, a booze-free beverage that nonetheless tastes like an IPA craft beer.
According to Lagunitas brewmaster Jeremy Marshall, the near-beer has Mosaic, Citra, and Centennial hop. "The body is lighter, but there's still enough bitterness and backbone to let you know you're drinking a craft beer."
The Lagunitas Brewing Company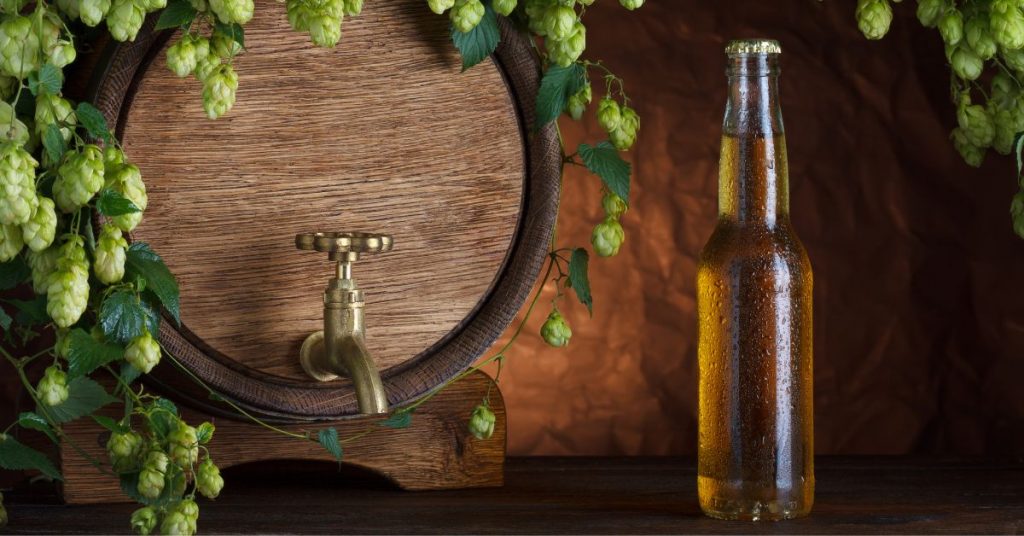 Beginning in 1993 on a kitchen stove in Northern California, The Lagunitas Brewing Company has been producing beers with a strong hop flavor ever since. Tony Magee was brewing beers on a 5-gallon scale in a kitchen just outside the little town of Lagunitas. After his Thanksgiving feast was wrecked, he moved his pastime to a rented space behind the old House of Richards in Forest Knolls and began supplying beer to neighborhood bars.
In order to stand out from the multitude of pale ales served in Bay Area bars in the middle of the 1990s, Tony created the India Pale Ale, which he abbreviated to IPA. At the time, the hoppiness was too much for some palates, but Tony suspected it was the next big thing. 
Tony soon outgrew Forest Knolls and relocated to Petaluma. After a few years, he realized he needed even more room, so he hosted a party and instructed everyone in attendance to take whatever wasn't bolted to the ground and carry it to where they currently brew today. As the business moved from state to state, people were consuming more IPA than ever!
Tony, a native of Chicago, was trying to find a way to get back. He located the second home, Lagunitas Chicago, in Chicago's Pilsen district with some assistance from local hero Nick Mirkopolous. They cut the tape at Lagunitas Seattle in Ballard a few years later, but what comes next?
In order to start distributing a line of hop-forward IPAs around the globe, Lagunitas teamed up with Heineken in 2015. They started brewing operations in the UK, Amsterdam, Brazil, and other countries.
Lagunitas began R&Ding a dry-hopped zero-cal, zero-carb, zero-gluten effervescent beverage as part of their ongoing effort to create previously unimagined liquids. After some time, they introduced it in their TapRooms, instantly gaining popularity among staff members. They put it in a bottle and gave it the moniker Hoppy Refresher.
IPNA was a brewer-led labor of passion, leveraging all of the hops chops and more than a year of research and development. It joins the other hoppy, non-alcoholic choice, Hoppy Refresher, at Lagunitas. The outcome? The IPNA was pure non-alcoholic satisfaction. This non-alcoholic IPA has the same flavor as other highly balanced IPAs in the company and is made with the same components (hops, malt, yeast, and water) but without the ceremonial fez.
At Lagunitas, innovation is key, and with the opening of the Disorderly House of Brewing next to our Petaluma TapRoom & Beer Sanctuary, they made a significant advancement. The Lagunitas team of wizard brewers can tinker, fiddle, and craft there, conjuring up the next best thing in a glass, can, or who knows what.
Lagunitas Non-Alcoholic Selections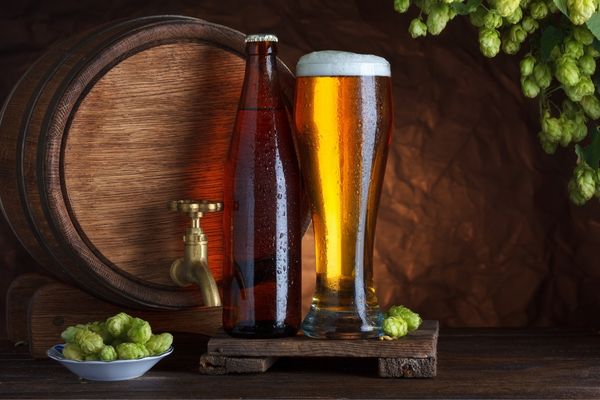 When seeking a non-alcoholic beverage at a bar, the days of ordering a Shirley Temple or sticking to water are long gone. There are now a huge variety of non-alcoholic beverages available thanks to the emergence of the sober inquisitive movement over the past several years.
Many pubs and restaurants also provide a range of entertaining and intriguing mocktails. You can also buy a ton of non-alcoholic beverages at specialist stores and your neighborhood wine and spirits retailer to enjoy alcohol-free sips at home.
In the United States, non-alcoholic beer has never been more well-liked than it is right now. More than 80% more consumers have expressed interest in non- and low-alcohol choices during the last two years. 
Lagunitas recognized the opportunity and sought to enter the market with its own non-alcoholic IPA version before further competitors did. Since Guinness recently launched its alcohol-free stout in the United Kingdom after having to recall the product due to contamination difficulties, the market will be more competitive.
Lagunitas Hoppy Refresher: Sparkling Hop Water
Lagunitas applies everything they know about hops to creating this sparkling beverage—the Hoppy Refresher. Chock-full of Citra, Equinox, and Centennial hops provide a bold splash of flavor that's unexpectedly fruity.
This dry-hopped sparkling water with a lot of carbonation contains 0.0% ABV. To biotransform the hops and extract the terpenes—also known as fragrance compounds—of bubblegum, lime, lemon, tangerine, and a little bit of pine, a tiny bit of brewer's yeast was added.
Sparkling liquid? Seltzer N/A? Refresher with IPA influences? Whatever way you want to interpret this clear beverage, people see it as a modern twist on an age-old custom-a departure from more than 25 years of cutting-edge brewing. Like other Lagunitas beers, this one is heavily dry-hopped, yet it contains no calories, carbs, or alcohol.
The way the various hops combine in this beer results in mango taking the lead in scent and blending well with citrus for a lovely tropical flair. The usage of sulfur compounds, which may not seem nice but adds the delightful magic, layers in with the hop fruitiness to form a whole image of Hoppy Refreshment, giving it a special dimension-sparkling and filling.
Here's a great review of Lagunitas Hoppy Refresher.
Do you know that you can create mocktails using Lagunitas Hoppy Refresher? Try creating a Hoppy Cider Cocktail! This bittersweet beverage goes well, or you can enjoy it both ways because it is ridiculously simple to create. Make a large batch of your favorite non-alcoholic liqueurs and multiply it for quality party punch bowl pairings.
Ingredients
4 oz. Lagunitas Hoppy Refresher

2 oz apple cider

½ oz orange flavored non-alcoholic

½ lime juice

Cinnamon sugar and sea salt (for the rim)

Apple slices, rosemary, and cinnamon sticks (for serving)
Instructions
Mix all the ingredients over ice and garnish well. Enjoy!
Lagunitas IPNA: Non-Alcoholic IPA
Since the release of their calorie-free, hop-flavored Hoppy Refresher drink in recent years, Lagunitas has been at the forefront of innovative beer-related goods. That originally developed from the basis utilized in HiFi Hops, a beverage manufactured using CannaCraft of Santa Rosa and flavored with cannabis.
However, the brewing method for IPNA took some time to perfect because the Lagunitas team wanted to stay away from the overly sweet non-alcoholic beers now on the market and didn't want to rely on synthetic elements to produce an all-natural product. And since it is Lagunitas, even if it's alcohol-free, it still had to be a hoppy brew.
Yakima Valley hops-Citra, Mosaic, and CTZ (Columbus, Tomahawk, and Zeus for the acronym-averse)—were massively dry-hopped on a bed of English crystal malts for a silky backbone and gorgeous orange hue. IPNA's enjoyment is aided by its distinctively substantial body and enormously potent fragrance of hops.
The same hops, malt, yeast, and water are used in this non-alcoholic IPA, giving it the same taste as the highly-balanced IPAs of Lagunitas, but without the ceremonial fez and ancient incantations that usually push it over the edge, leaving it with just.5% alcohol remaining.
The less potent craft beer was dubbed "all pleasure, no guilt" by Lagunitas head brewmaster Jeremy Marshall, who emphasized a careful hop selection from Washington's Yakima Valley. Customers at the Petaluma taproom provided the initiative's initial taste testing and largely gave it favorable feedback. The concept has been in development for a year.
In this non-alcoholic drink, the hops give off a nearly tea-like herbaceous aroma, showcasing the variety of flavors our hops can produce. Although fragrance cannot be tart in and of itself, your nose may try to convince you otherwise by giving off powerful lemon zest notes that make your mouth water. Although this description might sound odd, it actually more closely resembles a sauvignon blanc; it has a crisp, recently cut hedge flavor that borders on bell pepper/pyrazine.
For more information about the Lagunitas IPNA, watch the video below.
Lagunitas, a non-alcoholic beer brand owned by Heineken International, the world's second-largest beer producer, set out to create something that people would truly want to drink instead of criticizing. If you like this Lagunitas non-alcoholic beer selection, you might want to check out Clausthaler Dry-Hopped Non-Alcoholic Beer.
Younger consumers are now choosing non-alcoholic beers as their favorite drink, thanks to the rise of the sober curious movement and the millennial moderation movement. To lead a more balanced lifestyle is the most frequent justification for this change in beer preferences.
Some trends in craft beer last longer than others, such as the persistence of hazy IPAs as contrasted to the craze of milkshake IPAs brewed with fruit and lactose. It is highly believed that alcohol-free beers will persist and gain more popularity as time passes by.
Lagunitas Non-Alcoholic Beer FAQs