Many people always wonder and ask, "Is ginger beer non-alcoholic?" The short answer is no. Although the drink's name could imply that it doesn't always contain alcohol, ginger beer is a non-alcoholic beverage. 
Any fine drink can benefit greatly from the added taste that ginger beer adds, making it truly exceptional. This is why we incorporate ginger beer into so many of our cocktail mixes to produce must-try drinks!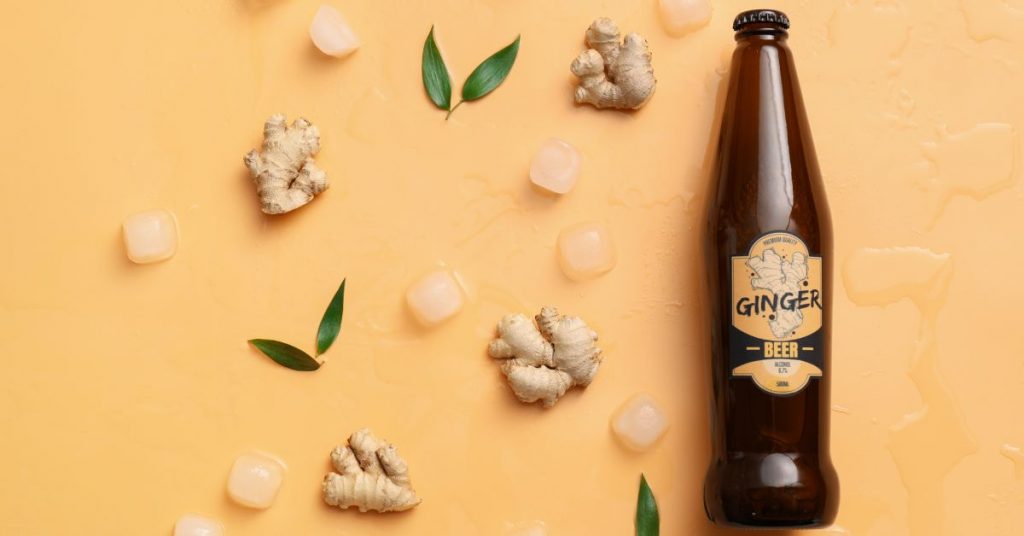 The delightful, brewed, fermented beverage that we all know and love, ginger beer, initially debuted in England in the middle of the eighteenth century. Initially, it was created as a fermented alcoholic beverage with water, ginger, and sugar. The capacity to export ginger beer internationally was also made easier by the availability of sturdy earthenware bottles.
According to Bundaberg Brewed Drinks, one of the oldest spices known to man is ginger. Ginger has a history of over 5000 years and has long been used as a tonic root to treat many illnesses. Ginger was initially "discovered" in South East Asia and was introduced to the world by the Roman Empire in the first century AD. The Indians and ancient Chinese originally utilized it.
The Middle East dominated the trade in ginger following the fall of the Roman Empire in 410 AD. Due to its scarcity and the market monopoly at this time, ginger had become fairly expensive, yet demand still existed because people liked the flavor and sharp tang. It's supposed that around the 15th century, ginger was brought to the Caribbean and Africa. 
In reaction to the Prohibition regulations of the 1920s, the English initially exported alcoholic ginger beer to the US, but soon a non-alcoholic variant was developed. Ginger is now grown all throughout the tropics.
Although it is frequently advertised as a non-alcoholic beverage nowadays, the name "ginger beer" isn't entirely inaccurate. Traditional ginger beer was created by fermenting and brewing ginger with water and sugar to produce a beverage with an alcohol content of about 11%. 
Modern ginger beer is a soft drink since it is carbonated rather than fermented. This ginger beer is not regarded as an alcoholic beverage because it normally contains less than .5% alcohol.
What's The Difference Between Ginger Beer and Ginger Ale?
You might have heard of ginger ale as well, and you might be wondering if it's just the same as ginger beer. Ginger beer is the slightly spicier relative of ginger ale and can be your favorite beverage if you enjoy alcoholic beverages with a little of a kick. While both ginger beer and ginger ale are non-alcoholic soft beverages, the key distinction between the two is that ginger beer has a stronger flavor and is spicier than ginger ale. 
Ginger beer is a fermented beverage, while ginger ale is a flavored soda. Ginger ale is prepared by combining carbonated water with ginger-flavored syrup and has a significantly sweeter flavor. Compared to ginger beer, it has a much lighter hue and is highly carbonated. In mocktails, ginger ale works well in place of club soda since it has a much milder flavor.
Ginger beer, on the other hand, has a stronger ginger flavor. The esters produced when yeast breaks down sugars during the fermentation process change some aspects of flavor and fragrance. This indicates that the flavor profile of the ginger beer is typically stronger and more complex.
Ginger ale actually originated in Canada during their own prohibition. According to The Canadian Encyclopedia, mini-prohibitions flowed through Canada from 1901 to the early 1920s, peaking at the close of World War I. Canadian prohibition was instituted on a regional basis.
A small business named Canada Dry began making soft ginger ale during this time in Canadian history. Ironically, this syrupy-sweet ginger ale was ideal for masking the flavor of cheap illegal alcohol, and it quickly gained popularity.
More soft ginger ales and ginger beers were produced by soda firms after Prohibition was enacted in the United States. Americans mixed a lot of ginger beer with their bathtub vodka and potato-peel gin as they tried to consume as much illegal liquor as they could.
Additionally, while ginger ale is typically thought of as a milder alternative to alcohol or soda, ginger beer possesses a flavor that makes it enjoyable on its own or combined with other beverages, such as the classic Dark 'n' Stormy or even sangria.
How Is Non-Alcoholic Ginger Beer Made?
Contrary to popular perception, beer has never been present in ginger beer. In reality, it's not even produced using the same techniques as beer brewing. Traditional ginger beer is produced by a fermentation process more analogous to hard cider. Additionally, not all contemporary ginger beers are fermented, therefore, they contain zero alcohol. 
Traditional fermentation techniques usually produce some alcohol (however little) and carbonate the liquid. However, some more recent ginger beers, which are alcohol-free, have fizz through forced carbonation (also known as pressurized with carbon dioxide) instead of fermentation.
Do you know that you can make your own ginger beer at home? Try this recipe!
Ingredients
2 quarts water

½ cup light brown sugar, packed

½ cup sugar

8 oz fresh ginger, peeled and minced

pinch of kosher salt

⅓ cup lemon juice

1 tsp active dry yeast
Instructions
Combine one quart of water, sugars, ginger, and a dash of salt in a large pot.

Stirring while bringing to a boil causes the sugars to dissolve. Add lemon juice and the remaining 1 qt of water when the heat is turned off.

Set aside covered for two to three hours. Cool to 70 degrees and then place in refrigerator.

To strain and stir in yeast, use a fine mesh strainer.

Pour into a 2-liter container or two 1-liter bottles using a funnel. Make sure there is space at least 2 inches high.

Leave at room temperature for two to three days, sometimes releasing the pressure by slowly and carefully loosening the top (so it doesn't spray all over).

Store in the fridge for a week.
Ginger beer is very easy to make. In fact, you can make one at home with only three ingredients. Watch this video on how to make a three-ingredient homemade fermented ginger beer.
Tips for Making Your Own Ginger Beer
Choose ginger with smooth, taut skin, and free of wrinkles or mold. Then, the ginger and water mixture shouldn't be boiled or simmered too long. You only need to heat it long enough for the sugars to dissolve. Apply this while stirring the mixture thoroughly. 
You can store your ginger beer in plastic soda bottles that have been cleaned and emptied. Keep the strained ginger beer out of direct sunlight and at a cool room temperature in plastic bottles. Refrigerating your homemade ginger beer will slow down the fermentation process. 
You must exercise caution when opening the bottle. For about a week, the ginger beer will remain fresh.
As the ginger beers ferment, release pressure around four times each day. To prevent them from bubbling over when you release the pressure, make sure to allow space at the top. As the yeast will cause it to bubble and foam, carefully loosen the lid. Slowly unscrew the tops while keeping an ear out for the escape of air.
Brands That Sell Non-Alcoholic Ginger Beer
Real ginger beer doesn't contain the grain that is often found in beer. The name Ginger "beer" is rather contradictory as a result. Top brands of non-alcoholic ginger beer will be discussed in this part of the blog.
A sparkling non-alcoholic beverage from the Pacific Northwest, Bedford Ginger Beer is crafted with care from top-notch ingredients. For the greatest flavor, it is made with pure cane sugar and natural ginger. The Diet Ginger Beer has been added to Bedford's "craft" drinks selection. It is Bedford's Ginger beer's low-calorie, sugar-free variant.
Cawston Press Ginger Beer
The non-alcoholic Cawston Press Ginger Beer is produced using pressed apples, ginger extracts, and sparkling water as a homage to traditional effervescent ginger beers. This combo smoothes out the ginger. It comes in 330ml cans and is ideal for a scorchingly hot day. Sugar, artificial colors, sweeteners, or preservatives are absent from Cawston Press Ginger Beer. The cartons, straws, plastic cups, and cans are all recyclable materials.
Maine Root Ginger Beer, Spicy
Handcrafted soda made with Fair Trade Certified organic evaporated cane juice. Our recipe lets the WICKED spicy flavor of the Ginger Root loose to mingle with pure organic evaporated cane juice, purified water and HAPPY BUBBLES! Wicked good. Caffeine free.
Royalty Ginger Beer is a delicious, non-alcoholic, sugar-free ginger beer that has received halal certification. It is economical, beneficial, and healthful. It may be consumed either alone or with other beverages.
Breckland Orchard Ginger Beer is a ginger-based non-alcoholic carbonated beverage produced with natural citrus concentrates and chili extracts. It has a fantastic flavor and works well as a cocktail mixer. Its origins can be traced back to British spring water in the UK. Breckland Orchard is a family-run business that draws its flavors from traditional British cuisine. Artificial sweeteners, flavors, or colors are not used. It comes in 275ml bottles and is recyclable.
Always read the label before purchasing ginger beer, and keep in mind that certain brands still make it alcoholic.
Make Specialty Mocktails Using Ginger Beer
Ginger beer, which is frequently confused with ginger ale, is a fermented beverage with a strong, spicy ginger flavor. But ginger beer is not a sort of beer, despite its name. It's not even alcoholic, really. You are not alone if you have previously erred in this regard.
Despite the fact that ginger beer is frequently used in alcoholic beverages like the Moscow mule, there are countless mocktails and punches you can create with this spicy beverage. The good news is that you've just found your new favorite alcohol-free cocktail component if you've avoided ginger beer because you assumed it was alcoholic.
Pineapple Ginger Beer Mocktail
For those who want strong flavors, this pineapple ginger beer mocktail is spicy but delicious. It's entertaining to create and ideal for a gathering. Sweet pineapple, fresh lime juice, and a ginger beer base combine to give your mouth a wonderful tingle. The robust flavors go well with a barbecue or as a cool-weather beverage.
Ingredients
2 oz pineapple juice

6-8 mint leaves

1 pinch salt

1 tablespoon freshly squeezed lime juice

¾ cup ginger beer

1 teaspoon apple cider vinegar
Instructions
Clap the mint in your palms many times until they begin to smell minty.

To your glass, add the mint, salt, and lime juice. 

Use your muddler to smash the ingredients a few times gently. Utilize the handle end of a wooden spoon or something similar if you don't have a muddle.

Add ice to the glass.

Stir thoroughly after adding the pineapple juice and apple cider vinegar.

Don't overly stir after adding the ginger beer to avoid disturbing the bubble.

Add pineapple and/or mint as a garnish.
For mocktails, beet juice is a tasty and incredibly healthy ingredient. Even if you don't enjoy the taste of beet juice, it becomes this delectable, vitamin-rich beverage. The additional color is wonderful!
Ingredients
4-5 mint leaves

½ oz lime juice

½ oz ginger honey syrup

2 oz beet juice

ginger beer
Instructions
Mint leaves, and lime juice should be combined in a cocktail shaker and gently mushed. 

Shake vigorously until frozen after adding the ice, ginger honey syrup, and beet juice. 

Add ginger beer on top after straining into a glass with new ice. 

Include a mint sprig as a garnish.
Ginger Blood Orange Mocktail
Ginger beer and HOP WTR, another carbonated beverage, are used to make this mocktail.
HOP WTR is made with hops, giving it a flavor similar to that of beer seltzer. Although it contains no alcohol at all, it claims to make you feel "buzzed" because it contains nootropics and adaptogens, which are herbs that reduce stress in the body (supplements that may improve cognitive function). This sparkling water tastes far better than ordinary seltzer and is free of calories, sugar, and gluten
Ingredients
1 blood orange

½ teaspoon freshly grated ginger (or more to your taste)

Ginger beer

1 can Blood Orange HOP WTR
Instructions
Combine the freshly grated ginger and half of the blood orange juice in a large glass. 

HOP WTR and a sizable splash of ginger beer are added to the glass after adding ice. 

Before drinking, add a few slices of blood orange and thoroughly whisk the mixture.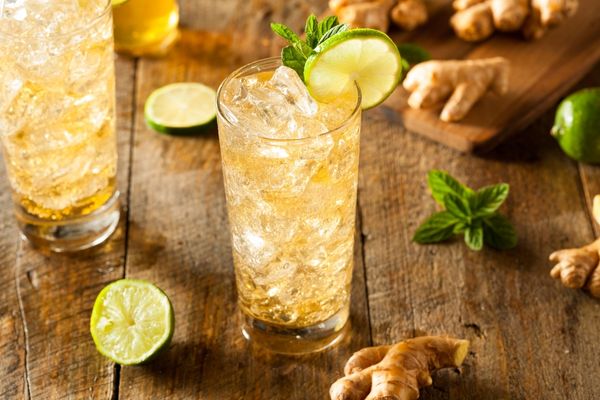 Despite the fact that ginger beer is frequently used in alcoholic beverages like the Moscow mule, there are countless mocktails and punches you can create with this spicy beverage.
Generally speaking, ginger beer combines well with citrus juices like orange and lemon, but it also complements cozier tastes like cinnamon and nutmeg. To keep as much carbonation in the ginger beer as possible, just remember to mix it in rather than shake it.
Of course, there are other infamous recipes that are treated as significant cocktail components. You can try making some of them at home. Check out our blogs about Triple Sec Alternatives and Tonic Water in Non-Alcoholic Drinks.
Is Ginger Beer Non-Alcoholic FAQs