When attempting to reduce calories and lighten things up for brunch, this non-alcoholic mimosa recipe or mimosa mocktail is top-tier. A mimosa's flavor and freshness will wow you considering how little it requires to make it. 
Serve these delectable beverages alongside your vegetarian quiche (another fantastic choice to lighten things up), easy fruit salad, homemade granola recipe, and quinoa breakfast meal. The holidays and the New Year are both wonderful times to enjoy this meal!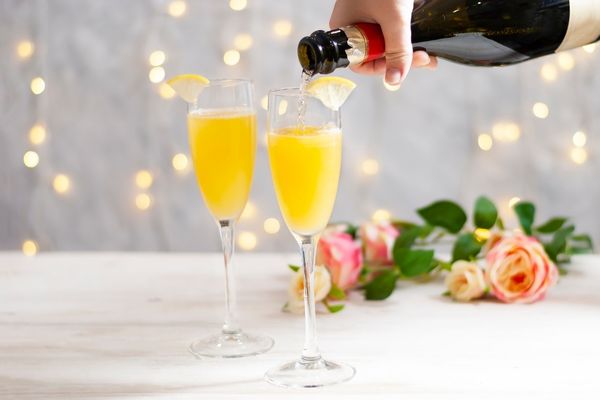 A Mimosa is a popular beverage usually created with champagne and citrus juice. It is frequently offered during brunches, breakfasts, and other special events. Baby showers, weddings, and elegant gatherings are common places to serve chilled, sparkling drinks that are stirred rather than shaken.
The lovely orange/golden color of mimosas is reminiscent of the color of champagne and orange juice combined together. Although there are some lemon-lime versions, orange juice is typically utilized. 
Traditional mimosa recipes ask for equal parts orange juice, champagne, or sparkling wine. It is traditionally served with an orange peel strip in a champagne glass. Other citrus juices, such as grapefruit, can also be used to make this cocktail, but orange is the traditional option.
The alcohol-free variant is created with sparkling water or alcohol-free sparkling wine. These virgin mimosas are a favorite because they may be served at any time without repercussions!
How To Make The Perfect Non-Alcoholic Mimosa
Mimosas are typically created with Champagne and orange juice. A non-alcoholic mimosa alternative is a terrific way to engage all your guests, even though we adore champagne mimosas.
Non-alcoholic sparkling wine is highly recommended for this recipe. It tastes much more like the traditional mimosa recipe, thanks to the wine, which also gives it a lovely flavor.
Sparkling water would have been the sole option if we could travel back in time a few years. However, the market for non-alcoholic substitutes has advanced significantly, and today many non-alcoholic sparkling wines are offered.
Naturally, if alcohol-free wine is not your thing, choose sparkling water in its place. For a little more kick, citrus-flavored sparkling water is ideal, such as lime, lemon, or grapefruit. It tastes like thin, fizzy orange juice when made with regular sparkling water. Ginger ale is an additional choice and is equally delectable.
Top 7 Non-Alcoholic Sparkling Wines For Mimosas
It comes as no surprise that mimosas have traditionally been the drink of choice for weekend lunchtime libations. Finding a good bottle of bubbles is still essential when making the brunch staple at home. In other words, just because you're adding a little juice to your wine doesn't imply the quality of your bubbles should suffer. 
Additionally, while we support looking for well-made wines, getting a reasonable deal is also a must. Regardless of your entrée preference, industry experts have listed the greatest selections for Mimosa-destined non-alcoholic bubbles.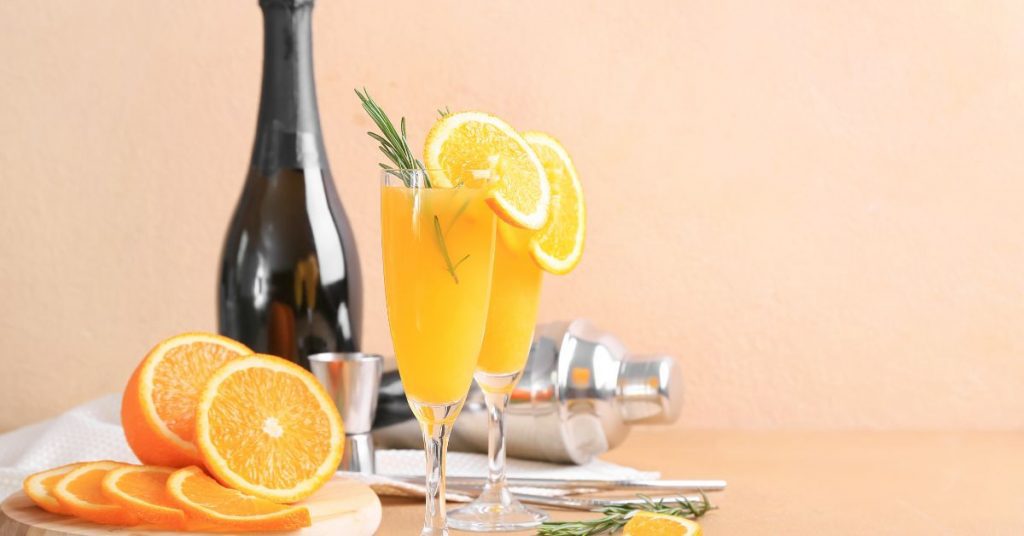 A delicious and delightful alcohol-free sparkling wine, Freixenet Alcohol-Free White is the result of rigorous oenological tests and painstaking technological development. As a result, the grapes' authentic flavors and aromas are preserved.
With a sparkling pale-bright yellow color, there are delicate citrus undertones and reviving tropical aromas on the scent. The taste is fruity, clean, and especially calming. The modest size and the exceptionally well-balanced acidity make the bubbles in your mouth feel good.
Hill Street Beverage Co.'s effervescent brut non-alcoholic beverage stands out in its category. These bubbles are low in sugar and calories and have subtle lemon and peach flavors. This fruit-forward wine, which is also an excellent foundation for a non-alcoholic mimosa, is balanced out by sweeter endnotes.
This wine has fresh peach and pear aromas and is extremely effervescent and comparable to champagne. It's a tad on the sugary side, but it's still a fantastic substitute. For your next special event, pop this bottle! 
This dry, medium-bodied sparkler's crisp floral, fruity, and mineral flavors are reminiscent of fine champagne but without the alcohol kick. Try the St. Regis Sparkling Brut if you want the full format experience. 
Sutter Home's non-alcoholic Fre is a cheery and festive alternative with flavors of apple and strawberry and scents of green apples and ripe pears. This alcohol-free sparkling wine's cascading bubbles and subtle effervescence elevate any occasion. With a dry, energizing finish, this bubbly has a lovely sense of balance.
This "champagnette" bottle from Weibel Vineyards in California features energizing apple and peach flavors. Enjoy chilled by itself, or make mimosas by adding orange juice. A fantastic substitute for festive events!
One of the best alcohol-free substitutes for prosecco or champagne is the Grüvi Dry Secco. This flowery, just a little tangy sparkling wine is produced from Chardonnay grapes. This 50-calorie-per-bottle semi-dry wine is a wonderful addition to any party. The Grüvi wines also have a 0.0% ABV!
The sparkling white wine from Pierre Chavin is no exception to their wonderful line of alcohol-free beverages. Each glass of this Chardonnay-based beverage has a strong floral flavor to balance off the tartness and bright notes of apple and pear. This wine's sweeter finish creates a harmonious balance of flavors.
Non-Alcoholic Mimosa Recipe
A serving of mimosa is typically 5 ounces and is typically served in an 8-ounce champagne flute. Don't worry too much about the size because this drink is non-alcoholic. You can serve your virgin mimosas in any kind of glass. A virgin mimosa has a serving size of 1 cup (8 ounces).
Ingredients
Orange juice –

The best orange juice to use is one that is 100% pure and free of pulp or additional sugar. Squeeze your own luscious oranges if freshness is truly important to you! Store-bought options like Tropicana or Simply Orange are both excellent and simple to find.
Pineapple juice –

Other fantastic citrus juice possibilities include 100% pineapple juice, grapefruit juice, guava juice, or basic lemonade if you want a different citrus drink or even half orange and half another.
Non-alcoholic sparkling wine/citrus sparkling water/ginger ale (chilled) –

Sparkling grape juice is the best choice. Since grapes are used to make both champagne and wine, employing grape juice will result in a flavor that is as close to that of alcoholic beverages as possible. Make sure to get a sparkling type because it is what makes a mimosa so enjoyable and cool!
Instructions
In a champagne glass, combine equal parts orange juice, pineapple juice, and non-alcoholic sparkling wine/citrus sparkling water/ginger ale. Stir well.

Garnish with your choice of orange, citrus peel, strawberry, or cherry.
Juice to sparkling liquid should always be split 50/50. However, you can change this ratio to suit your tastes. Some like a combination of 3 parts orange juice and 1 part sparkling wine, with each serving consisting of 34 cups orange juice and 14 cups sparkling wine. A traditional mimosa consists of 2 ½ oz of Champagne and 2 ½ oz of orange juice.
You don't need to be concerned about consuming too much alcohol because you won't be using champagne or wine. To ensure that the flavors of the sparkling wine you choose merge properly with the orange juice, taste test it beforehand!
Watch this video on easy steps to make non-alcoholic fresh strawberry mimosa at home for more reference.
Some individuals have created non-alcoholic mimosas using club soda or sparkling fruit juice, but they don't come close enough to the original. The secret to making the best mimosa mocktail is to use non-alcoholic champagne, sparkling wine, or brut. You won't be able to tell the difference.
While this simple mimosa mocktail recipe yields a delicious beverage, there are other fantastic alternatives you may try to produce your ideal beverage. Citrus fruits are used in the classic mimosa, but you may also use other liquids to get other flavors.
You can use peach juice, white grape juice, or cranberry juice. Consider making a pomegranate tequila sunrise mimosa by combining non-alcoholic tequila with a dash of grenadine and garnishing with an orange slice.
Non-Alcoholic Mimosa FAQs