For those who appreciate a good gingery cocktail but would want to drink less alcohol, here are some different ways how to make a Dark and Stormy Mocktail.
This non-alcoholic version of the Dark and Stormy is just as cool as the original but retains the traditional rum flavor and the gorgeous "layered" appearance.
Perhaps you've been partying a lot lately and want to cut back on booze while still enjoying a well-made drink.
Try these out and enjoy!
Non-Alcoholic Recipes For Dark and Stormy Mocktail
There are many ways you can make a Dark and Stormy Mocktail with only a few ingredients.
You can either non-alcoholic rum alternatives to trick your taste buds into tasting alcohol or other ingredients you can easily acquire to make sure there's no alcohol AT ALL. 
Using a Non-Alcoholic Rum Alternative
Ingredients
For the rich simple syrup:
1 cup granulated sugar

½ cup water
For the Dark and Stormy Mocktail:
½ ounce rich simple syrup (2:1)

¾ ounce fresh lime juice

2 ounces ginger beer (preferably Fevertree)

2 ounces

Lyre's Dark Cane Spirit
Instructions
For the rich simple syrup:
In a small pot over medium heat, combine the sugar and water. Stir the sugar until it is completely dissolved.

Pour into a container, then chill for 15 minutes in the fridge. Use right away or keep for up to two weeks in a sealed container.
For the Dark and Stormy Mocktail:
In a large Collins glass, mix ginger beer, lime juice, and simple syrup. Combined mixing and stirring for 10 seconds.

Add ice to the glass before adding Lyre's non-alcoholic Dark Cane Spirit on top. Add a lime wedge or skeleton leaf as a garnish.
Using Non-Alcoholic Ginger Beer
Ingredients
½ tsp blackstrap molasses

½ oz lime juice

Lime wedges (for garnish)
Instructions
Start with a big, ice-filled glass. Mix the ingredients.

Add a wedge of lime before serving.
Do you know that you can also create a Dark and Stormy Mocktail using black tea?
This is new information to us too!
This non-alcoholic version of the traditional Dark and Stormy is anchored by a strong brew of black tea, which contributes rich tannins to the finished beverage. When selecting a black tea, look for Darjeeling, English or Irish morning, or Assam.
For something without caffeine, choose buckwheat tea and extend the brew time to 20 minutes. 
The spices in the salted lime cordial are easily changed to your pantry and preferences. The goal is to give the cordial a warm flavor that balances the ginger beer's distinct spice. Never omit the salt, though. The salinity enhances the flavor of the cordial.
Ingredients
For the salted lime cordial:
Finely grated zest from 6 limes

1 cup granulated sugar

1 teaspoon flaky sea salt

¼ teaspoon ground cinnamon

¼ teaspoon ground ginger

¼ teaspoon black pepper

⅛ teaspoon ground cloves

1¼ cups fresh lime juice (from about 6 limes)
For the chilled black tea:
2 black tea bags (or 2 tablespoons loose-leaf black tea), such as Darjeeling
For the mocktail:
Ice

3 oz Chilled Black Tea

1 oz Salted Lime Cordial

4 oz fresh ginger beer

Lime wedge
Instructions
For the salted lime cordial:
Combine the lime zest, cinnamon, sugar, salt, ginger, pepper, and cloves in a medium bowl. 

Rub the zest and spices into the sugar with your fingers until it becomes green and smells incredibly good. 

Pour the lime juice in gradually while whisking to mix and completely dissolve the sugar. Cover and chill for at least 12 hours and up to 24 hours.

Press the solids as you pass the mixture through a fine-mesh sieve. Discard the sediments and store the cordial in the fridge in an airtight container for a week (you should have around 112 cups of cordial).
For the chilled black tea:
Prepare the iced black tea by bringing 2 cups of water to a boil in a tea kettle or small saucepan over high heat. 

Add the tea after removing it from the heat. 

After 10 minutes, remove the tea bags or, if using loose tea, strain the liquid through a fine-mesh sieve. Set the liquid aside to cool fully before putting it in the refrigerator. 

For up to five days, store it refrigerated in the fridge with a tight lid on an airtight container.
For the mocktail:
To make the cocktail, add ice to a highball glass. 

Tea and cordial should then be added. 

Add ginger beer, give it a gentle toss, and garnish with a wedge of lime.
This recipe is from NYT Cooking, a subscription service of The New York Times.
Here's a video from BossaNova Life on YouTube where he used Lyre's Dark Cane non-alcoholic spirit with some of the typical Dark and Stormy ingredients mentioned above.
Ever Wondered Why It's Called Dark and Stormy?
Here's a little commercial break for curious individuals who are also wondering how Dark and Stormy got its name.
Maybe you're trying to craft this mocktail at home, and suddenly you kept thinking about it. 
The name "Dark and Stormy" actually refers to the combination of the dark (as in "dark rum") and the stormy (the hot "ginger beer") in the drink.
Due to its refreshing, gingery-rum flavors and resemblance to the Moscow Mule, people adore this combo.
When you hear the words "dark and stormy," you immediately picture rough seas.
Indeed, the Dark and Stormy cocktail's origins are in the ocean.
William Gosling, a wine merchant, sailed to America in the early 1800s to begin a new life.
Over $500k worth of booze was loaded onto a ship by William and his son to be sold.
Unfortunately, the journey wasn't very successful, and the ship never reached its intended location.
It arrived in Bermuda after spending days at sea. This was a happy accident because Gosling fell in love with the island.
Gosling established a bar on the island and soon began importing rum.
Gosling's Black Seal rum is renowned for its high caliber all throughout the world.
In the meantime, Bermuda's Royal Navy personnel loved ginger beer to help them when they felt sick aboard the vessels.
This made ginger beer and rum, which were frequently rationed to seamen, prevalent on these Bermudan ships.
These beverages began to blend together somewhere along the route, easing the men's appetites and boosting their spirits.
Gosling's Black Seal rum and ginger beer became popular in Bermuda following World War I.
Gosling exported the rum and, with it, the drink, giving rise to the Dark and Stormy.
The name of this cocktail was inspired by its hue.
People claimed that this drink's dark, stormy hue matched the hue of a cloud that only a corpse would sail beneath.
The rum and the sea have a lengthy history in the Caribbean. It comes as no surprise, after all, rum originated in this region.
Sailors weren't known for having tasteful beverage preferences. Despite this, their drinking habits had an impact on how alcohol is consumed today.
A sailor's rations began to include wine and beer to help them cope with their uncomfortable situations.
Frequently, the drinks would expire before they even get to their destination.
Rum was therefore substituted for the rations as it was a robust spirit that could withstand a lengthy journey.
The sailors eventually began receiving fewer rum rations.
Sailors would add some sugar and lime juice to the remaining rum to compensate for the lost supply.
The lime prevented sickness, and the sugar made the inferior rum taste excellent.
Grog was a popular beverage among sailors all over the world.
The grog recipe quickly spread outside the ships it first brought popularity aboard. The sailors' favorite rum beverages propelled the selling of this booze everywhere.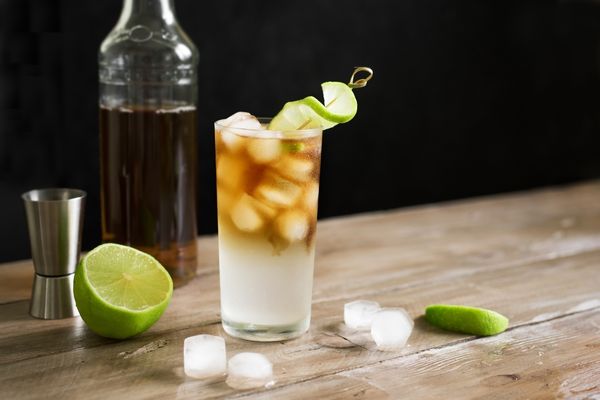 The unexpected rise in non-alcoholic beverages, especially combinations that imitate the genuine thing: a "mocktail," has gained significant popularity in recent years. A menu devoted to mocktails is one method for restaurants and bars to increase revenue.
Additionally, a new cottage industry of distillers has emerged, producing artisanal alcohol and its alcohol-free (AF) counterparts.
Check out the options from different brands, such as Ritual and Gnista, if you're interested in experimenting with your own mocktails.
How To Make A Dark And Stormy Mocktail FAQs