Hōjicha is a roasted Japanese green tea. It's one of the best non-alcoholic Japanese drinks you should try, not just because of its taste but also due to the growing trend of the drink in the US. Hōjicha is reddish-brown in hue, resembling related but different green teas. The bitterness of the leaves is eliminated during roasting, and it results in a pleasant earthy aroma.
Drinkers of Hōjicha might get a variety of health advantages. It is produced with green tea stems or leaves that come from Japanese Sencha, which is also a popular Japanese green tea variation.
A Brief History of Hōjicha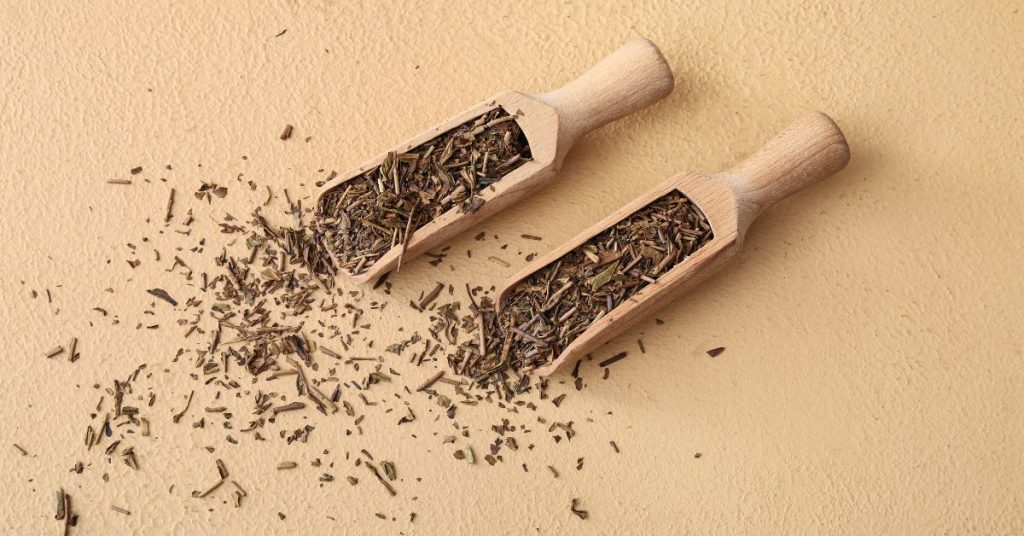 Buddhist monks from China brought green tea to Japan during the Nara period (AD 710–794). Since green tea is good for the body and the mind, the monks thought it enhanced their meditation technique.
As the Edo period came to a conclusion, Japan began to open its ports to foreign trade (1603 – 1868). This was the first step toward modernizing Japan, which was the intention of the succeeding Meiji government (1868–1912). 
The new trade laws brought about a large growth in Japanese green tea exports as a result of Emperor Meiji's support of free market capitalism. The subsequent industrial revolution was both financed by and fuelled by the great demand for Japan's exports. Up until this moment, tea leaves were manually harvested by workers who dedicated their days to gather up to eight kg of tea each.
But because of the unexpected surge in demand for Japanese tea, it was extremely challenging for tea farmers and producers to meet this huge demand; some had to produce quantities that would weigh tons. This problem was solved by automating the harvesting of tea leaves. In addition to replacing the expensive manual labor, mechanical harvesting assisted in meeting the increasing demand. As a result of the development of machines, especially for this process, Japan was able to export tea all over the world.
However, the manner that machines harvest tea does produce extra waste like discarded stems and leaves. Japan's low resources made this a concern. One tea merchant recognized the loose leaf left over after harvesting as having potential in the 1920s. He grabbed them and tried roasting them at a high temperature over charcoal. This roasting procedure produced a pleasantly tasty, reddish-brown beverage that is now known as Hōjicha.
Hōjicha originated in Kyoto, and soon after that, green tea was roasted in tea stores all around Japan. Hōjicha led to another business possibility in addition to reducing waste. Retailers were able to get more customers into their stores thanks to the enticing aroma of roasting green tea. When people first tried Hōjicha, they were mesmerized by its rich, smoky aroma and flavor.
How is Hōjicha Consumed in Japan Today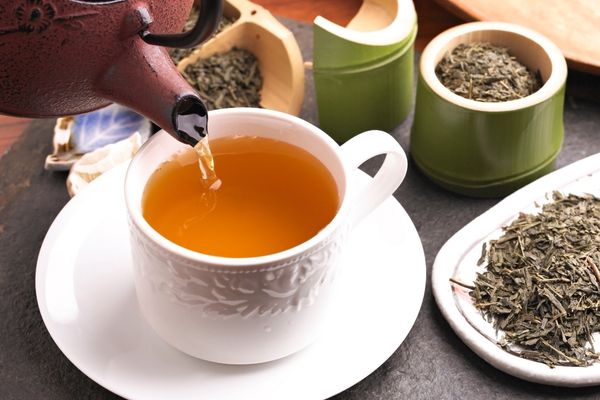 Hōjicha is still a popular beverage in Japan today. It is frequently offered in both hot and cold varieties and transformed into various goods. Loose-leaf hojicha is one way to enjoy tea and is as near to the original method of consumption as you can get.
Hōjicha can also be purchased in powder form, which is created by grinding hojicha to a fine powder. It is much simpler to add it to many kinds of drinks and food once in this condition. This is best exemplified by hojicha lattes. The powder is mixed with milk (and ice, if you like the chilly version) to make a smooth, flavorful drink. 
New Hōjicha-flavored goods have been released on the market every year since 2016. Hōjicha is consuming shelves all over Japan, from frozen desserts to drinks already made. A well-known example online is the Hōjicha cake. Hōjicha's earthy, mildly bitter flavor pairs beautifully with the sweeter ingredients used to make a cake, resulting in this delicious delicacy with a perfectly harmonious flavor. 
The most genuine Hōjicha goods are offered by Hōjicha Co., the first company to specialize in Japanese roasted green tea outside of Japan, and they are packaged right from the fields of Kyoto, Japan. Five distinctive loose-leaf teas plus the incredibly adaptable Hōjicha Powder make up the current Hōjicha Co. roasted tea range, which is offered online to both individuals and companies.
The Health Benefits of Hōjicha
Hōjicha has a variety of health advantages. Due to its high antioxidant content, Hōjicha aids in the removal of the body's undesirable and potentially dangerous free radicals. It functions as a natural detoxifying and cleaning agent.
Antioxidants are beneficial to the body because they keep the skin looking young while reducing aging symptoms. Additionally, it aids with stress relief. 
On its own, drinking a warm cup of tea is soothing, but Hōjicha also includes L-Theanine, an amino acid that supports mental performance. Because it lowers blood pressure and cortisol levels, it also lessens stress. The body responds to relaxation by becoming more balanced and tranquil. 
Hōjicha has a beautiful aroma and the added benefit of calming the mind. Because green tea contains such high amounts of catechins, it also aids in lowering cholesterol. Lower cholesterol levels decrease inflammation, which also lowers the chance of developing heart disease.
Hōjicha will naturally increase energy levels without jitters, making it a suitable substitute for coffee or other energy drinks for individuals who are sensitive to caffeine. While a cup of coffee normally contains 95 mg of caffeine, one cup of Hōjicha only has about 7.7 mg. It provides a small but pleasant boost with no negative impacts on your health.
Carefully preparing this special tea and fully comprehending its origin and production method are essential to enjoying it. In a frequently hurried and hectic world, drinking tea is an experience that should be cherished and relished.
What is The Difference Between Hōjicha and Matcha?
Just like Matcha, Hōjicha has been brewed and enjoyed for generations, and it is now becoming more and more popular worldwide because of our advanced society and the ability to shop online from almost anywhere in the world. Due to its adaptability and therapeutic advantages, Hōjicha is a popular choice for many, whether you are considering giving it a try for the first time or are already a fan.
But what is the difference between the two? They are both green teas, right? The table below details the specific differences between Hōjicha and Matcha.
Differences

Hōjicha

Matcha

Powder

Tea stems, stalks, or tightly coiled twigs are slowly roasted to create hojicha. Hōjicha, like matcha, can be ground into a superfine powder and utilized in the preparation of food and drinks.

Tencha, or flat dried tea leaves, are stone-ground into matcha to produce a fine green powder.

Appearance

Hōjicha is a brownish green tea, not the usual green tea of Japan. Hōjicha's color varies slightly based on the time of year it was harvested, how long it was roasted, and whether it was brewed using Sencha (unshaded green tea), Bancha (common Japanese green tea), or Kukicha (twig tea).

Matcha has a vibrant green tint, especially ceremonial grade matcha. The color of matcha powder grows less vivid the lower the grade.

Aroma

Hōjicha, a roasted green tea, has a calming, even therapeutic scent that is smoky and earthy. Tea shop operators frequently brew Hōjicha to draw clients into their establishments.

Matcha is a vivid green substance, therefore, it makes sense that it would have a vegetal aroma.

Taste

Hōjicha powder has a distinct cocoa flavor, naturally sweet taste, and smoky undertones. Hōjicha loses any bitterness generally seen in green tea when the tea leaves are heated to a high temperature during roasting.

Ceremonial grade matcha is slightly sweet with savory umami flavor and vegetal overtones, in contrast, to lower-grade matcha powder's bitter taste.

Preparation Process

Matcha is made with warm water, a sieve, and a bamboo whisk (chasen) in a tea bowl (chawan). Matcha will be scorched in water that is hotter than 80°C and becomes bitter. The bowl is heated with water first, and then the water is removed. After that, matcha is strained into the bowl to remove any lumps. Matcha is finally completely dissolved by aggressively whisking it until a coating of foam forms. 




The same steps used for making matcha powder can be used to produce Hōjicha powder in a tea bowl.
The Growing Trend of Drinking Hōjicha in the US
Matcha has been popular all over the world recently. This traditional powdered green tea has become popular everywhere, from trendy eateries to the local Starbucks, growing well beyond its native Japan. 
Now that matcha is so popular, other Japanese tea varieties may use it as a springboard to gain recognition outside. Hōjicha, a roasted tea with a reddish hue and a distinctive, savory flavor, is expected to become the next big thing in tea, according to those who have been "reading the tea leaves" of food trends.
Hōjicha has already established itself as a classic. However, it might surprise you to learn that it is green tea at first glance (or tasting). Hōjicha is brewed with an amber color that is more akin to black or red tea due to the roasting process. The flavor is very distinctive; some have even compared it to caramel. It is mild yet slightly smoky and earthy, in contrast to the bittersweet of green tea. 
Hōjicha is less caffeinated than regular green tea due to roasting, which also helps to eliminate some of the catechins that give green tea its astringency. So it's simple to drink before night, or for kids, the elderly, or anyone trying to cut back on coffee.
Following matcha's footsteps, savvy young consumers and tea connoisseurs have recently begun to embrace Hōjicha, with several specialty cafés and businesses devoted to it. Large chains are also excited to introduce Hōjicha items, from Nissin Foods' quick noodles to a Starbucks "Hōjicha Cream Frappuccino." 
Hōjicha's growing popularity is attributed by many to its mild flavor, adaptability in savory and sweet meals, low caffeine content, and other health advantages of tea use. Now that Hōjicha is sweeter than matcha and has a roasted flavor similar to coffee, a few specialized foreign brands are exporting it to North America.
Want to jump on the bandwagon? Watch this video to learn how to make a Hōjicha latte at home using genuine Hōjicha powder from Hōjicha Co. You can take note of the specific ingredients and instructions on how to make it here.
Hōjicha is a delectable Japanese tea that shouldn't be disregarded. It has a lovely reddish brown hue, a distinct yet delicate flavor, and an intriguing past that can be traced to one tea trader who ultimately produced one of the most well-liked varieties of tea in Japan today. Try Hōjicha to gain new flavor experiences with this distinctively Japanese beverage.
Better yet, try different non-alcoholic drinks from other nations, such as South Korea. Just like Japan, they've been influenced by ancient trade from China. Thus, they also offer the best beverages that are gaining popularity around the world. For reference on non-alcoholic Korean drinks, click here.
Hōjicha (Roasted Green Tea) FAQs