A tasty non-alcoholic mint julep is great for the Kentucky Derby or a warm Spring day as it is light and refreshing. 
The Kentucky Derby isn't the same without a mint julep. Regardless if you watch the race or not, this drink is great at any time. Fresh mint and ginger ale make up the signature taste, and you can add non-alcoholic bourbon for a deeper flavor. Best of all, a non-alcoholic mint julep gives you all the fun and none of the regret from its alcoholic counterpart.
The Kentucky Derby and Mint Julep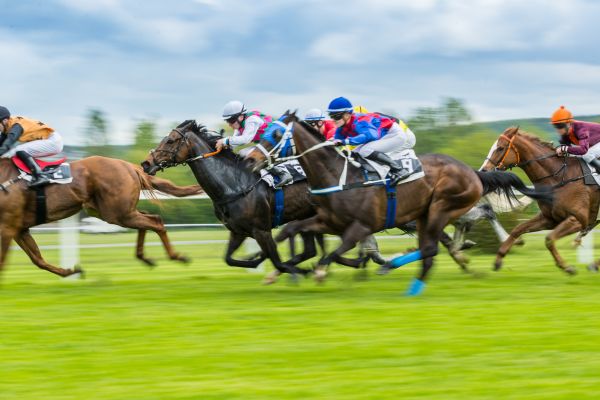 You might be sipping a mint julep while watching the race from home or at Churchill Downs. But why?
Mint juleps were a Kentucky favorite long before the modern-day Kentucky Derby was established. Interestingly, a julep was traditionally suggested as a medical drink for stomach issues.
The contemporary mint julep originated in Virginia as a 'Virginia dram.' The drink followed the colony westward. The julep became the 'official' Derby drink in the 1930s, but the legend is that it was offered far earlier.
Churchill Downs is said to have planted mint outside the clubhouse in 1875 to prepare the first juleps. The drink was popular in the South then, so it was a logical extension of the culture to include it in the Derby.
The traditional Kentucky mint julep combines simple syrup, mint, and bourbon whiskey. A non-alcoholic mint julep is an excellent alternative for those who do not drink or prefer an alcohol-free option. There are additional alcoholic versions of the traditional, such as one that utilizes crème de menthe syrup.
Non-Alcoholic Mint Julep Recipes
The wait is all worth it for a delightful non-alcoholic mint julep. It's the ideal spring mocktail as the weather warms and thoughts of entertainment arise.
If you're a traditionalist, you might argue that mint juleps must include bourbon! Fortunately, there are numerous alcohol-free spirit options available. And they are delicious!
With Mint Simple Syrup and Non-Alcoholic Bourbon
A non-alcoholic mint julep can be made in two ways. One approach involves creating a mint simple syrup, while the other involves using fresh mint. Use an alcohol-free malt spirit, like Lyre's American Malt, for the most authentic flavor.
Ingredients
1 cup ginger ale or non-alcoholic bourbon

Crushed ice

Mint sprigs to garnish (optional)
Instructions
Fill your glasses halfway with crushed ice. Add ½ cup ginger ale or non-alcoholic bourbon to each cup, followed by ¼ cup mint syrup. 

Gently stir in the mint sprig and serve.
Recipe from Mindful Mocktail
For the non-drinkers out there, here's a non-alcoholic mint julep with fresh mint. Now you don't have to drink water only and can enjoy the classic mint julep with a tiny twist while watching the Kentucky Derby!
Ingredients
¼ cup water

¼ cup white sugar

1 tablespoon chopped fresh mint leaves

2 cups crushed ice

½ cup prepared lemonade

Fresh mint sprigs (for garnish)
Instructions
Combine water, sugar, and 1 tablespoon of chopped mint in a small saucepan. Bring to a boil while stirring constantly. 

Remove from heat and set aside to cool after the sugar has dissolved. Remove the mint leaves after about an hour.

Crush 2 glasses or frozen goblets with ice. 

Fill each glass halfway with lemonade and top with a dash of sugar syrup.

Garnish with a mint sprig and a straw for each. Place on a silver dish and serve.
With Crème de Menthe Syrup (Disneyland Copycat)
To keep this drink alcohol-free, make sure your creme de menthe is as well. You must purchase the crème de menthe syrup/cordial rather than the crème de menthe liquor. It's also rather potent, so don't use too much, or the mint will overshadow the other ingredients.
Ingredients
3 cup club soda

1 cup sugar

3 tsp lime juice

6 oz thawed lemonade concentrate

6 tbsp creme de menthe syrup

green food coloring

mint leaves (for garnish)

lemon (for garnish)

cherries (for garnish)
Instructions
Dissolve sugar in club soda in a medium pot over medium heat, stirring constantly. Bring the lime juice, and lemonade concentrate to a boil.

Remove the heat and whisk the crème de menthe syrup and food coloring. Then, refrigerate.

Use this mixture as syrup: 3 parts syrup to 5 parts water. It makes around ⅔ gallon. Enjoy!
The Benefits of Making Non-Alcoholic Mint Julep For Any Event
Bring out your fancy cocktail glasses since a refreshing non-alcoholic mint julep is ideal for a party, is healthier, and can be prepared ahead of time.
Ideal for a party –

Gather your pitchers and friends because this virgin mint julep is wonderful for sharing. Simply combine the mint simple syrup, ginger ale (or alcohol-free bourbon), and ice in a pitcher and serve to guests.

Can be made healthier –

In classic simple syrup, sugar, water, and mint are combined in a 1:1:1 ratio. This recipe cuts the sugar in half and uses the sweetness of ginger ale to complement the mint nicely. Use diet ginger ale for an even reduced sugar option.

Can be prepared ahead of time –

The flavored simple syrup lasts for about two weeks in an airtight jar in the fridge. Make one ahead of time so you're ready for derby day!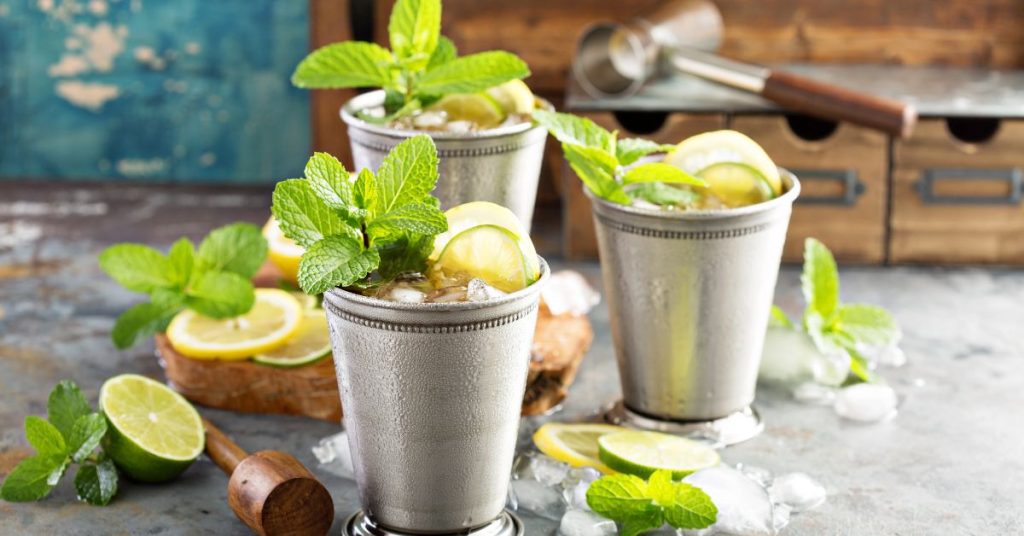 There are numerous ideas for dishes that best reflect Kentucky, and many of them revolve around the Kentucky Derby, which is undoubtedly the state's most famous sporting event. Since mint juleps are an iconic beverage served during the horse race, these non-alcoholic versions would definitely satisfy the sober and sober curious.
Looking for more cool, refreshing drinks? You should try making non-alcoholic seltzer and non-alcoholic drinks with tonic water.
Non-Alcoholic Mint Julep FAQs