Although it seems evident, the answer to the question, "Does non-alcoholic beer have alcohol?" is not as straightforward as expected. 
In actuality, non-alcoholic beer can contain up to 0.5% ABV (alcohol by volume), making it less clear-cut for those who are expecting, sobering up from alcoholism, or abstaining from alcohol for health reasons.
So why don't breweries produce entirely alcohol-free non-alcoholic beer? Let's try and understand this discourse.
The Laws Surrounding Non-Alcoholic Beer
Any beer that has had all or most of the alcohol removed and has an ABV of 0.0% – 0.5% is considered non-alcoholic. Non-alcoholic beers can have a range of ABVs, but according to federal law, they must all be less than 0.5% ABV. 
This is comparable to the percentage of alcohol in regularly consumed foods that have gone through some degree of fermentation, such as extremely ripe bananas or other ripe fruit, the majority of bread varieties, kombucha, yogurt, kefir, and orange, apple, and grape juice. 
For instance, according to study findings in the Journal of Analytical Toxicology, an "American-style burger roll" had an ABV of 1.28%, whereas ripe bananas had 0.4% ABV.
Non-alcoholic beers were once considered bland and watery, but new entrepreneurs have greatly improved the market for and quality of non-alcoholic beers. Some non-alcoholic beers today taste and smell almost exactly like their alcoholic counterparts. Watch this non-alcoholic beer taste test video from Good Mythical MORE on YouTube to get some insights about the taste of different non-alcoholic beers.
Additionally, there are an infinite number of options available. Businesses like Athletic Brewing provide every kind imaginable, including hazy, IPAs, lagers, golden ales, light, sour, and even seasonal flavors like Oktoberfest.
Some non-alcoholic beers can claim to be alcohol-free because they have an ABV of zero percent. On the other hand, several non-alcoholic beer brands work as hard as they can to reach the 0.5% ABV restriction.
While some manufacturers will specify the actual ABV (such as 0.3%, for instance), others, like the well-known Athletic Brewing Company, would only claim that their beer has a low alcohol content (less than 0.5% ABV).
Alcohol-Free, De-Alcoholized, and Low-Alcohol Beers: Is There a Difference?
Low-alcohol beer is defined as having less than 1.2% ABV, de-alcoholized beer as having less than 0.5% ABV, and alcohol-free beer as having less than 0.05% ABV. Here's a table for a better understanding of alcohol levels between these classifications:
| | |
| --- | --- |
| Regular Beer | 1.2% > ABV |
| Low Alcohol Beer | 0.5% – 1.2% ABV |
| De-Alcoholized Beer | 0.05% – 0.5% ABV |
| Alcohol-Free Beer | < 0.05% ABV |
There are traces of alcohol left over after brewing. Despite being labeled "non-alcoholic," many beers actually contain 0.3% or 0.4% alcohol. A truly alcohol-free beer will have the words "alcohol-free" on the label, which means that it contains less than 0.0% alcohol.
Even though non-alcoholic beer may have a lower ABV than alcoholic beer, it still contains traces of alcohol. Therefore, before making any purchases, carefully study the label to learn what advantages the beverage might provide.
Is Non-Alcoholic Beer Good For The Body?
Since non-alcoholic beer still contains calories and carbohydrates, albeit fewer than regular beer, it isn't always better for you. A more specific classification would be that non-alcoholic beer is healthier and better for you than alcoholic beer. 
Any effort to reduce your body's intake of alcohol is healthier because alcohol is a toxin. Non-alcoholic beer achieves this by satiating your palate without giving you a rush. A lot of people have started drinking non-alcoholic beer instead of beer, either to improve their nutrition or their mental health or to reduce their alcohol consumption. 
According to anecdotal evidence, switching to non-alcoholic beer may help with any alcohol-related sleep problems. According to a 2018 Journal of Medical Internet Research study, moderate consumption of just two drinks per day for men and one drink per day for women reduced sleep quality by 24%.  
Non-alcoholic beer consumption may also indirectly contribute to dietary improvements. Researchers think alcohol affects the stomach's production of ghrelin, which increases appetite and food consumption. This may help to explain why drinking alcohol can make you hungry late at night.  
However, any claims about potential health benefits should be considered seriously. Non-alcoholic beer enthusiasts assert athletes can consume it to replenish electrolytes and hydrate. Olympians allegedly utilized the drink as a rehabilitation aid years ago.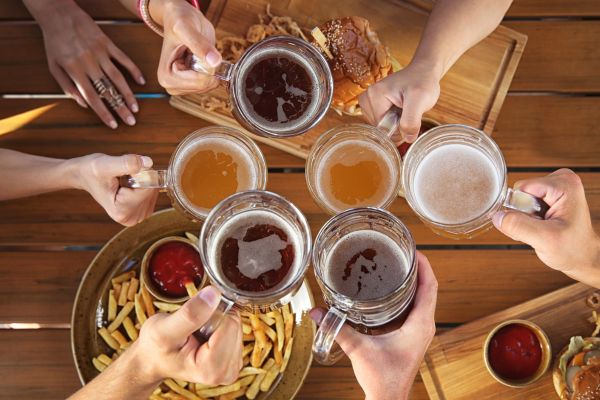 One of the key advantages of non-alcoholic beer over alcoholic beer is that it has fewer calories. Alcohol has 7 calories per gram, similar to the 9 calories in fat. 
Most commercial beers have between 140 and 170 calories, with light beers being closer to 100. Non-alcoholic beers might have as few as 17 calories or as many as 80 or 90. Additionally, higher ABV beers like stouts and IPAs can have up to 300 calories per pint. In contrast, some non-alcoholic IPAs contain only 60 calories. 
In actuality, beer contains empty calories, whether it contains alcohol or not. Even though malted barley provides sweetness, non-alcoholic beers contain calories if you drink many of them in one sitting. Additionally, non-alcoholic beers typically include more carbs. For instance, Coors Non-Alcoholic contains only 45 calories but 12.2 grams of carbohydrates. 
So you might be asking, what's the point of non-alcoholic beer? Considering that most consumers of alcoholic beer do so to enjoy themselves, especially when doing so in a social situation.
It certainly has its share of shortcomings. This is unquestionably one of the main causes for why so many individuals decide to reduce their consumption of alcoholic drinks or give it up altogether. Many people are transitioning to non-alcoholic beer due to its advantages; others have even stopped drinking normal beer altogether. 
How to Make Non-Alcoholic Beer
Making a beer is a really easy process. Malted barley and hot water are first mashed by brewers. Through this procedure, carbohydrates are extracted to produce the wort. After being boiled with hops, the wort is fermented with yeast. The yeast then consumes the wort's carbohydrates to create alcohol. 
The most challenging aspect of making non-alcoholic beer is eliminating or drastically reducing alcohol production. In the past, brewers would either employ a filtration system or boil the completed product at high temperatures to cause the alcohol to evaporate. While both procedures were effective in getting rid of alcohol, they also had a tendency to get rid of flavor, making the experience less enjoyable.
However, recent advancements have made it possible for brewers to either completely exclude alcohol from the process (alcohol reduction and prevention) or employ techniques after brewing (de-alcoholization) that maintain flavor and taste.
Here's how Hops & Gnarly on YouTube create an alcohol-free IPA beer.
Alcohol can be removed after a beer has finished brewing, or the fermentation process can be interfered with to stop the development of alcohol from creating non-alcoholic beer. 
Dealcoholization, a procedure that allows brewers to de-alcoholize beer, can be accomplished in a variety of ways, including: 
Boiling the alcohol off:

They will heat the beer by adding water or steam, boil it under pressure, and then condense the evaporated alcohol into a condenser. The alcohol is subsequently collected and removed. However, this procedure is unpopular because it frequently affects the beer's flavor. 

Vacuum distillation:

This process is superior to boiling because it preserves flavor and aroma while evaporating the beer's alcohol content. A vacuum lowers the beer's boiling point from 173 °F to 93 °F.

Membrane filtration:

Beer is filtered using a membrane, which keeps out water while letting alcohol, color, and some aromatic ingredients pass. Brewers will add water to the beer again after the alcohol has been distilled.

Reverse osmosis:

Reverse osmosis is a relatively sophisticated procedure that results in a highly concentrated mixture of beer on one side and alcohol and water on the other after passing the beer through a semipermeable membrane under high pressure. The water is then channeled back into the beer by means of specialized de-alcoholization machinery, which distills the alcohol out of it.  
Brewers can make non-alcoholic beer by simply diluting concentrated alcoholic beer with water and removing the alcohol from the beer. For instance, adding 10% water to a beer with a 5% ABV will lower its ABV to 4.5%. Brewers will continue reducing the alcohol content of the beer until it is 0.5% ABV or lower, at which point they will re-carbonate it to complete the non-alcoholic beverage. 
Last but not least, it is possible to create non-alcoholic beer by regulating or restricting fermentation or by utilizing particular yeast strains. 
Non-alcoholic beer sounds like a wonderful choice if you don't consume alcohol or are merely attempting to limit your alcohol consumption. It may appear and taste authentic, but that is not the case. 
This article has disclosed some facts you should know before opening a non-alcoholic beverage. You should be thoroughly informed on non-alcoholic beer, particularly if you need more clarification about the beverage. Learn more about non-alcoholic beer calories comparison and health benefits.
Does Non-Alcoholic Beer Have Alcohol? FAQs