Clausthaler Dry Hopped is a full-bodied, hoppy beer with overtones of malty caramel that is a beer connoisseur's dream. It combines German workmanship, the best non-alcoholic brewing method used worldwide, and Cascade Hops sourced from the USA to create the first beverage of its kind. This unusual mix results from a noticeable citrus flavor and an amber beer with significant character. Clausthaler Dry Hopped has a unique malty flavor and a darker golden hue than Clausthaler Unfiltered.
Clausthaler Amber Dry Hopped, which has an ABV of less than 0.5%, comes in 12 oz. bottles at costs similar to those of imported non-alcoholic beers.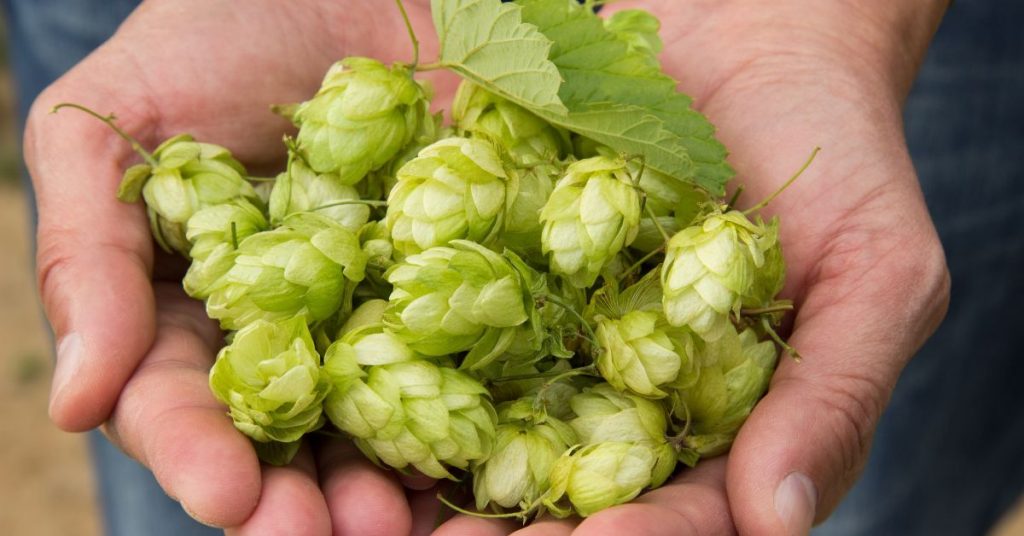 In order to intensify certain scents and flavors without removing more of the bittering properties of hops, dry-hopping comprises adding hops at the end of the brewing process, most frequently in the fermentation tanks.
In the anatomy of a hop, there are yellow glands or pods inside the cones known as lupulin. These little gems contain the resins and essential oils that give IPAs and other beers with a strong hop flavor and aroma their bitterness and aroma. Additionally, because the oils and resins in hops react to heat differently, brewers must use hops carefully.
Brewers use hops during the kettle boil (the "hot side" of brewing) to pull out bitterness since the resins won't efficiently dissolve without them. A lengthy boil is a terrible news for essential oils, which are volatile and readily lost despite being laden with strong hop scents. Therefore, dry-hopping favors the "cold side" of brewing, when ales and lagers are transferred from kettles to fermentation tanks.
Clausthaler, which focuses solely on the non-alcoholic malt beverage market, is the industry innovator and major force. It is a top-selling product in more than 50 nations and was brewed in Germany. 
The brand has received various honors, including the Golden Award from the DLG in 2013, Gold at the World Beer Cup in 2000, and the Grande Medaille d'Or 29ème at the Selection Mondiale de la Bière in 1990. It won World Beer Awards in 2009, 2010, 2011, and 2013. 
The largest brewing company in the nation, The Radeberger Gruppe Germany, is the owner of Clausthaler.
The Radeberger Gruppe Germany
The Radeberger Gruppe represents a distinctive business strategy for the German beer market. The Radeberger Gruppe brews over 80 different brands of beer using traditional recipes at our 14 breweries, which are managed centrally but operated in accordance with regional attitudes and the needs of local consumers. 
These brands range from national specialties, national premium brands, and regional premium brands to various traditional, regional brands. Such a product selection is unavailable from any other brewery group in the German beer industry. 
As a result, the Radeberger Gruppe must make it obvious that it is committed to providing the greatest goods and services consistent with German beer culture. It takes a firm commitment to promote variety in the German market, to protect it whenever possible, and to invest in and grow brands. Radeberger Gruppe Germany has a wholly-owned subsidiary in Norwalk, Connecticut, called Radeberger Gruppe USA.
The History of Clausthaler Dry Hopped
The pioneers dominated in 1972 when brewers had a huge idea. They set out to make a delicious, low-calorie beer. But why settle for a low-calorie beer when they could make the world's first non-alcoholic beer? 
Other brewers had previously attempted a non-alcoholic beer, but the batch was always unpalatable. However, Clausthaler began the procedure that would fundamentally alter the beer industry in 1972.
In the late 1960s and early 1970s, a number of breweries, including Clausthaler, were searching for the unicorn of non-alcoholic beer. Most of them eventually gave up, but not Clausthaler. The pioneers at Clausthaler were committed to making non-alcoholic beer production a reality and were driven by a zeal that verged on obsession. 
However, the Clausthaler brewmasters realized they required an entirely new approach while the competition tried to remove the alcohol from conventional beer. Therefore, they developed a novel brewing procedure in which the brew fermentation was stopped just before the alcohol began to emerge. In the annals of brewing, this procedure is known as Clausthaler's Controlled Fermentation.
Clausthaler achieved this by patenting the brewing method. Clausthaler was the first brewery to use controlled fermentation for a long time. Other brewers also employ this technique, but none of them can match Clausthaler's award-winning flavor.
Similar difficulties existed when decaffeinated coffee and movies first introduced sound when Clausthaler created the first non-alcoholic beer. Because non-alcoholic beer wasn't exactly regarded favorably in 1979.
However, the Clausthaler brewmasters had put in too much effort for their inventiveness to go unnoticed. As a sort of Trojan horse, Clausthaler first debuted its ground-breaking non-alcoholic beverage under a different name.
The brewery created "Prinzenbier," which was marketed as a delectable, brand-new, alcoholic light beer. Clausthaler was, of course, the entity behind the "Prinzenbier" label. When the trick was discovered, Clausthaler demonstrated that the trendy new brew was here to stay as bar owners and retailers suddenly couldn't get enough of it.
Every great invention is the result of a group of people who have an appetite for the unreachable. The leadership at Clausthaler was aware of the challenging task ahead from the start, but the first ten years of developing the new brand kept hammering home the point on a daily basis: producing an alcohol-free beer that looked and tasted just like regular beer was going to be a major struggle.
Since its beginnings, Clausthaler has been recognized as a truly remarkable non-alcoholic beer. Therefore, it should come as no surprise that Clausthaler has maintained its position as Germany's most-awarded non-alcoholic beer since its introduction in 1979. On a national and international basis, the brand is consistently acknowledged as the best-tasting, highest-quality beer in the N/A category.
How Clausthaler Dry Hopped Is Made
Clausthaler Dry Hopped is brewed in conformity with the Reinheitsgebot, Germany's venerable Beer Purity Decree, and uses Cascade hops from Yakima, Washington, throughout the dry-hopping process. After fermentation is complete, hops are added, creating a crisp, fresh flavor with hints of citrus and spice. They enhance the brew's deep, organic scent, natural hoppiness, and subtle caramel malt notes. 
As with all Clausthaler brews, a unique procedure minimizes the amount of accessible maltose that yeast can convert to alcohol through controlled fermentation, preventing the production of alcohol. As a result, the whole flavor of the beer can be preserved without any processing to eliminate alcohol. Other N/A beers are made using standard techniques, and after brewing, alcohol is eliminated using procedures that also lessen flavor.
Ever wondered if Clausthaler Dry Hopped can be considered in your daily fitness goals? Clausthaler Dry Hopped Non-Alcoholic Beer (355 ml) has 89 calories, 20g of net carbohydrates, 20g of total carbs, and 0g of fat. 
For those times when you want a beer but maybe not the alcohol, this beer competes favorably with the bulk of pale ales available on the market. 
The brand's brew masters started to diversify the flavors of Clausthaler after spending decades honing Clausthaler Original to become the gold standard of non-alcoholic beer that it is today. Learn more about other variations of non-alcoholic beers from Clausthaler here.
Watch this honest review of Clausthaler Dry Hopped below to gain more insights about the drink.
Clausthaler's benchmarks are designed to please even the most discriminating palates because they are one of the few brands in the business wholly dedicated to brewing non-alcoholic beverages. With the Clausthaler touch, non-alcoholic beer lovers can already select from a wide variety of non-alcoholic flavors today. But they are not done yet; they'll keep innovating the Clausthaler way. Everyone is expecting some exciting new non-alcoholic beers on the market.
Meanwhile, there are other non-alcoholic beers out there, like Heineken and Guinness. You just have to know which flavors you prefer the most to enjoy a bottle without the consequence of having a hangover the next day.
Clausthaler Dry Hopped FAQs