Although drinking non-alcoholic champagne or sparkling wine might seem like a pipe dream for sober or sober curious individuals, there are actually a ton of delectable options available.
It is entirely possible to partake in the bubbly fun without the drink or the headache the following day.
The greatest versions now offer wonderful, effervescent drinks that mimic the flavor of genuine wine.
Learn more about non-alcoholic champagne in the next paragraphs, how it's made, as well as its characteristics and where to get it.
An Introduction To Non-Alcoholic Champagne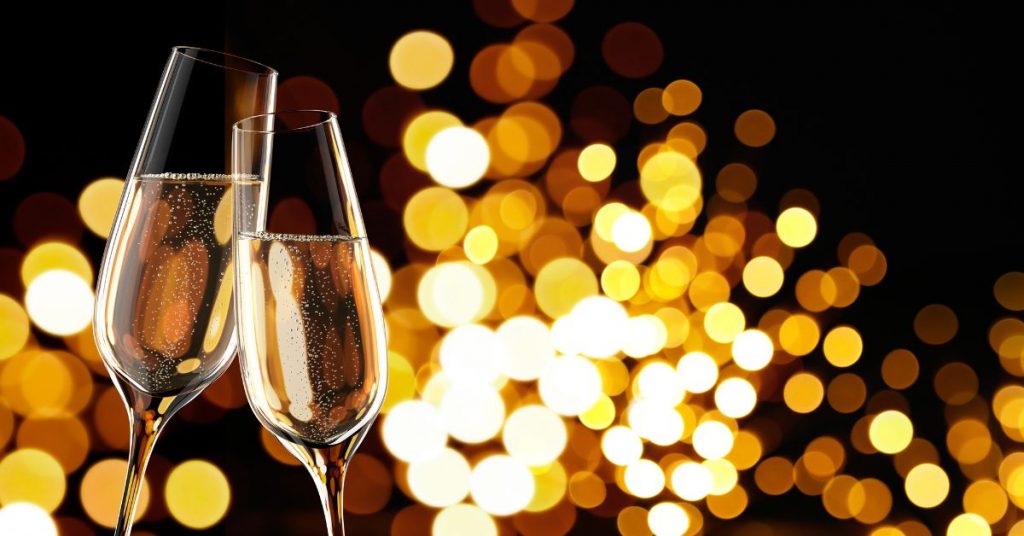 A non-alcoholic sparkling wine or non-alcoholic champagne may contain trace amounts of alcohol depending on the method used to remove it; nonetheless, the amount of alcohol must be less than 0.5% ABV for the wine to be classified as non-alcoholic.
Without using any traditional wine or alcohol, non-alcoholic sparkling wine can also be created, giving rise to a 0% ABV substitute that appears, tastes, and dances around the palate just like the original!
Although technically speaking, champagne and sparkling wine are not the same things, we all feel guilty for referring to them as such.
The primary distinction is that while sparkling wine is a kind of champagne, not all sparkling wine is champagne.
It may sound like a puzzle, but the truth is that only sparkling wines from the Champagne area of France can be referred to as Champagne.
No non-alcoholic Champagne has been produced in the Champagne region as of yet.
However, many superb non-alcoholic champagne substitutes are available, including the top non-alcoholic sparkling wines from around the globe.
Any grape can be used to make sparkling wine, so when choosing between sparkling wines from champagne, it's best to think about your preferred level of fruitiness, freshness, body, and fragrance.
There is no longer a reason to skip that celebratory glass if you are intolerant to alcohol or simply want to cut back on your intake.
Non-Alcoholic Champagne Options-A Growing Industry
Over the past few years, the industry for non-alcoholic substitutes has grown quickly, bringing with it a variety of enticing fake champagnes, "noseccos," sparkling teas, and low-alcohol wines that give a texture, bubble, and flavor profiles that are comparable to the genuine thing.
This is partly because consumers are becoming more interested in alcohol-free and low-alcohol beverages, and it's also because technological developments have made it possible to produce de-alcoholized wine without sacrificing the beverage's nuanced flavor.
Premium sparkling teas and fermented beverages like kombucha are also making a name for themselves as enticing alcohol-free substitutes for sparkling wine and champagne.
How Non-Alcoholic Sparkling Wine "Champagne" Is Made
Non-alcoholic sparkling wine (or alcohol-free champagne) is usually manufactured the same way as regular wine, but the alcohol is taken out before bottling. Non-alcoholic sparkling wine or champagne is filtered to eliminate the alcohol, similar to non-alcoholic beer or wine. You'll still get the same crisp flavor and energizing carbonation in a non-alcoholic beverage.
Non-alcoholic champagne is gaining popularity. Reverse osmosis, vacuum distillation, or running the wine through a series of spinning cone columns are all used to create this type of N/A drink. 
Reverse osmosis –

A cross-flow filtering system that removes phenolics and aroma compounds before distillation is used to eliminate the alcohol. The leftover water is then reincorporated into the filtered wine concentration.

Vacuum distillation –

Using a vacuum chamber, the alcohol is evaporated at a low temperature. Most aromas evaporate in this process as well, and they must be blended back in afterward.

Spinning cone columns –

Using inverted cones and centrifugal forces, the alcohol is repeatedly evaporated and condensed at a low temperature.
If you're wondering whether non-alcoholic champagne is safe to drink, it's safe to say that just 0.5% alcohol by volume or fewer remains after the alcohol has been removed.
Non-alcoholic champagne is also better for your health. You can enjoy your beverage while consuming fewer calories because non-alcoholic champagne often has half as many calories as alcoholic wine.
Non-Alcoholic Champagne Brands To Try
There are numerous events, such as New Year's Eve celebrations, wedding anniversaries, and job promotions, that call for popping open a bottle of bubbly. But not every occasion necessarily calls for alcohol consumption.
Some occasions call for non-alcoholic champagne substitutes, whether you're participating in Dry January, entertaining a pregnant loved one, or simply taking a healthy break from drinking. We've compiled a list of brands that produce the best non-alcoholic champagne you can find on the market.
Sutter Home Fre Brut Non-Alcoholic Champagne
Since the 1980s, Sutter Home has been a well-known, approachable brand. Sutter Home's non-alcoholic Fre is a cheery and vivacious alternative with flavors of apple, strawberry, and scents of green apples and ripe pears. 
For those looking for a dry champagne, this brut from Sutter Home and its California vineyards is ideal. With undertones of apple and pear, the flavors are fresh and fruity.
Although the bottle appears to be an actual glass of Champagne with a capital C, the flavor is more akin to fake green apple candy than sparkling wine.
Basically, if you like sweeter things, it's a little bit of that. It has a flavor profile that might be mistaken for champagne or a mildly sweet Prosecco. 
By carefully analyzing the distinctive scents, flavors, and looks of well-known alcoholic wines, Classico Grande is painstakingly produced.
To create Classico's distinctive flavor and structure, the best all-natural essences and extracts from across the world are combined with their own proprietary, non-alcoholic base liquid. Additionally, 250mL cans of premixed, ready-to-drink Classico Grande are offered; these cans are lower in calories and ideal for carrying to your next event.
Chateau De Fleur Champagnette
This "champagnette" bottle from Weibel Vineyards in California features lively apple and peach flavors.
Since this one is more sparkling juice, they created the Champagnette label. 
For people of all ages, this sparkling grape beverage is ideal. It can be enjoyed cold by itself or as a main component for mimosas by adding orange juice.
Thomson & Scott Noughty Sparkling Chardonnay
This de-alcoholized sparkling wine is created entirely of chardonnay, so you get all the flavor without the buzz.
The Blanc de Blanc champagne style, which uses only chardonnay grapes, is the inspiration for Thomson & Scott's sparkling white wine with a crisp flavor with sweet apple undertones.
It is a healthier choice because it has less sugar than many alternatives.
Made from Chardonnay grapes produced in southern Spain and de-alcoholized through vacuum distillation, Noughty is organic and responsibly sourced. Each bottle is halal-certified, completely vegan, and low in sugar.
So you can confidently bring it to the table for everyone to share.
Noughty, a renowned non-alcoholic sparkling wine, was made by Amanda Thomson, the founder of Thomson & Scott, who learned the art of winemaking at the prestigious Le Cordon Bleu School in France.
Noughty has been highlighted in the New York Times and BBC Good Food, where it has been referred to as a world-leading alcohol-free Champagne substitute.
TÖST Non-Alcoholic Sparkling Beverage
These sparkling drinks, which come in two varieties—the original white cranberry, white tea, and ginger combination and a rosé variant with elderberry—make excellent solo sips or even mixers for mixed groups of drinkers and non-drinkers. 
All ingredients are natural, so any sweetness you detect is derived from those.
This is your best option if you're seeking an alcohol-free sparkling wine substitute that doesn't taste anything like actual wine. 
TÖST wasn't created by de-alcoholizing regular wine like the other alcoholic beverages on this list.
Instead, a wholly zero-proof mixture of white tea, cranberry concentrate, and the ginger extract is created.
Although it's delightful, it tastes nothing like sparkling wine, which means it's great for anyone wary of the minimal lasting ABV count in other alternatives.
This alcohol-free champagne is also relatively inexpensive, making it simple to stock up on if you're hosting a sizable group of non-drinkers.
Studio Null Sparkling Verdejo
This elegant bottle is made by Studio Null, a company that creates premium still and sparkling wines with 0% ABV.
Small, family-run vineyards provide the grapes for each bottle, fermented into traditional wine and gently distilled to extract the alcohol.
The outcome is a champagne substitute with a genuine taste.
The Sparkling Verdejo has no disagreeable aftertaste and bright, lemony notes. However, because this choice is a little more expensive, you might want to keep it for special occasions.
Fortnum & Mason Rosé Sparkling Tea
Fortnum's sparkling is the perfect bottle if you're looking for a drier rosé substitute.
This sparkling tea creates a mouthwatering symphony of flavors on the palate by combining deeply flavored teas and silky silver needle white tea with fresh Japanese sencha and fragrant hibiscus tannins. 
Despite its intricate structural makeup, this tea is well-balanced and achieves a pleasing harmony between its base of 11 teas and its diverse herbal ingredients.
It is ideal for sipping in the sun and goes well with light seafood dishes or cured ham because of its dryness. Investing in this one for special occasions or as a gift is unquestionably worthwhile.
The St. Regis Sparkling Brut is a dry, golden-yellow sparkling wine with delicate and long-lasting bubbles and notes of fruit, flowers, and citrus.
Winemakers have produced this fantastic product that doesn't compromise on taste to amaze even the most discerning palates utilizing a good selection of Chardonnay grapes and conventional methods.
This medium-bodied Brut that reveals a vibrant acidity and expansive structure makes every occasion unforgettable.
A flute of St. Regis Brut is magnificent on its own, but when combined with fruit, juice, and herbs, the result is a wild and fizzy concoction.
The St. Regis Brut is not restricted to special events; it goes well with everything.
Freixenet Alcohol-Free Sparkling Wine
This non-alcoholic white wine sparkler is made by the renowned Catalan cava manufacturer Freixenet, which is situated in Spain.
These European winemakers seek to produce wines that taste comparable to their original creations.
Since 1861, the winery has been in operation, and its prestigious wines are a statement that they value its offerings.
The hue of Freixenet Alcohol-Free Sparkling Wine is a light, bright yellow. There are delicate citrus undertones and reviving tropical aromas on the nose.
It has a bright, delicious, and especially cooling flavor.
The medium-sized bubbles and the well-balanced acidity produce a very nice mouthfeel.
Leitz Eins Zwei Zero Sparkling Riesling
For people who don't want to drink alcohol but want to enjoy a glass of wine, the "Eins Zwei Zero" label of zero-alcohol wine was established in 2007.
Vacuum distillation is used to de-alcoholize the wine since it eliminates the alcohol at very low pressures and temperatures while keeping its subtle flavors and aromas. 
Given that Leitz's signature grape is riesling, the estate's first alcohol-free wine, Eins Zwei Zero Riesling, was only fitting.
This young vine-harvested sparkling riesling is crisp and lively, with flavors of lime, citrus, and apples on the palate. The off-dry finish is excellent on its own or as an ingredient in mocktails or cocktails. Additionally, this non-alcoholic wine is vegan and sustainably produced.
Watch this review of Leitz Eins Zwei Zero Sparkling Riesling by The Grape Explorer, with a rating given at the end for its taste and other considerations.
Whether you drink or not, everyone can agree on one thing: something about bubbly just makes a gathering feel joyous.
But a classy sparkling drink doesn't have to be alcoholic to have a celebratory vibe; in fact, there are many fantastic alcohol-free champagne options available today, along with alcohol-free sparklers and wine substitutes for any occasion when you want to pop bottles without getting drunk.
If it interests you, there are also non-alcoholic mulled wines and non-alcoholic vegan wines available out there. Try them out!
Best Non-Alcoholic Champagne FAQs