Time to read: 6 -7 minutes
Non-alcoholic kombuchas are naturally fizzy and bubbly drinks consumed for centuries. It is a type of fermented tea with a variety of health benefits. Generally, non-alcoholic kombucha is considered as it is because it contains less than 0.5% alcohol. 
CNBC reports that the non-alcoholic beverage market has flourished in recent years as people prioritize their health and wellness over evenings out drinking.
While some people are completely cutting back, others are moving to alcoholic alternatives that taste delicious. Non-alcoholic wine, beer, and more lately, spirits are now available in pubs, restaurants, and grocery stores worldwide. They were once dismissed as a fleeting, even mockable, trend.
This article will explore why kombucha is so popular and some of the available varieties.
Around 220 B.C., kombucha was first produced in Northeast China, formerly called Manchuria. It was once valued for its curative qualities. According to legend, the fermented tea's name comes from Dr. Kombu, a Korean doctor who brought it to Japan to treat Emperor Inkyo. 
As trade routes grew in the early 20th century, the tea eventually made its way to Europe, most notably in Russia, where it was known as "Kambucha" and Germany as "Kombuchaschwamm."
Despite experiencing a decline in global acclaim during World War II due to the scarcity of tea and sugar, kombucha came back in the 1960s when Swiss research compared its health advantages to those of yogurt.
In the 1990s, kombucha significantly increased in popularity in domestic markets. According to top fermentation expert and author Sandor Katz of The Art of Fermentation, consumers' initial enthusiasm for the beverage may have been influenced by their perception that it was a potent treatment for serious medical illnesses.
Sweetened tea is combined with a culture called a SCOBY to create kombucha. Due to the fact that it is a symbiotic culture of bacteria and yeasts, the term is pretty interesting sounding.
These bacteria and yeasts are responsible for converting the sugar in the sweetened tea into ethanol and acetic acid. Because of this acetic acid, kombucha has a distinct sour flavor many people adore.
Kombucha's Flavor and Versatility
Don't anticipate a drink that is extremely sweet or spiced. Depending on the flavor you select, kombucha has a highly distinct flavor that strikes the perfect mix between acidic, aromatic, and fruity. It differs significantly from your typical soft drink and is much more adaptable when consumed alone or with other beverages, making it an exhilarating, compelling experience. 
The beverage's fermentation gives it its fizz, healthy acids, and slightly vinegary scent, which is detectable but not unpleasant. You may definitely notice the vinegar notes first, but don't let that turn you off—the flavor is completely different from the smell, which is why it appeals to all of your senses (and typically tastes better than it smells)!
The flavor of kombucha is incredibly distinctive and one-of-a-kind. No need to be concerned if you see some tiny chunks floating in your beverage; these chunks are made up of the symbiotic culture of bacteria and yeast that gives kombucha all its nutritional advantages.
Depending on the type of tea used in its production, kombucha can add any taste to your meal. The teas used to make kombucha include black, white, and green tea. Your taste may be fruity, somewhat acidic, mild, or any other flavor; it all depends on the type of tea used to make it. Because you can tailor your kombucha to fit wherever you want it to, this gives the beverage a lot of versatility.
Does Kombucha Contain Alcohol?
More often than you think, individuals inquire whether kombucha contains alcohol. This is because it is produced using a very similar method to other alcoholic beverages, such as beer and cider.
Although it may seem unusual to imagine that tea might include alcohol, kombucha actually does because of how it is made.
A kombucha that starts fermenting with a low alcohol content may eventually contain more alcohol due to fermentation. This is because fermentation doesn't stop; it goes on continuously, in the right conditions, meaning that the alcohol levels may increase from their initial levels.
Studies On The Benefits of Drinking Kombucha: Is It Really Healthy For Everyone?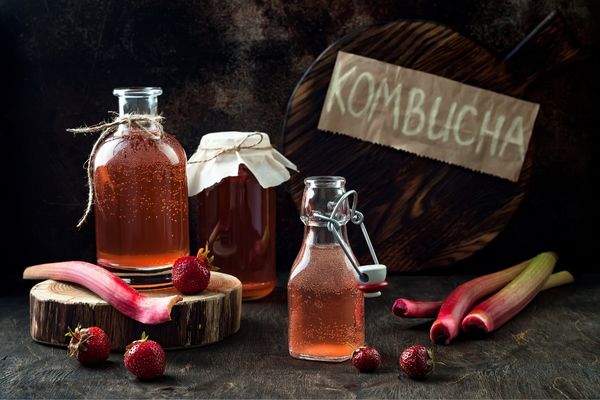 People have recently started turning to kombucha as a healthy substitute for traditional fizzy drinks and sodas. According to several studies, probiotic bacteria, like those in kombucha, may offer numerous health advantages.
The following sections will examine these possible health advantages and the state of the research.
Risk of infection
Acetic acid, which can also be found in vinegar, is a type of acid created during the kombucha fermentation process. According to research, acetic acid is antibacterial.
Additionally, other studies suggest that kombucha may have the ability to kill microorganisms and combat a variety of bacteria because it is an antibacterial.
This means that it might aid in infection prevention by eliminating the microorganisms responsible for them before the body takes them in. However, no human studies have supported this claim.
Heart disease
Elevated low-density lipoprotein cholesterol levels may make people more susceptible to heart disease. The consumption of kombucha and other probiotic supplements may help lower the risk of cardiovascular disease, according to a 2015 study on rats.
It's crucial to remember that effects in rats don't always translate to similar effects in people. More research is required to prove if kombucha can lessen people's heart disease risk. Cholesterol levels and the risk of heart disease are also influenced by diet, activity, weight, lifestyle choices, and inflammation.
Type 2 Diabetes
In animal studies alone, there is evidence that kombucha may also be useful in treating type 2 diabetes. For instance, a 2012 study discovered that kombucha assisted in controlling blood sugar levels in diabetic rats.
Despite this, there isn't any proof that kombucha can lower people's blood sugar levels. Additionally, most kombucha drinks have a lot of added sugar, which might raise blood sugar levels. Drinking sweetened beverages like kombucha can make it harder for diabetics to maintain their blood sugar levels.
Gut health
According to some research, kombucha, like other fermented foods, contains a lot of probiotics. Probiotic bacteria are comparable to the beneficial bacteria found in the gut. Probiotics in the diet may aid in improving a person's general gut health. They might function by aiding the body in maintaining a balanced population of microbes.
The National Center for Complementary and Integrative Health reports that there is some evidence that probiotics may be beneficial for irritable bowel syndrome, inflammatory bowel disease, and diarrhea that is associated with antibiotic use.
It's critical to keep in mind that these advantages mostly apply to probiotic supplements rather than to foods and beverages where bacteria are present. Although more research is needed, the correlation between the two shows that kombucha may assist the digestive system.
Liver health
Antioxidants included in kombucha aid in the fight against bodily substances that might harm cells.
According to various studies, including one from 2014, drinking antioxidant-rich kombucha may help protect animals' livers from damage brought on by drugs. This implies that kombucha may contribute to the improvement of liver health and the reduction of liver inflammation. However, there is currently no proof that consuming kombucha helps human liver health.
Mental health
Probiotic-rich beverages like kombucha may aid in fostering good mental wellness. In fact, some sources claim that there may be a connection between probiotics and depression.
Since depression and inflammation are closely related, kombucha's anti-inflammatory properties may aid with some depressive symptoms.
A 2017 study examined several published trials and concluded that there is compelling evidence that taking probiotic supplements may help treat depression. However, more research is required to demonstrate their suitability for this use.
The Best Non-Alcoholic Kombuchas To Drink
Here are some of the best brands that offer healthy kombucha drinks that you must try:
GT's Enlightened Organic Raw Kombucha

Suja Organic Kombucha

Rowdy Mermaid Kombucha

Holy Kombucha Signature Brew

Bear's Fruit Kombucha

Better Booch

Trader Joe's Organic Kombucha

Revive Sparkling Kombucha
Kombucha sales are stronger than ever and are anticipated to continue increasing, despite the regulation crisis of 2010 and the ensuing consumer misunderstanding over the product. With projected sales of $1.8 billion by 2020, kombucha is the functional beverage that is thought to be expanding the fastest. This might be due to manufacturers releasing different kinds of alcoholic and non-alcoholic kombuchas that people can enjoy.
Want To Make Your Own Kombucha At Home?
You can create your own SCOBY home by heating and combining water, sugar, black or green tea, and readymade kombucha.
After prepping the SCOBY, leave it to rest in sweetened tea for a week or longer at room temperature. Instead of using a lid, secure a piece of fabric with elastic to the jar's top to let the SCOBY breathe.
Depending on your choice, the kombucha will be ready to drink in 6–12 days; the longer it sits, the less sweet it will become. You can go to a health store to get a prepared SCOBY.
There are some great DIY Kombucha brewing kits on available on Amazon.
The Sober Bars team has made some great Kombucha with this Home Brewing Starter Kit. It includes a SCOBY, and enough tea and sugar to make your first batch. Literally everything you need to get started all in one box!
Learn how to make a non-alcoholic pomegranate rosemary kombucha you can serve to your friends and family.
Non-Alcoholic Kombuchas FAQs