Non-alcoholic pineapple drinks can bring up images of warm summer days filled with fun, companionship, and delicious food. That's why occasionally, it's good to enjoy one without the adverse effects of a shot of alcohol.
Because pineapple is already so wonderful, we don't need to add alcohol to enjoy it. Additionally, the entire pineapple can be transformed into a delectable pleasure. 
All of these non-alcoholic beverage recipes are a lot of fun to make. So gather your pals, your blender, and as many pineapples as possible. With these 11 non-alcoholic pineapple drinks, we can get creative.
Whoever you offer this traditional mocktail to is likely to enjoy it. Coconut and pineapple are a heavenly combination. Even if you're only in your backyard, this recipe from De La Calle will whisk you away to a paradise island with white sand beaches. 
Because of it, it can be enjoyed on any occasion, whether a special occasion or a pick-me-up after a week of the same old thing.
Ingredients
2 cups of pineapple juice

Coconut cream 

Ice

Maraschino cherry and pineapple slice (for garnish)
Instructions
Start with your pineapple juice in a blender. Then, according to your taste preferences, add the coconut cream and cream of coconut. Add the ice last. 

It should have the consistency of an ice cream milkshake when blended and served immediately. 

For an elegant treat, skewer a cherry and a slice of pineapple with a toothpick.
Watch this video from Cookd on YouTube using the same ingredients above to learn how to make a refreshing piña colada.
Pineapple Spritzer Mocktail
For the summer or any season, add this ridiculously simple pineapple mocktail recipe from Mindful Mocktail to your list of must-have virgin drinks.
This sparkling mocktail, made with fresh pineapple, creamy coconut milk, and sharp lime, will satisfy your craving for something without alcohol.
Ingredients
1 cup pineapple

1 cup reduced-fat coconut milk

2 tablespoon lime juice

2 cups sparkling water
Instructions
All components should be thoroughly blended in a high-speed blender.

Divide among two glasses.

Add sparkling water on top before serving.
Sparkling Pineapple Mojito Mocktail
This Sparkling Pineapple Mojito Mocktail recipe from Pretty Life Girls is enjoyable. The flavor combination of pineapple, mint, and lime is good and tastes like summer in a glass.
Ingredients
1 pineapple cored

6 mint leaves (plus more for garnish)

Juice of 6 limes (plus slices for garnish)

1 quart lime sparkling water

ice
Instructions
Blend the mint, lime, and pineapple in a container until smooth.

Add ice to a glass, add a few teaspoons of the pineapple mixture, and then top it off with sparkling lime water.

Slices of lime, mint, and pineapple should be garnished.
This simple mocktail called the Sweet Sunrise is a parody of a classic non-alcoholic Tequila Sunrise. Tequila is not used in this orange and pineapple cocktail recipe, but orange bitters are added for a taste boost.
The Sweet Sunrise recipe from The Speckled Palate is a unique drink that is ideal for a celebration. It would go over well at happy hour, a brunch at home, or even a baby or bridal shower.
Ingredients
Instructions
Ice should be put in a highball glass.

Top with orange pineapple juice and 2 to 3 dashes of orange cocktail bitters.

Adding grenadine syrup will make it ascend to the top after sinking to the bottom.

Slices of grapefruit, orange, or pineapple can be used as a garnish.

Serve right away.
Strawberry Basil Pineapple Mocktail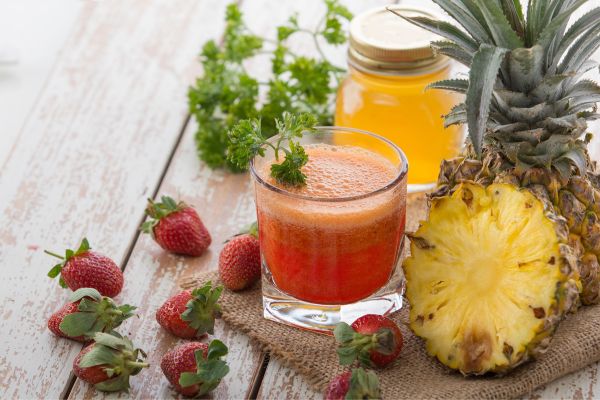 Enjoy a lovely Strawberry Basil Pineapple Mocktail that combines fresh berries, ginger beer, and tropical fruit for a naturally sweet and energizing beverage. According to Orchids + Sweet Tea, the proper proportion of fresh fruit and fizzy, spicy ginger beer is the secret to the harmony of flavors in each sip of this fruity beverage.
Ingredients
2 cups strawberries, stems removed + sliced

1 cup organic pineapple juice

3-4 Tbsps Agave syrup

A handful of basil leaves

Ginger beer for topping

Crushed ice

Sliced strawberries

Fresh basil leaves
Instructions
Freshly cut strawberries, basil leaves, and pineapple juice should all be combined in a bowl and mulled (crushed) until the strawberries are completely broken down, and the basil leaves are somewhat crushed.

Add the agave and mix thoroughly. 

Depending on the desired sweetness, apply more sweetener.

Add crushed into the glasses, followed by 3-4 tablespoons of mulled strawberries, ⅓ cup of mulled strawberry-pineapple mixture, and ginger beer till the glasses are ¾ full. It should go to the bottom of each glass.

Sliced strawberries and basil leaves can be used as additional garnish. Repeat for every serving.
Pineapple Mocktail Margaritas
This deliciously irresistible pineapple mocktail margarita from Grandbaby Cakes is prepared with a kick of cinnamon and a crisp pineapple flavor. If you're hosting a Cinco de Mayo party today, serve your guests with this and watch them fight over it instead of the tequila drinks.
Ingredients
¼ cup sugar

1 teaspoon ground cinnamon

10 lime wedges

3 cups orange juice

2 cups ginger ale or lemon-lime soda, or club soda

1 ½ cups freshly squeezed lime juice

1 cup superfine sugar or powdered sugar

2 cups pineapple juice

Ice cubes
Instructions
Mix the sugar and cinnamon until well blended in a small bowl. On a tiny plate, spread the sugar mixture. 

Put lime on the rims of eight glasses and then dip them in the sugar mixture.

Combine orange juice, ginger ale, lime juice, and sugar in a pitcher. Stir the sugar until it dissolves. Stir in pineapple juice to the mixture. 

Chill until serving time.

Put ice cubes in the glasses with the sugar rim. 

Pour mixture into glasses and, if desired, top with cinnamon sticks.
Pineapple Peach Agua Fresca
This agua fresca from How Sweet Eats is amazingly refreshing. If you love fruit, it will satisfy you since it is moderately sweet. It might even be more thirst-quenching than lemonade because it's so light and devoid of acidity or sugary aftertaste – the ideal thing on a sweltering summer day.
Ingredients
3 ripe peaches (peeled and cubed)

1 cup fresh pineapple chunks

2 cups water

3 limes (juiced)

2 tablespoons simple syrup

1 cup frozen peach slices

fresh mint

lime slices for serving
Instructions
In a saucepan over medium heat, combine equal parts sugar and water to create the simple syrup. Simmer for a minute or two while whisking, then turn off the heat and allow the mixture to cool fully.

Peaches, pineapple, and 1 cup of water should all be added to a blender and blended fully. 

Pour purée through a fine mesh sieve into a big dish or measuring cup, pressing out the last liquid with a spoon. 

Mix the juice with the remaining water, lime juice, and simple syrup in a big pitcher. If desired, taste and add extra syrup. Cool off completely. 

Add a few ice cubes if you'd like it cold before serving, along with the frozen peach slices (which will serve as your ice cubes).

Extra lime slices, mint, and crushed ice should be served on top.
Pineapple Hibiscus Mocktail
This drink is a great alternative to cocktails. The recipe from Dessert For Two incorporates an herb infusion wherein you'll place a cilantro sprig into the glass, and the flavor will flow through it. 
Ingredients
2 pieces of fresh ginger

¼ cup sugar

2 ¼ cups water, divided to use

¼ cup dried hibiscus petals (also called jamaica flowers)

½ fresh pineapple, peeled and cored

2 fresh cilantro sprigs
Instructions
Peel the ginger, then cut it into very thin coins. Add it to a small saucepan after smashing it with a knife blade. Add ¼ cup of water and the sugar to the top. 

Bring to a boil, then reduce the heat and simmer. Cover for 10 minutes. It will have a strong aroma. Let it cool on the side.

Bring 2 cups of water to a boil. Remove it from the heat when it boils, stir in the hibiscus petals, and then cover. 15 minutes should be given for steeping. Be careful since anything this mixture touches will become stained. Once finished, strain and allow to cool.

In the meantime, mix the pineapple in a blender and drain it, or juice it in a juicer. Pineapple juice from the shop would also work in this situation.

Divide the mixture of syrup and ginger between two tall glasses after straining it. 

Add generous ice cubes, then pour equal quantities of pineapple juice and hibiscus tea on top. 

Use the side of a knife to bruise the cilantro sprigs before adding them to the glass. 

Serve immediately.
Cranberry Pineapple Mocktail
This cranberry pineapple mocktail from Finding Zest is a tasty non-alcoholic holiday beverage, ideal for kids or anyone who can't or doesn't want to drink. Fantastic for a Christmas or New Year's Eve toast!
Ingredients
4 cups sparkling cranberry flavored fruit juice cocktail blend

2 cups pineapple juice

½ cup fresh cranberries

1 orange to make zest curls
Instructions
Combine sparkling cranberry juice with pineapple juice.

If preferred, garnish with orange zest curls and fresh cranberries.
Frozen Pineapple and Mango Mocktail
Want to serve exceptionally gorgeous Hawaiian mocktails at your summer party or outdoor luau? You'll become totally obsessed with this tropical mocktail from Hawaii Travel With Kids as summer arrives! It is ideal for enjoying the sunshine while your mind is taking a brief trip to Hawaii.
Ingredients
2 tbsp fresh lime juice

1 cup fresh pineapple (frozen pineapple would work too)

1 cup frozen mango

¼ cup coconut water

1 cup ice cubes
Instructions
In a high-speed blender, combine all the ingredients and blend until smooth.

You can rim the glasses by cutting a lime edge and drizzling lime juice over the rim. Then dip the bottom of the glass into some sugar, salt, or another granular sweetener.

Pour two glasses with the mocktail inside. Enjoy right away!
Lime Pineapple Agua Fresca
This pineapple-infused summer beverage is a seasonal favorite. This recipe from xoxoBella is one to try if you're searching for a tasty, non-alcoholic cocktail to sip on.
Ingredients
5 cups pineapple (diced)

5 ½ cups water

1 lime juiced

¼ cup honey
Instructions
Place all the ingredients in a blender and pulse several times to combine and smooth out the mixture.  

Put the pineapple juice in a pitcher after straining the pulp from the fruit using a sieve.  

Keep chilled until you're prepared to serve.
How Can You Make Fresh Non-Alcoholic Pineapple Drinks
Pineapple offers many health advantages. Delicious and healthy—a win-win situation! 
You can make a fresh, non-alcoholic homemade pineapple drink without additional sugar, additives, or preservatives in the varieties sold at your neighborhood grocery shops using a juicer, blender, or machine-free technique. Furthermore, fresh food allows for the best absorption of nutrients.
Pineapple is high in vitamins and minerals and low in calories. It contains vitamin C, manganese, fiber, B vitamins, B6, and folic acid. The wonderful aromas of this tropical fruit are the main attraction if you're making non-alcoholic pineapple drinks; the vitamins are just a bonus. 
Just be careful not to eat too much at once because it still contains significant amounts of fruit sugars and because bromelain might upset your stomach and cause mouth irritation.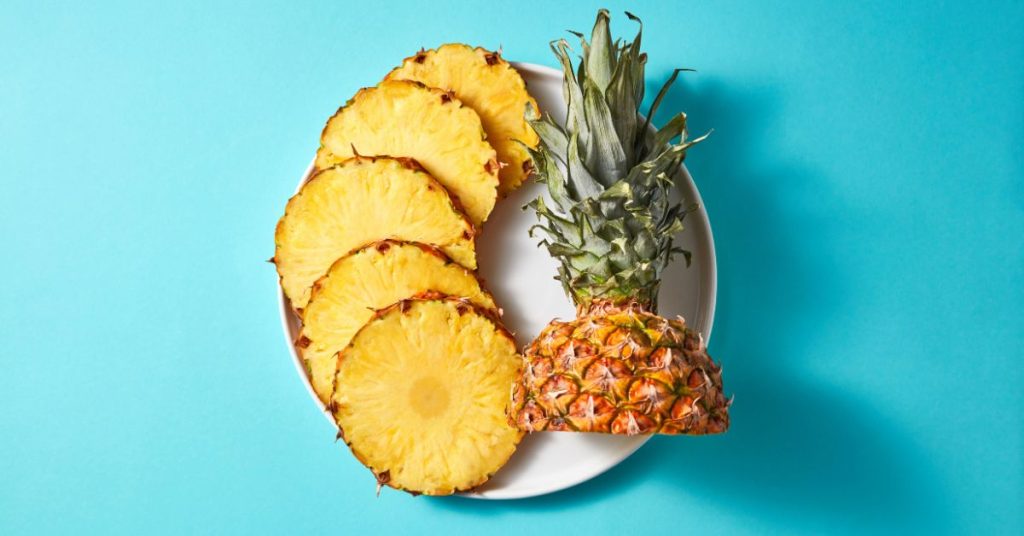 Without needing a passport, close your eyes, drink, and let the sweet, savory bubbles whisk you to a paradise with white sand beaches and breathtaking turquoise waters. Instead of alcohol, non-alcoholic pineapple drinks rely on sweet pineapple for a unique tropical twist.
This comprehensive list of recipes will push you to put that pineapple in your shopping cart. The tropical sweetness of the pineapple fruit is mushed in the bottom of your glass, highlighted by the pop of simple syrup, and tempered by the spice and glitter of other refreshing components.
Non-Alcoholic Pineapple Drinks FAQs