Aside from being tasty and fulfilling, there are some non-alcoholic beer benefits you might not know about up to this day. 
Non-alcoholic beer can be expertly brewed to have all the full-bodied flavors and silky mouthfeel of alcoholic beer. The essential vitamins, minerals, fiber, and antioxidants found in non-alcoholic beer include traces of B vitamins, calcium, zinc, potassium, selenium, and iron.
Read on to learn more!
Benefit Of Non-Alcoholic Beer- Promotes Better Sleep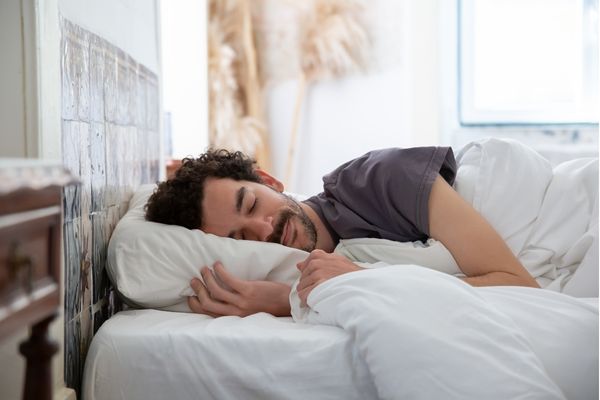 A surefire approach to increase your energy is to drink less alcohol.
To perform at our very best time and time again, our bodies require a good night's sleep to heal and recuperate. 
Up to 4 days after drinking, studies have shown that alcohol continues to have a negative effect on the length and quality of our sleep.
Our mental health is negatively impacted by poor sleep, which affects our mood, focus, and ability to make decisions.
When was the last time you genuinely felt refreshed after drinking a beer? Beers don't include any ingredients that can revitalize or renew your body. The only source of your energy is the alcohol and its associated buzz. Beer tastes pleasant when served cold, but that goes for 99% of all cold-served drinks.
Some non-alcoholic beer benefits are that they contain substances and qualities that make them genuinely reviving drinks.
Hops are one of the primary components of beer, both alcoholic and nonalcoholic. Hops boost the neurotransmitter GABA's activity, which causes a decrease in neuronal activity and a soothing effect that promotes sleep by calming the brain.
And that's just one health benefit of non alcoholic beer.
Like energy drinks, you can drink a non-alcoholic beer whenever you need a boost of vigor.
Nevertheless, most energy drinks are highly caffeinated, which is bad for your body and your sleep cycle.
One of the benefits of drinking non alcoholic beer is that, as they don't contain any caffeine, you can have them at any time of day. 
The best benefit of drinking non-alcoholic beer is that you can have a couple of chilled pints before bed and still get a decent night's sleep.
You won't feel sleepy and hungover when you wake up.
You won't stay up all night as you would after drinking a non-alcoholic beer.
Benefit Of Non-Alcoholic Beer- Reduces Stress and Anxiety
Sipping on a can of beer can make us feel more at ease in slightly uncomfortable social circumstances. According to recent studies, non-alcoholic beer may also have tension and anxiety-relieving properties. According to research, consuming 330 ml (or around 11 oz) of non-alcoholic beer every night for two weeks can aid in lowering stress levels.
The effects of alcohol-free beer on stress groups have been studied experimentally. Throughout the course of two weeks, while consuming the beer every evening, participants were required to rate their levels of stress. The researchers then contrasted this with a control period during which they did not consume beer after work.
Throughout the experimental period, participants self-reported experiencing lower levels of stress and anxiety. Physical testing also supported this result.
After two weeks of consuming beer with no alcohol, the subjects' urine levels of 5-HIAA decreased. As patients with anxiety disorders exhibit high levels of this chemical, this signals less anxiety.
List Of Non-Alcoholic Beers To get You Started
Non-Alcoholic Beer Rehydrates The Body
Alcohol encourages the body to release extra water from the kidneys, which dilutes our system because it is a diuretic. While this takes place, vitamins like vitamin A, a key promoter of skin health, are expelled.
Dehydration not only dries up your skin, but the additional process of alcohol digestion in the liver creates toxins that can be hazardous to our bodily tissues. Thus, non-alcoholic beer is a fantastic way to remain hydrated.
In a modest study that appeared in the European Journal of Clinical Nutrition, 25 men were instructed to exercise in a hot setting while consuming two pints of either non-alcoholic beer or water over the course of an hour. After that, they collected blood and urine samples and discovered that both groups had an equivalent level of hydration.
The good news for athletes is that downing a can of non-alcoholic beer before exercise may improve performance. Many studies have looked at the ability of beer to rehydrate people and its diuretic effect at various alcohol concentrations, ranging from zero to four percent. In general, the body can rehydrate better when there is less alcohol present.
Everyone is aware that drinking promotes dehydration and hangovers. Choose non-alcoholic beers if you want to have a good time at night and in the morning.
Non-Alcoholic Beer Contains Fewer Calories
If you're trying to lose some weight, switching to alcohol-free beer is a no-brainer because it can contain around half the calories of alcoholic versions.
Your waistline is affected by many factors than just the calories in your drink. The likelihood of them being stored as fat increases since the body gives processing alcohol more priority over processing any other meal or drink you may have taken.
The expression "beer belly" has a lot of merits. A significant portion originates from the beer's sugar content, which has no additional nutritional value. Each unit of alcohol has 56 calories. Therefore, these calories have no nutritional value and are "empty" calories.
If you substitute a pint of beer with a 4.5% ABV with a beer with an equivalent 0% or 0.5% ABV, you might save up to 145 calories just from the alcohol. Six teaspoons of sugar have nearly the same number of calories as that.
Moreover, alcohol can stress and inflame the stomach and intestines, which makes it difficult for the body to break down food normally into micro and macronutrients that the body can utilize. Hence, not only do we risk depriving our bodies of vital nutrients, but the extra weight we didn't mean to gain is also caused by calories.
You must remember that not all non-alcoholic beers are low in calories. Their components and the method of brewing determine the total number of calories. For instance, a beer with sluggish yeast will have more sugar and calories.
Non-Alcoholic Beer Is Healthy Because It Helps With Productivity
Productivity and alcohol do not go well. One of the simplest ways for some people to become distracted and lose concentration is to drink alcohol. Those driven by their careers should avoid it, and many do so.
We spend a lot of time drinking, getting drunk, and then relaxing. You won't know how much time has passed until you are sober because you are in a high mental state. Consider how much time you may have wasted drinking if you've ever questioned why it seems like you never have any time.
We must keep in mind that the process does not end with the consumption of alcohol. The results last for several hours or days. The aftereffects of a weekend of binge drinking will last into the following week.
Non-alcoholic beer allows you to relax and recharges you so you can return to work immediately.
Non-Alcoholic Beer Health Benefits- Enhances Bone Density
Non-alcoholic beer has major health benefits due to the high quantities of silicon, a substance that fortifies bones. One study discovered that consuming non-alcoholic beer daily can help you increase your bone density.
Beer contains a significant amount of silicone, abundant in hops and grains, particularly barley grain.
Non-alcoholic beer is also rich in silicon, essential for increasing the body's creation of collagen and promoting stronger bones, blood vessels, hair, skin, and nails.
As a result, a benefit of drinking non-alcoholic beer, may be crucial in avoiding osteoporosis.
Improves Cardiovascular Health
Studies have shown that consuming alcohol-free beer can increase blood circulation, lowering heart stress and your risk of cardiovascular disorders like heart attack and coronary artery disease (CAD).
This is probably because the beer includes polyphenols, notably the polyphenol xanthohumol, a substance generated from hops.
Also, the phenols in beer may help lower the risk of atherosclerosis, or artery hardening, which can result in a heart attack or stroke.
One study on males aged 55 to 75 showed that drinking alcohol-free beer can help lower blood pressure, inflammation, and homocysteine levels.
Another research involving the same participants revealed that drinking beer enhanced endothelial progenitor cells.
The endothelial walls of your blood arteries can be repaired and maintained by these stem cells.
Advantage Of Drinking Non-Alcoholic Beer- Helps In Cutting Down Drinking
Non-alcoholic beer can support your efforts to cut back on your weekly alcohol use by a few units, take a break temporarily, or quit altogether.
Also, it's a practical method to take a break from drinking alcohol on a night out without switching to water or another soft drink.
According to research, consuming non-alcoholic beer produces the same emotions of satisfaction as consuming alcoholic beer.
Your body links the taste and smell of non-alcoholic beer with full-strength beer, which is one of the factors that makes it a successful substitute for alcoholic beverages.
Dopamine, the neurotransmitter that makes you feel happy after drinking alcohol, is produced as a result.
This means that alcohol-free beer still has some of the benefits of alcohol without the drawbacks.
Just be aware that non-alcoholic beer can bring you back to heavier stuff because of the same sensory cues.
So, it is important to see a healthcare provider before using non-alcoholic beer to reduce your drinking if you have an alcohol addiction.
Drinking negatively affects our mood and mental health. Because alcohol affects how our neurotransmitters work, it disturbs the delicate chemical balance that our brains need to function properly. The alcohol artificially changes the amounts of the specific receptors affected—Gaba and glutamate—which is what causes the depressive effects.
Hence, even though we may feel like we are enjoying ourselves, it is not good for our mood going forward. You shouldn't have to rely solely on a substance from the outside to make you happy. It's detrimental to both your physical and mental well-being.
You eventually lose the ability to socialize without booze if you maintain this lifestyle. Many people who have taken alcohol have experienced this and are currently without a backup plan for feeling at ease in social settings.
Serotonin levels, a hormone that affects our happiness and mood and is also stimulated by alcohol, might actually decrease over time as a result of consuming alcoholic beverages. For a second, focusing on beer specifically, research has indicated that a chemical called hordenine may have mood-enhancing effects. A naturally occurring alkaloid called hordenine is present in many plants, including malt, one of the constituents of beer.
You can quickly alter your behavior by switching to non-alcoholic beer. You teach your mind to become less reliant on alcohol to make you feel relaxed while the beverage continues to serve as a prop for social circumstances. The underlying changes in your brain would be happening even if outcomes took some time to manifest.
Although there are several methods, including medications, to prevent hangovers, abstaining from alcohol altogether is the most effective. It is made feasible by alcoholic-free beer. Now, you can fit in at any social gathering or party without stressing about the awful hangover you'll experience the following morning.
Certain non-alcoholic and alcohol-free beers may contain up to 0.5% alcohol. However, this is hardly enough to make you intoxicated. That is equivalent to the amount of alcohol in a glass of orange juice. If orange juice never gave you a hangover, then non-alcoholic beer shouldn't, either.
This is due to the fact that your body breaks down this tiny amount of alcohol as you drink it; for example, an average person's body will take 17 minutes to break down the 0.28 units of alcohol contained in a pint of 0.5% beer. 
Meanwhile, the average individual needs more than three hours to process the alcohol in a pint of 5.6% beer, and it takes around two hours to metabolize a pint of 3.6% beer (about two units of alcohol) (around 3.1 units of alcohol).
Alcohol slows down stomach discharge and increases stomach acid production. These disorders can result in nausea, vomiting, or abdominal pain. 
Alcohol consumption can cause blood sugar levels to fall. If your blood glucose levels drop too low, you could experience seizures, irritability, mood fluctuations, fatigue, dizziness, and exhaustion. These things all work together to make having a hangover such a horrible feeling.
When you drink non-alcoholic beer, you won't experience the drawbacks of drinking alcohol, such as hangovers (and the "hangxiety" that goes along with them), decreased productivity, exhaustion, and embarrassing yourself. And after leaving the bar, you can still drive home.
Assists in Social Situations
Alcohol has undoubtedly evolved into a social lubricant, serving as a catalyst for discussions and exchanging ideas. Many people who are capable of doing all of the things without alcohol are nevertheless compelled to consume it as a result of peer pressure. You may feel like an outsider in many circumstances if you don't drink alcohol, especially if you're chugging down another lime and soda or a cheap orange juice.
Sometimes the causes are not social but rather private. You might only feel comfortable mingling with a group of people who do if you also drink. Due to the fact that it's only sometimes a good idea to stand around with a glass of soda, many of us drink alcohol even when we don't want to.
Non-alcoholic beer can be useful here. It appears to be beer. It has a beer-like odor. It has a beer flavor. You won't even need to explain why you're drinking a non-alcoholic beer if you ask for it at the bar by brand name.
It's challenging to blend in if you are not holding a drink in your hands. For anyone who doesn't drink, non-alcoholic beer provides a solution to that issue.
Watch this YouTube video from INTEGRIS Health highlighting the rise of non-alcoholic beer production and recognizing the benefits it offers to drinkers.
Many of the more recent buzz-free brews are created with health and wellness in mind, in addition to the fact that they taste better. Several businesses, including Samuel Adams and Coors, associate their brand names with a healthy lifestyle.
There are many reasons to think about these new possibilities, regardless of whether you're simply cutting back, pregnant, or in addiction treatment. But you should be aware of the advantages of consuming non-alcoholic beers before buying a six-pack.
Non-Alcoholic Beer Benefits FAQs